Justin Herbert can't rally Chargers in 27-20 loss to Vikings
A lackluster showing by Justin Herbert and the Chargers' offense, especially in the fourth quarter, doomed them to a 27-20 loss to the Minnesota Vikings at SoFi Stadium on Sunday.
After the Vikings put together their second scoring drive of the second half to take a 10-point lead, the Chargers (5-4) could only muster a field goal, losing for the third time in four games.
The Chargers defense also struggled late in the game. After Dustin Hopkins kicked his second field goal of the game with 4:36 left, the Kirk Cousins and the Vikings (4-5) held onto the ball for the remainder of the game after converting for four first downs.
Herbert completed 20 of 34 passes for 195 yards, with a touchdown and an interception. Austin Ekeler rushed for 44 yards on 11 carries.
Cousins connected on 25 of 37 passes for 294 yards and two touchdowns. Dalvin Cook tallied 94 yards and a touchdown on 24 carries.
After the Chargers scored on their opening drive of the second half to take their first lead of the game, Minnesota regained the lead with 2:33 remaining in the third quarter. On fourth-and-goal from the 1, Conklin was open in the back of the end zone on a crossing route after Chargers safeties Derwin James and Alohi Gilman ran into each other.
Cook extended the Vikings' advantage to 27-17 early in the fourth quarter on a 1-yard run. After Hopkins' field goal, Cousins connected with Adam Thielen for an 18-yard completion on third-and-18 from the Minnesota 46, and Cook had a 4-yard gain on fourth down to allow the Vikings to run out the clock after the Chargers burned all their timeouts.
The Chargers will play the Pittsburgh Steelers at SoFi Stadium in prime time next Sunday.
The Associated Press contributed to this report.
Vikings defense holds Chargers to a field goal
Vikings 27, Chargers 20 — 4:40 fourth quarter
Dustin Hopkins' 24-yard field goal kept the Chargers alive against Minnesota as they tightened the score.
Just before the field goal, Mike Williams dropped what likely would have been a touchdown pass. Williams beat Vikings cornerback Cameron Dantzler inside but couldn't hold onto the ball near the goal line.
Running back Austin Ekeler also had a drop on the series. Immediately after that miscue, Justin Herbert lofted a perfect pass to Keenan Allen for 26 yards to converted a third-and-three.
Vikings plow through the Chargers' defense for another TD
Vikings 27, Chargers 17 — 9:29 fourth quarter
Minnesota made it a two-score game with 9:29 to go when Dalvin Cook scored from a yard out.
Greg Joseph's extra point put the Vikings up 27-17.
Minnesota went 68 yards in 12 plays after forcing the Chargers into a three-and-out. The Vikings have scored touchdowns on back-to-back possessions.
They kept the drive alive by converting on third down three times, including a third-and-nine when Kirk Cousins hit Adam Thielen for a 16-yard gain.
Vikings score goal-line touchdown on fourth down to retake lead
Vikings 20, Chargers 17 — 2:39 third quarter
Kirk Cousins hit tight end Tyler Conklin for a second touchdown to put Minnesota up late in the third quarter.
On fourth-and-goal at the one-yard line, Cousins was under pressure from linebacker Amen Ogbongbemiga but lofted the ball to an open Conklin. He was running free near the back of the end zone after Chargers' safeties Derwin James and Alohi Gilman collided in coverage.
Gilman was injured on the play but walked off the field on his own.
Chargers open second half with touchdown drive to take their first lead
Chargers 17, Vikings 13 — 10:40 third quarter
The Chargers took their first lead of the day when Justin Herbert hit Austin Ekeler for a two-yard touchdown pass to open the second half.
The connection capped a 10-play, 75-yard drive and gave the Chargers a 17-13 edge over Minnesota.
Herbert's dart threaded a slim opening between linebackers Nick Vigil and Eric Kendricks.
The touchdown pass was the 50th of Herbert's career. He's the fourth-youngest player to reach 50 career scoring passes. Herbert turned 23 in March.
Chargers' Larry Roundtree III scores his first NFL touchdown
Vikings 13, Chargers 10 — 1:30 second quarter
Larry Rountree III scored his first NFL touchdown to pull the Chargers to within three points of the Vikings with 90 seconds remaining in the second quarter.
The rookie went skyward to score from a yard out.
The Chargers went 75 yards in eight plays as the offense sustained its first lengthy drive of the game.
Justin Herbert is eight for 12 for 68 yards. The Chargers have 94 total yards compared to 192 for Minnesota.
Eric Kendricks interception helps Vikings score first touchdown of game
Vikings 13, Chargers 3 — 3:26 second quarter
Minnesota's Kirk Cousins hit tight end Tyler Conklin for a five-yard touchdown to give the Vikings a 10-point lead over the Chargers.
The six-play, 31-yard drive was set up by an Eric Kendricks interception of Justin Herbert. The Vikings linebacker made a nice play to secure the ball just as Keenan Allen was reaching for the catch.
The Chargers have only five first downs and 52 total yards. Herbert is five for eight for 48 yards. Minnesota has a 10-minute advantage in time of possession.
Chargers hold Vikings at the goal line to force a field goal
Vikings 6, Chargers 3 — 6:42 second quarter
Minnesota moved ahead on a 30-yard field goal by Greg Joseph with 6:38 remaining before halftime.
The Chargers' defense managed to hold the Vikings out of the end zone on a first-and-goal sequence that began at the four-yard line.
Minnesota appeared to score on a short pass from Kirk Cousins to fullback C.J. Ham. But Chargers' lineman Christian Covington drew a holding penalty when he broke through into the backfield.
That set up third down and Cousins failed to connect with tight end Tyler Conklin with Chargers' safety Derwin James defending him in the end zone.
Dustin Hopkins kicks 46-yard field goal to tie game
Vikings 3, Chargers 3 — 11:28 second quarter
Dustin Hopkins kicked a 46-yard field goal at the 11:28 mark of the second quarter to pull the Chargers even with Minnesota.
The Chargers picked up three first downs en route to moving inside the Vikings' 30-yard line.
The drive stalled after two short gains followed by a Justin Herbert incompletion.
The game still has not had a successful third-down conversion, both teams 0 for 3.
Vikings are the first to get onto the scoreboard
Vikings 3, Chargers 0 — 14:18 second quarter
Minnesota's Greg Joseph made a 46-yard field goal 48 seconds into the second quarter for the first points of the game against the Chargers.
The Vikings controlled much of the first quarter with the Chargers' defense coming through twice to stall drives. Chris Harris Jr. had a pass breakup against Justin Jefferson and Joey Bosa strip-sacked Kirk Cousins. Justin Jones recovered Cousins' fumble.
Offensively, the Chargers managed just two first downs on their first two drives, punting both times. They didn't punt at all last weekend at Philadelphia.
Chargers vs. Vikings matchups: L.A. tries to solve defensive guru Mike Zimmer
Breaking down how the Chargers (5-3) and the Minnesota Vikings (3-5) match up heading into their game at 1:05 p.m. PST on Sunday at SoFi Stadium in Inglewood. The game will be carried on Fox (Channel 11).
When Chargers have the ball: Justin Herbert is coming off a performance during which he completed 32 of 38 attempts for 356 yards and two touchdowns. Now, he will face an opponent coach Brandon Staley called "one of the top third-down architects in the history of the game." Mike Zimmer is in his eighth season as Minnesota's coach, his reputation stretching back much further than that. Zimmer, Staley explained, is masterful at disguising schemes, particularly pressures. That's the exact thing that stalled Herbert and the offense against Baltimore and then, to a lesser extent, New England immediately before his dazzling effort at Philadelphia against a weak pass defense last week. In losses to the Ravens and Patriots, Herbert appeared frequently confused and often disconnected from his receivers. He was sacked three times by Baltimore and pressured 17 times by New England as his offensive line struggled too. Against the Eagles, who rarely blitz, Herbert wasn't sacked or even hit. Philadelphia managed just four pressures, Herbert quick to get rid of the football and the line excelling. This assignment will be a bit more daunting, the Vikings tied for second in the NFL with 27 sacks. "When it's known pass, this guy is as good of a defensive coach as there has ever been," Staley said of Zimmer. A key for the Chargers will be avoiding third and long, something that has been an issue at times this season. Minnesota is the NFL's fifth-stingiest defense on third down.
Sunday's inactives for Vikings vs. Chargers
Here's who won't be in uniform for today's game between the Minnesota Vikings and Chargers at SoFi Stadium:
Chargers injury updates: Drue Tranquill is out, Kenneth Murray Jr. in
The Chargers aren't expecting to have Drue Tranquill on Sunday when they play Minnesota at SoFi Stadium. The linebacker was placed on the COVID-19 reserve list Thursday.
Kenneth Murray Jr. will take Tranquill's place as he returns from the injured reserve list. Murray, who has missed the last five games because of an ankle problem, is expected to be activated Saturday.
Chargers vs. Minnesota Vikings: Betting lines, odds, start time and how to watch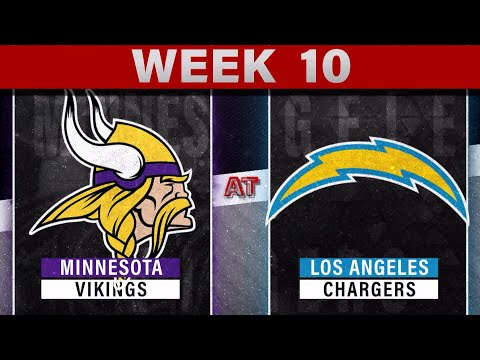 Minnesota Vikings at Chargers (-3, O/U 52), 1:05 p.m. Sunday, FOX
Hill: The Minnesota Vikings (3-5 SU, 4-4 ATS) lost another heartbreaker last week, falling 34-31 in overtime to the Ravens. Remarkably, four of the Vikings' eight games have been decided by a field goal on the final play of the game. The Los Angeles Chargers (5-3 SU and ATS) were on the right side of a last-second field goal, winning in Philadelphia last week. Both teams should have plenty of room to run, as the Vikings allow over 136 yards per game on the ground (30th) while the Chargers are dead last in the league, allowing over 161 rushing yards per game.
Chargers-Vikings should be close encounters of the nail-biting kind
The NFL standings say the Chargers (5-3) are two games better than Minnesota (3-5).
In a league that embraces deception, not even the standings can be trusted.
"You can't really look at someone's record," Chargers running back Austin Ekeler said. "You have to say, 'Hey, this is gonna be another NFL team. They're gonna play as hard as they can just like we are.' There are no easy wins in the NFL."
Very true. Also very true this season for the Chargers and Vikings is that there are no easy losses.
Save for the Chargers' 34-6 no-show in Baltimore last month, these teams have lived on some of the slimmest margins in the league.