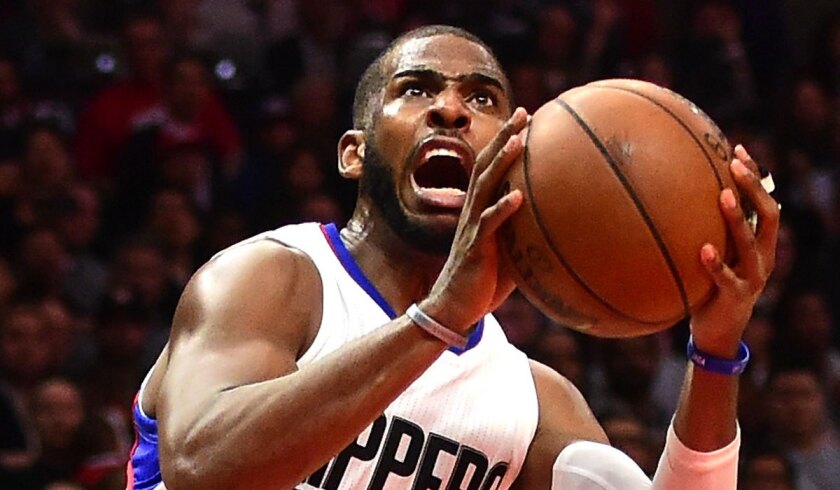 It goes against Chris Paul's nature to look for his shot before the pass. But when Paul takes a more aggressive role on offense, he can take the Clippers to another level.
He was forced to take on that role in Monday's 100-99 loss to the Oklahoma City Thunder, after Blake Griffin opened the game shooting one-for-10 from the field. Paul took over, scoring 16 points on five-for-eight shooting and getting four assists in the first quarter, helping his team take a 29-23 lead over the Thunder into the second quarter.
Paul finished with a team-high 32 points on 11-for-19 shooting, 10 assists and five rebounds, including making a go-ahead jumper with 10.9 seconds left to give the Clippers a one-point lead, 99-98.
With 5.8 seconds left, though, Kevin Durant made a pull-up jumper to give the Thunder the win. Paul tried a heavily contested jumper with 0.9 seconds left, but it was partially blocked.
Paul is averaging 17.5 points this season, but in the team's last four games, he's scored more than 20 points twice, and more than 30 points once.
The Clippers' point guard played in all 82 games last season for the first time in his career, but this season, he's struggled with various injuries — including a broken finger, a strained groin and inflamed rib cartilage — causing him to miss five games.
Paul said his health is improving, but, like a true point guard, he was hesitant to take any credit for his recent play, considering the Clippers have lost three games in a row.
"It's not about me," Paul said. "I've got to play better."
---