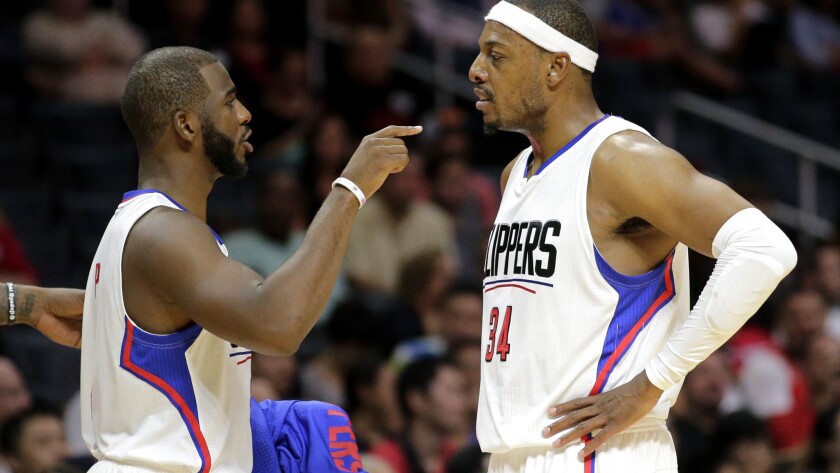 The preseason got off to a successful start for the Clippers on Friday night at Staples Center as they held off the Denver Nuggets, 103-96. The Clippers showed they are ahead of their pace from last season but still clearly have lots to clean up:
1. Paul Pierce is making a seamless transition
The veteran forward scored five points in 14 minutes but seemed extremely comfortable, interrupting a huddle before the game to tell his teammates that he was familiar with the play being drawn up. "In the middle of it, Paul says, 'I've run this before. He coached me in Boston,'" Clippers Coach Doc Rivers said, recalling what Pierce had told everyone while referring to Rivers. "I was thinking, I don't think if I could remember that gap but Paul remembered the play, so that was impressive."
Pierce made a three-pointer in the third quarter during perhaps the Clippers' most impressive offensive sequence of the game because it included several cross-court passes in an attempt to find an open shooter. Pierce said his familiarity with stars Chris Paul, Blake Griffin and DeAndre Jordan from his time working out at the Clippers' practice facility over the summer is helping to ease his transition. Pierce also displayed some biting wit when asked whether something had clicked in his transition from All-Star to role player. "Something did click," Pierce said. "My knee started clicking and then my ankles and my elbows. That's what clicked."
2. The second unit will need time to work through some things
The small-ball lineup didn't exactly come up big, with less playmaking than expected and some rough moments defensively in the second half. Lance Stephenson and Josh Smith combined to make only seven of 23 shots and Wesley Johnson seemed out of sync while switching positions.
"We're messing Wes up a little bit by moving him from three back to four back to three back to four," Rivers said, "but that's what he's going to have to learn." Part of the problem may be so many new players. "They're still feeling each other out," Paul said. "Obviously, our [starting] unit, we've been together for a while and it's like clockwork and we still had some hiccups, but those guys will continue to play with one another and figure each other out. They're just so talented and can play so many different ways and I think that's what's going to make us that much better of a team."
3. It was an especially rough Clippers debut for Stephenson
He chucked up several contested jumpers that missed badly and did a lot of dribbling that didn't lead to much production. He finished the game with six points on two-for-10 shooting to go with two assists but seemed relatively upbeat afterward. "First game, I'm not going to put a brick on myself," Stephenson said. "I'm going to keep pushing and keep playing hard."
4. The Clippers' rebranding efforts are underway
The team unveiled their new logo, uniforms and court design as part of their rebranding efforts. One review seemed less than glowing. "I don't really have a problem with them," Griffin said of the uniforms. "I wasn't like, 'Oh, they're awesome' or 'Oh, they're terrible.' They're just uniforms."
5. Time to deal with injuries
Clippers reserve forward Luc Mbah a Moute lost a tooth when his mouth collided with Joffrey Lauvergne's head. Clippers backup center Cole Aldrich sat out the game with a mildly sprained left ankle.
---