J.J. Redick gives Clippers 'F' in free agency for loss of DeAndre Jordan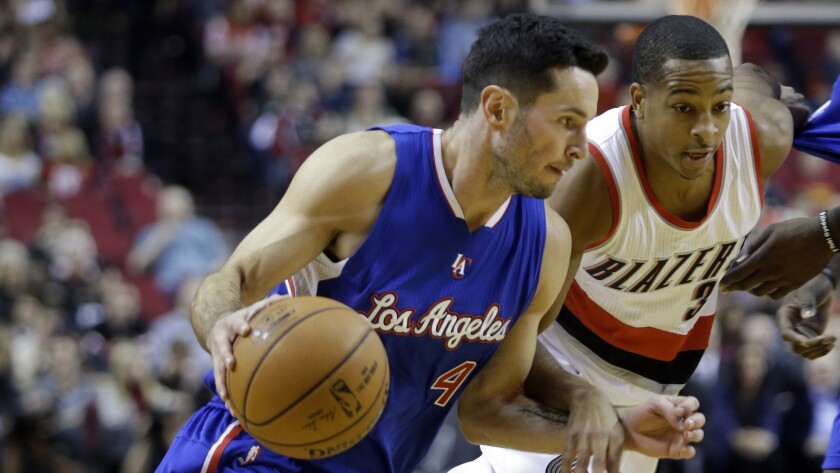 Clippers shooting guard J.J. Redick went public with his frustrations over his team's efforts in free agency Tuesday, giving them an "F" during an interview with Bleacher Report Radio.
Actually, Redick wasn't sure that grade sufficed to measure the Clippers' struggles.
"Is there an F-minus?" Redick asked.
Redick's biggest criticism was the Clippers' inability to keep center DeAndre Jordan, who agreed to a four-year, $80-million contract with the Dallas Mavericks.
"Listen, we had one priority this summer and that was to re-sign D.J. and we missed out on that," Redick said, "so barring some miracle, [the] makeup of our team is completely different now."
Redick spoke before his team added Wesley Johnson, the former Lakers forward who agreed to sign a one-year contract with the Clippers for the veteran's minimum of $1.1 million. Johnson cannot sign until the NBA's moratorium on formal commitments ends Thursday.
That move probably won't quiet the detractors of the work being done by Clippers Coach Doc Rivers, who is also the team's president of basketball operations. Rivers did recently acquire veteran small forward Paul Pierce and swingman Lance Stephenson, though his team has multiple holes to fill in addition to its starting center.
Redick outlined the many ways in which the Clippers will miss Jordan, calling him "such an integral part of what we did, not just defensively but offensively with his screening, his rolling, his offensive rebounds. His presence down low essentially made teams either commit to the three-point line when Blake [Griffin] or Chris [Paul] penetrated or commit to him, and that either opened up lobs for him or threes for guys like me and Jamal [Crawford] and Matt [Barnes].
"So he was a huge part of what we did and missing out and having him leave for Dallas gives us a failing grade."
The addition of Johnson, who turns 28 on Saturday, gives the Clippers 10 players under contract for next season. They also probably will keep second-round draft pick Branden Dawson, who has had a strong showing in the Orlando summer league.
Rivers previously signaled strong interest in re-signing guard Austin Rivers, the coach's son who had a few breakthrough performances in the playoffs. The Clippers also are seeking a backup big man to go with Jordan's successor.
League executives confirmed the Clippers have had discussions with center power-forward Amare Stoudemire, power forward Carlos Boozer and combo forward Josh Smith, though their efforts to fill their roster with quality players have been complicated by their limited resources as well as a shrinking pool of talent.
The Clippers can offer a free agent as much as $2 million after committing three years and $10.5 million to Pierce. Their only other financial tool is a slew of veteran's minimum contracts.
Johnson, the No. 4 pick in the 2010 draft, is coming off two up-and-down seasons with the Lakers, having averaged 9.9 points and 4.2 rebounds while making 35.1% of his three-pointers last season as a part-time starter. He will be able to back up both Pierce, who figures to play limited minutes at age 38, and Griffin.
The knocks on Johnson have been about his abilities to improve and his consistency; he is capable of playing well in one game and then being a non-factor in the next week.
Follow Ben Bolch on Twitter @latbbolch
Times staff writer Broderick Turner contributed to this report.
---
Get our high school sports newsletter
Prep Rally is devoted to the SoCal high school sports experience, bringing you scores, stories and a behind-the-scenes look at what makes prep sports so popular.
You may occasionally receive promotional content from the Los Angeles Times.