Austin Rivers says his mom was a 'wreck' about his playing for father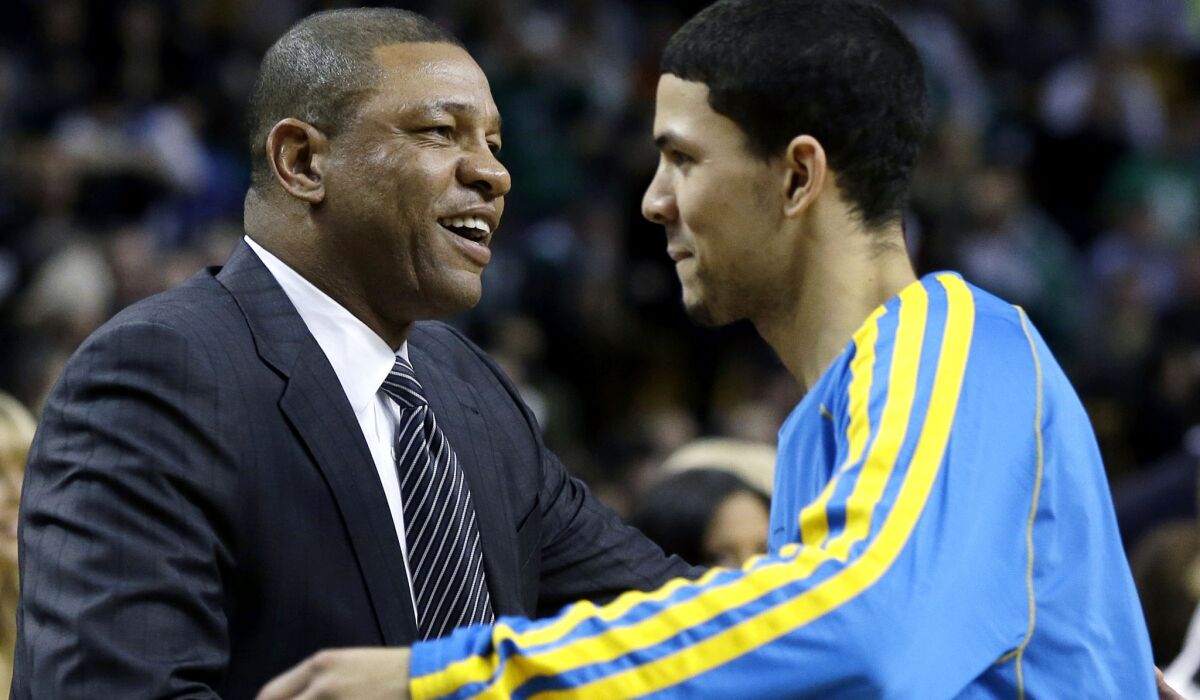 When Austin Rivers heard he was coming to the Clippers, the first thing he did was call his mother, Kristen.
"She was a wreck the first night," he said.
She eventually gave her blessing to her husband, Clippers Coach Doc Rivers, and son, but the coach added that he knows he will hear about it from Kristen if there is any contentiousness between the two.
"I'm never prepared for that, I can tell you that straight up," Doc Rivers said with a smile.
Kristen Rivers wasn't the only one who had reservations about the second father-son coach-player combination in NBA history, which came to fruition Thursday in a three-team trade that involved the Boston Celtics and the Phoenix Suns.
When Austin Rivers takes the court, he'll be the first to play for his father in a game. Coby Karl was a member of the Denver Nuggets for a short time under his father, coach George Karl, but never played a minute.
Austin Rivers, 22, acknowledged that in the past he had preferred to play against his father. But he said when the opportunity to play for the Clippers arose, it was just too good for his career to pass up.
"I had to take a day to myself and be like, could this work?" Austin Rivers said. "It does, just because the relationship I have with him is already basketball-oriented."
A few things will have to change, of course.
"I think the biggest difference is now that I'm his coach, he has to actually listen to me," Doc Rivers said. "On his part, he's probably thinking any kid will listen to their parents if they pay them."
Austin Rivers, who averaged 6.8 points, 2.5 assists and 1.9 rebounds in 22 minutes a game for the New Orleans Pelicans this season, said that he knows his role on the team and is not worried about his father showing him favoritism.
"My dad would never, ever play me over somebody because I'm his son," Austin Rivers said. "If I'm not playing well, I'm sitting on the bench. It is what it is. He wants to win. My dad is the type of guy when I was 5 years old when we played checkers he would not let me win."
When asked if he could have a conflict of interest when he hears teammates complain about their coach, Austin Rivers said he's going to respect locker-room code above anything else.
"I'm not going to be like, 'Oh, he's talking about my dad,'" he said. "I've felt that way too at times about people. That's sports. You're not always going to be the happiest at your coach, and I understand that. They're not nervous about saying something around me either. They know that I'm not going to say anything, it's just not the right thing to do. That would be the wrong way to go about this. I'm just in there like anybody else."
Austin Rivers was selected by the Pelicans as the 10th overall pick in the 2012 NBA draft. He's shown potential as a guard who pushes the pace, an element the Clippers have lacked in their reserve unit.
Doc Rivers said he had a small opportunity to acquire his son over the summer, but he chose not to pursue it. He said he reconsidered after watching the Clippers' reserves languish in both pace and productivity, partly because guard Darren Collison went to the Sacramento Kings as a free agent last summer.
"At the end of the day my job is to do what I think is the best for my team," Doc Rivers said. "Not to do what's best for me, or what's comfortalbe for me. And we felt like this was."
When asked who has more pressure on him now, Austin Rivers or Doc Rivers, the player didn't hesitate in his response.
"This isn't pressure for me," Austin Rivers said." There's one ball, two baskets, and it's five on five."
---
Get our high school sports newsletter
Prep Rally is devoted to the SoCal high school sports experience, bringing you scores, stories and a behind-the-scenes look at what makes prep sports so popular.
You may occasionally receive promotional content from the Los Angeles Times.