Clippers guard Patrick Beverley is out for the season after knee surgery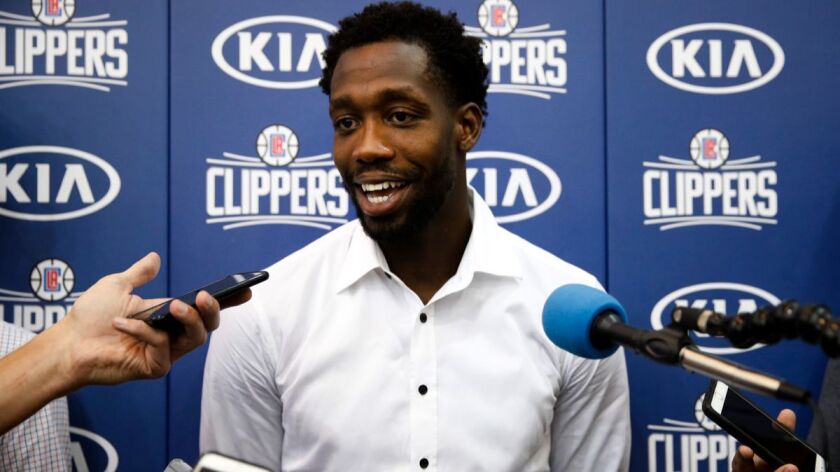 Reporting from Atlanta —
Clippers point guard Patrick Beverley had season-ending surgery on his right knee Wednesday in Houston.
Beverley underwent an arthroscopic surgery to repair a lateral meniscus, and the point guard had a microfracture procedure in the knee, the Clippers announced before they played the Atlanta Hawks.
Beverley had missed five games with a sore right knee, but he returned to play Monday night against the Knicks in New York.
He said he had the knee drained recently and was feeling better at that time.
"The hits just keep rolling," Clippers coach Doc Rivers said. "That's a tough one because you could see him trying to get back. He plays the one game and then his knee was really bothering him. We sent him back to have a look at it and he ended up having surgery, where we thought it would just be the meniscus. It turned out to be a lot more. So he's out for the season. We just want him to get healthy."
The Clippers said Beverley first injured his knee in training camp in Hawaii, going down in the third preseason game against Portland.
He didn't play again until the season opener against the Lakers.
Beverley had knee issues before he was acquired from the Houston Rockets as a part of the Chris Paul trade in late June.
The Clippers so badly wanted to get the deal done that they waived Beverley's physical, basically saying he didn't have to take one.
"It's a tough blow for the team," Rivers said. "But I feel worse for Patrick, especially with his spirit and how he plays the game. He's a guy that you just want around your team as much as possible and the fact that he won't be hurts our team for sure."
Beverley played 22 minutes 14 seconds and scored nine points on three-for-eight shooting against the Knicks.
Beverley, 29, appeared in 11 games and averaged 12.2 points, 4.1 rebounds and 2.9 assists.
Beverley will earn $5.5 million this season, but the Clippers hold a team option on his contract for next season that will pay him $5.02 million.
"It hurts, obviously," guard Austin Rivers said. "Pat was a big part of our team. You feel worse for him than us. Obviously he was excited about this year. It was a big year for him, a new team. So to hear that he's out for the whole season, it's just heartbreaking."
Twitter: @BA_Turner
---
Get the latest on L.A.'s teams in the daily Sports Report newsletter.
You may occasionally receive promotional content from the Los Angeles Times.