Clippers story lines: Will Steve Ballmer be a hardcore owner?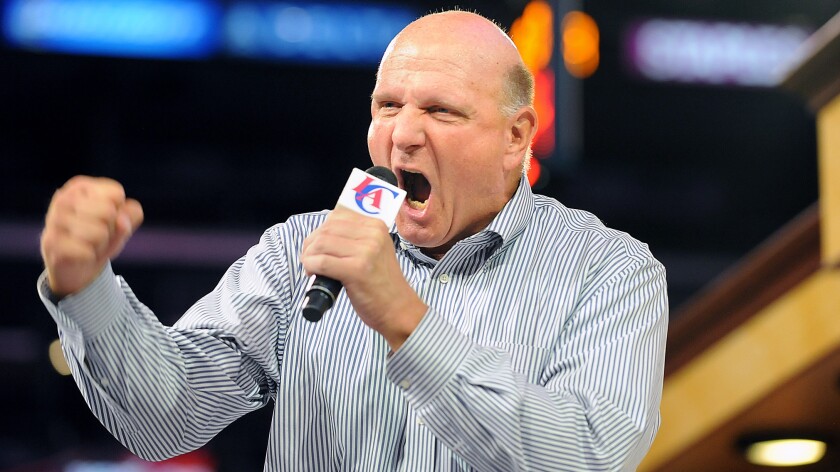 The NBA team owner was momentarily stumped when reached by telephone overseas. Informed that Donald Sterling no longer owned the Clippers, there was an uneasy silence.
"I'm not sure what to say," the owner said. "Free at last? Free at last?"
That's certainly one way to put it.
The Clippers are no longer burdened by the specter of the league's most infamous owner, the forced sale of the team in August over racially unsavory remarks clearing the way for the most anticipated season in franchise history.
Sterling's successor, Steve Ballmer, is a tech savant whose owner-gone-wild introduction to fans could have doubled as a "Saturday Night Live" skit. The core of Chris Paul, Blake Griffin and DeAndre Jordan rivals any other NBA trio in terms of talent — and GQ cover appearances.
Shepherding it all will be Coach Doc Rivers, whose resolve during the Sterling fiasco made one wonder whether he would be better suited doing something else, like running a world superpower.
That's not to say there aren't issues. There always are for a franchise that has never made it to the Western Conference finals.
Here are five story lines to watch as the Clippers prepare to hold media day Monday:
1. How hardcore will Ballmer be as owner?
He has made Rivers the NBA's highest-paid coach with a contract of more than $10 million annually through the 2018-19 season. He has vowed to enhance the fan experience at Staples Center, perhaps with a few added technological touches.
The big question is how zany Ballmer will be at games. Will he hold up a Cliff Paul head from his seat underneath the basket while Kevin Durant shoots free throws? Will he run onto the court to chest-bump Griffin after big victories?
Based on his flamboyant first impression at a fan rally, Ballmer will be one of the most entertaining figures inside the arena.
2. Will Chris Paul end all the unfulfilled legacy chatter?
His critics have the count committed to memory by now: In nine NBA seasons, Paul has been an All-Star seven times.
Number of appearances in the conference finals? Zero.
The onus on the league's top point guard to take the team deeper in the playoffs only increased with last season's epic meltdown in the final minute of Game 5 of the conference semifinals against Oklahoma City.
And in case Paul needed a reminder of his basketball mortality, he'll turn 30 on May 6, presumably during the conference semifinals.
3. Did the handful of off-season moves give the team what it needed?
The Clippers wanted to retain backup point guard Darren Collison and didn't (he signed with Sacramento). They tried to acquire small forward Paul Pierce and couldn't (he ended up in Washington).
Thank goodness for Spencer Hawes. The 7-foot-1 forward-center accepted the team's mid-level exception of four years and $23 million, a huge bargain as the first high-end reserve big man of the Rivers era in L.A.
Rivers also likes the shooting and big-game savvy of new backup point guard Jordan Farmar, who went to three Finals and won two titles with the Lakers. Fellow newcomers Chris Douglas-Roberts and Ekpe Udoh are hoping to reboot their careers.
4. Can the Clippers complement their league-leading offense with a top-10 defense?
Question: What is 112, 118, 99, 105 and 104?
No, it's not the five-day forecast for Death Valley. It's the number of points the Clippers gave up in their final five games of the playoffs against the Thunder.
The Clippers were a middle-of-the-road defensive team that often put opponents on the fast lane to easy baskets, giving up 101.0 points per game (ranking 14th out of 30 teams) during the regular season.
The NBA's Final Four — San Antonio, Oklahoma City, Miami and Indiana — all gave up fewer points, providing a template for what it takes to reach basketball's biggest stage.
5. Who really is the Clippers' No. 1 fan?
Even though former co-owner Shelly Sterling was bestowed that title as part of the sales agreement with Ballmer, we'll go with Darrell Bailey, a.k.a. Clipper Darrell, particularly given his willingness to share.
"If Shelly wants to be the No. 1 fan, I've got four [Clippers] suits," Bailey told The Times in the summer, "so I'll give her one and let's have a party."
---
Get our high school sports newsletter
Prep Rally is devoted to the SoCal high school sports experience, bringing you scores, stories and a behind-the-scenes look at what makes prep sports so popular.
You may occasionally receive promotional content from the Los Angeles Times.