Silver takes a stand on national anthem; Clippers talk it over with service members at Pearl Harbor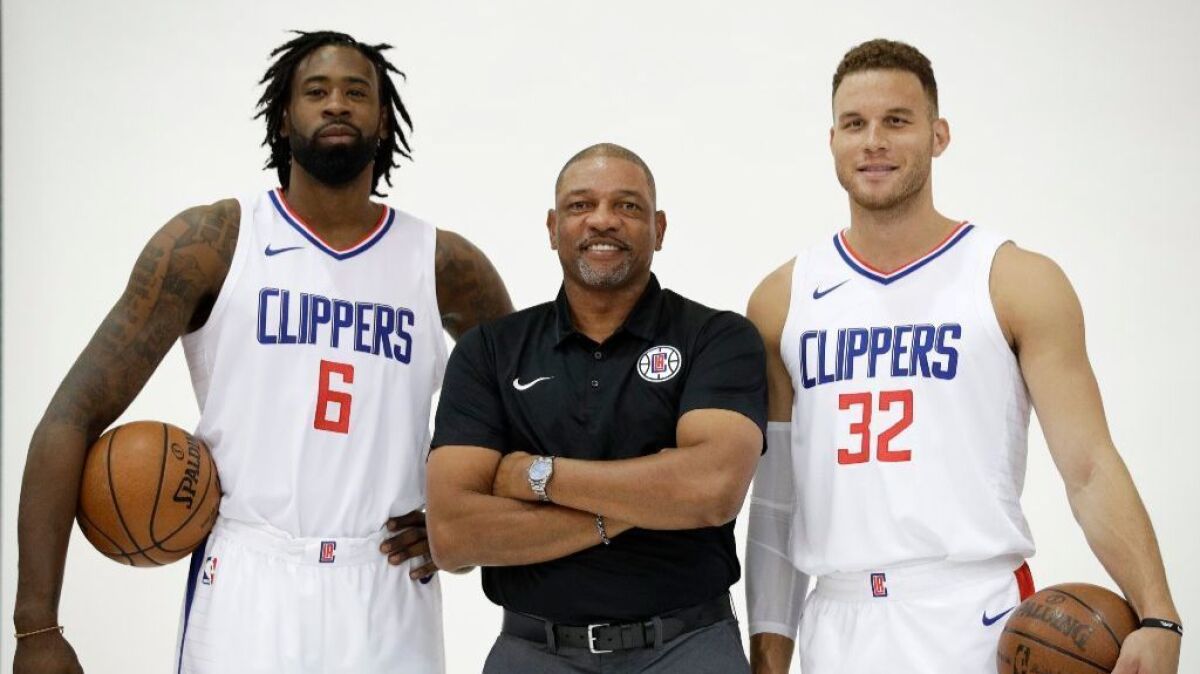 Reporting from Honolulu —
By coincidence, when NBA Commissioner Adam Silver said Thursday that he expects the players to continue standing for the national anthem, he was speaking one day after the Clippers had gone to Pearl Harbor to pay their respects and to talk with members of the military.
For the Clippers, it was emotional to meet service members on Wednesday night and to talk with them about the controversy involving NFL players kneeling during the playing of the "Star-Spangled Banner" to bring attention to racial injustice.
Clippers center DeAndre Jordan asked if there was a league rule to stand for the national anthem.
He was told the NBA has a rule that states players, coaches and trainers must "stand and line up in a dignified posture."
Jordan said the Clippers have not talked about any sort of protest.
"I haven't discussed that with any other player and we haven't honestly discussed that as a team," Jordan said. "Whatever we decide to do, we're going to do that as a team — regardless of anything."
Jordan said what struck him about visiting Pearl Harbor was hearing the story about how there were 23 sets of brothers that died aboard the battleship Arizona during the attack.
"That was real touchy for me because I have three younger brothers and it was just tough to think about something like that," said Jordan, his voice cracking. "It really stood out to me, the brotherhood part of it. The guys who did survive, they told everyone that when they passed away they wanted to have their ashes buried in the bottom of the ship where their brothers' laid to rest. That was really cool. That was some brotherhood of 'you can't break us apart type,' and that was good to see."
Marshall Plumlee, a 7-foot free-agent center the Clippers signed for training camp, has a unique perspective and was asked to share his views with the team.
Plumlee is in the Army Reserve and spent his summer working with the New York National Guard.
"I've never been one to force my political opinion on one or the other," Plumlee said after the Clippers' practice Thursday. "But, when guys have questions, I'm free to answer them and they definitely do have questions about what my perspective is, what the perspective of some of the men and women are. I try to share that with them and keep them informed. We have a curious group of guys here so it's made for some good dinner-side discussions.
"At least from my perspective, I completely respect anyone's choice to peacefully protest or voice their opinions in a peaceful way. … Me personally, I'd stand and put my hand over my heart because that's what I believe in. I can't force you to believe in what I believe in."
Clippers coach Doc Rivers said having the discussions with servicemen about protesting was good for both sides.
"The great part about our country is that there is no one view, and I thought that was great last night, just listening to all the guys talk about it," Rivers said. "Several [in the military] said they would never protest the flag. Some said they would. What I love about our military, they understand the politics, but they don't get involved in it. Their job is to protect and serve, and I thought that was a really great message to our guys."
Rule changes
When the NBA's Board of Governors meeting was finished Thursday, Silver had been given the authority to fine teams at least $100,000 for resting healthy players during nationally televised games.
Rivers said that's good because teams don't play the day before taking part in a nationally televised game.
"I think the NBA is doing it for the right reason," Rivers said. "We had too many national games where guys were missing."
Twitter: @BA_Turner
Get our high school sports newsletter
Prep Rally is devoted to the SoCal high school sports experience, bringing you scores, stories and a behind-the-scenes look at what makes prep sports so popular.
You may occasionally receive promotional content from the Los Angeles Times.