Clippers head into offseason with decisions to make, starting with a contract extension for Doc Rivers
One day after their regular season ended with a loss to the cross-town rival Lakers, and their playoff run ended at six consecutive appearances, the Clippers began to pick up the pieces Thursday by prioritizing their future.
Foremost is deciding whether to give coach Doc Rivers a contract extension beyond the 2018-19 season, the last year of his current deal that will pay him $11 million.
The next order of business is DeAndre Jordan making a decision on his player option for next season that is scheduled to pay the Clippers center $24.1 million.
After that, the Clippers have the NBA draft on June 21 and free agency opening July 1.
Rivers said he told the players Thursday at the team's practice facility that he would hold exit meetings with them Monday.
Rivers was asked if he could see himself finishing his career with the Clippers and if he's had any discussions about a contract extension.
"Honestly, it's a place that I've enjoyed being at," Rivers said. "The enjoyment goes up and down all the time. That's just the way it does. But I like the changes that we made and I like where we're headed."
Lawrence Frank, the Clippers' president of basketball operations, said it'll be up to owner Steve Ballmer and Rivers to decide on an extension.
"I'm sure he'll have those conversations, if those conversations are for what's on the plate for him and Steve," Frank said. "But that's really not my business, other than Doc and I are partners and I love him and he does a great job."
Frank declined to discuss his contract status when asked if he had gotten an extension.
"I'm not going to talk about any negation other than I'm standing here today and loving where I'm at," Frank said.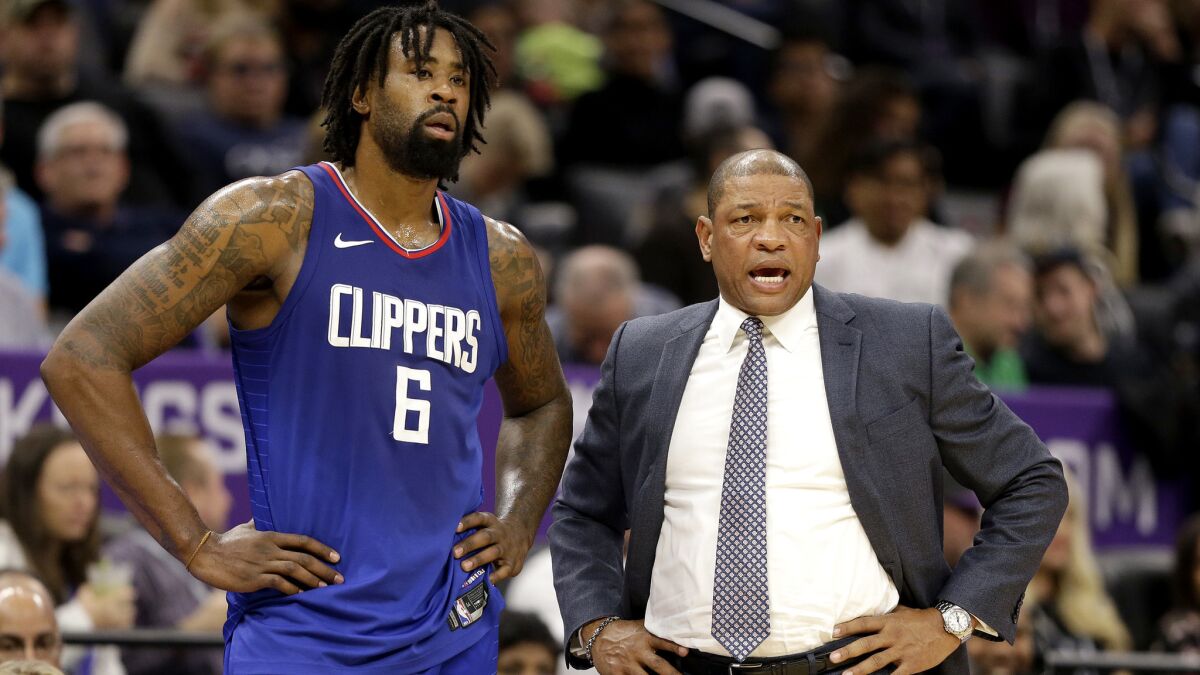 Under the NBA rules, Jordan can opt in to his contract after Wednesday night's game. He has a deadline of June 29 to make a decision.
"We're going to try to do what we can to keep him," Rivers said. "But at the end of the day, DJ has played himself into being a free agent and he's played himself into the right to choose."
The Clippers will have their own lottery pick and could get Detroit's lottery pick from the Blake Griffin trade if the Pistons' selection falls out of the top four.
The Clippers will look at point guards, wing players and centers, the latter especially if Jordan walks.
"Everyone has a grocery list when the season is over," Rivers said. "No one fills it completely. But it's still there and there are things we still need."
Guard Austin Rivers has a deadline of June 22 to make a decision on his player option for next season that will pay him $12.6 million. Forward Wesley Johnson could opt in on his deal of $6.1 million for next season, and he has a deadline of June 22 to make a final decision.
Point guard Milos Teodosic can opt in on his $6.3 million deal for next season. He has a deadline of June 24 to make a decision. If he opts in, the Clippers can buy him out for $2.1 million.
Guard Avery Bradley, who made $8.8 million this season, will be an unrestricted free agent this summer and the Clippers are interested in re-signing him.
Forward Montrezl Harrell and point guard Tyrone Wallace are both restricted free agents. The Clippers are interested in re-signing Harrell.
The Clippers are looking at a payroll of about $111.7 million for next season, but could potentially have a payroll of about $65.4 million if all the players opt out of their deals.
The Clippers also will have the mid-level exception of about $8.8 million per year to spend on a free agent.
"There are more things in motion this summer by far than any other summer since I've been the owner," Ballmer said. "Last summer CP [Chris Paul] kind of kicked things off and there was some motion….
"We have two draft picks, by the way. That's huge for us. The draft is deep. We'll see what we get with ours. But it's a relatively deep draft, at least through the top 10. We got to make the right decisions, but we've got the best staff we have to do it. Now we actually have to make the right decision."
Twitter: @BA_Turner
---
Get our high school sports newsletter
Prep Rally is devoted to the SoCal high school sports experience, bringing you scores, stories and a behind-the-scenes look at what makes prep sports so popular.
You may occasionally receive promotional content from the Los Angeles Times.