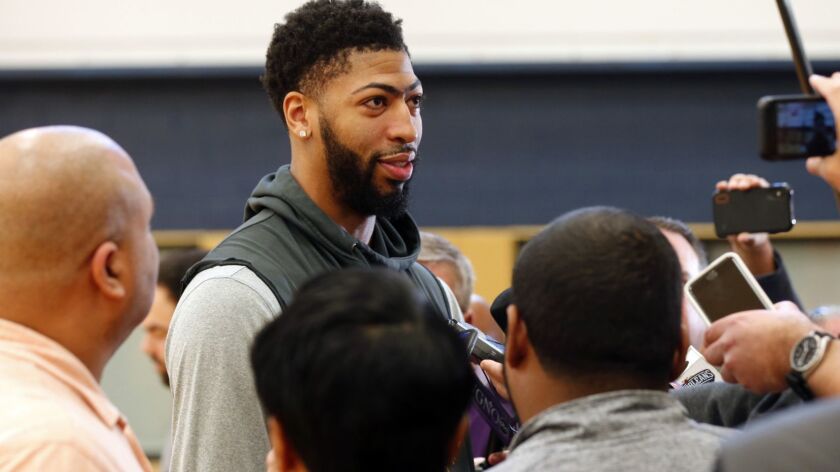 The Clippers have not yet made a trade offer to the New Orleans Pelicans for star center Anthony Davis, people with knowledge of the situation but not authorized to speak publicly said Monday.
With the NBA's trade deadline looming Thursday, Davis' representatives informed the Pelicans on Monday that he would be willing to sign long-term contracts with the Clippers, Lakers, Milwaukee Bucks and New York Knicks, according to one person with knowledge of the situation.
The Clippers' interest in pursuing such a trade is unclear. Other franchises with more assets to offer, such as the Lakers, are in active discussions with the Pelicans.
Though the Clippers remain engaged in talks with teams across the league, up to this point they have not been considered either buyers or sellers in the trade market.
The Clippers remain in playoff contention in the Western Conference and, should they do nothing by the deadline, will have plenty of financial flexibility this summer to sign two stars to maximum-level contracts.
Protecting that flexibility remains a top priority as the team hopes to build a long-term title contender.
Now the Clippers face an opportunity to add a franchise cornerstone earlier than expected. In his seventh season, Davis is averaging career highs of 29.3 points, 13.3 rebounds and 4.4 assists a game.
Gallinari close to return
Forward Danilo Gallinari, who has missed the last nine games because of back spasms, has been ruled out for Tuesday's matchup against the Charlotte Hornets. Gallinari, who had remained in Los Angeles to aid his recovery, was scheduled to fly to Indianapolis on Tuesday and wait for the team before attempting to play Thursday against the Indiana Pacers.
The 30-year old Gallinari is the team's third-leading scorer at 19 points a game and one of its best communicators defensively. Since his injury, the Clippers have fallen from fifth to 17th in points per game, eighth to 16th in field-goal percentage, and fourth to 12th in three-point accuracy.
Sign up for our daily sports newsletter »
Another factor in those declining ranks has been the health of leading scorer Tobias Harris (20.7 points a game), who was left off the team's injury report Monday but continues to labor after injuring his right shoulder five days earlier.
Speaking Sunday after the team's loss in Toronto, Harris said he planned to "see how it feels" before tipoff against the Hornets.
He hasn't missed any time because of his shoulder, which was wrapped in trainer's tape and a compression sleeve during Sunday's loss in Toronto, but has made just 26.7% of his field goals and 14.3% of his three-pointers in his last two games.
"I've always been a guy that played through different things," he said. "Nobody is 100% but obviously it would be a lot better if I was 100%. It's no excuse regardless because when I step on the court like everybody else it's to play basketball."
Coach Doc Rivers defers to the team's medical staff on issues of player availability and said, "if there was consideration [not to play Harris], they would have told me."
"He just didn't play well," Rivers said. "I don't think it was the injury, to be honest. He was driving the ball and putting the ball right in the rim; that has nothing to do with your shoulder."
Another Clipper who played through pain Sunday was center Boban Marjanovic. Hit in the back Saturday in Detroit, Marjanovic felt the pain return the following day as he played nearly 17 minutes for a second consecutive game. It was also the third straight game in which Marjanovic has played. The last time he did that was five weeks ago.
Not with the team on this trip is forward Luc Mbah a Moute, who has missed 50 consecutive games with what has been termed a "sore left knee." He tweeted Jan. 24 that he would be "back soon." Asked to elaborate on how soon that might be, Mbah a Moute said last week, "Be back soon."
UP NEXT
AT CHARLOTTE
When: 4 p.m., Tuesday
On Air: TV: Prime Ticket; Radio: 570, 1330.
Update: This is the final meeting of the regular season between the Hornets (26-26) and Clippers (29-25). Charlotte has won its last two games and five in a row at home, where it is 4-5 against Western Conference teams. ... Since scoring 10 points Jan. 25, Hornets leading scorer Kemba Walker has increased his point total in each of his next four games. He scored 37 points against Chicago on Saturday. … After uncharacteristically struggling to make free throws against both the Lakers on Thursday and Pistons on Saturday, the Clippers made 86% of their attempts Sunday.
Twitter: @andrewgreif
---