Lou Williams makes last-second shot to help Clippers defeat the Bucks in overtime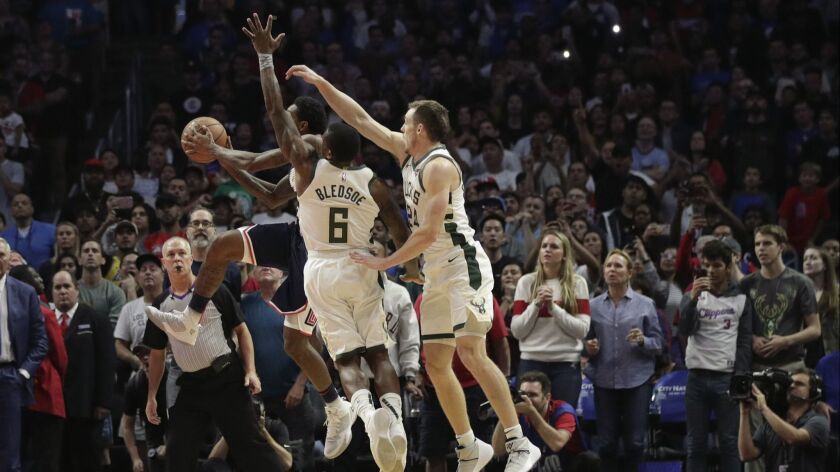 As Milwaukee players jumped on one another in Staples Center on Saturday afternoon, the Clippers trudged toward their sideline.
At one point they'd led the Bucks, one of the NBA's hottest teams, by as many as 15 points. Now they were headed to overtime after Eric Bledsoe's three-pointer bounced once off the basket, against the backboard and rolled around the rim before dropping in for the game's seventh tie. The Clippers followed by missing their attempt to win in regulation.
"We walked into the huddle like we were dead," coach Doc Rivers said.
"Unfortunately for them," forward Montrezl Harrell said, "the game wasn't over."
With 0.3 remaining in overtime, reserve Lou Williams made a double-clutch, floating jump shot between three defenders for the go-ahead score in a 128-126 victory that the Clippers took as more evidence their superstar-less team can compete against those featuring some of the brightest.
At least for one day Harrell, a backup center, was a force every bit as powerful as MVP candidate Giannis Antetokounmpo from Milwaukee (9-3), who had 27 points but didn't take over the game until late. Patrick Beverley, off to a 10-for-40 start this season shooting three-pointers, made five of his eight attempts. Rookie Shai Gilgeous-Alexander drilled a key corner three-pointer that gave the Clippers (7-5) life in overtime.
"Oh, lordy, that was fun," Rivers said. "That was a hell of a game — since we won."
Harrell finished with a team-high 26 points and nine rebounds while five teammates joined him in double figures. Tobias Harris had 20 and Beverley scored 21, the fourth-highest scoring game of his career.
"We dropped one in Portland [on Thursday] that we had a chance, an opportunity to win and came back home and took care of business like we're supposed to do on our home floor," Harrell said. "It just goes to show you we don't let the game bother us, or become a problem. We move on and keep fighting."
The Clippers led 42-27 with 10:19 remaining before halftime but the Bucks led by seven nine minutes later after making eight of their first 12 three-point attempts of the second quarter. Seven-foot center Brook Lopez, who finished with 20 points and six three-pointers, appeared unguardable playing 24 feet from the hoop.
Rivers' lofty pregame praise had become reality.
He'd compared Milwaukee's offseason improvement to that of Golden State from five years ago. A locker room full of holdovers had become deadly efficient thanks to a pace-and-space offense and rigid defense installed under a new coach. With Mike Budenholzer on the sideline, the Bucks strike quickly and showed it Saturday.
"Milwaukee was the most attractive place in the whole NBA in a lot of ways this summer," Rivers said.
Playing in relief of center Marcin Gortat, who started his first game since Nov. 1, Harrell scored eight third-quarter points and responded with what Rivers called "infectious" energy after being ripped by his coach for his ineffective first-half defense. He took the criticism and responded by flexing after put-back buckets, yelling after a transition layup and running over on help defense to swat a floater from Bucks guard Malcolm Brogdon.
"[Rivers] told me just in general, I'm too good of a defensive player to let guys ease into shots. I let Lopez get a number of easy walk-in threes," Harrell said. "I made sure I locked it up in the second half."
In the final minute of regulation Rivers opted not to foul while leading by three because he believed too much time remained. Then Bledsoe made a tying three-point shot while falling to the court.
The Clippers' final play of overtime was intended to go either to Danilo Gallinari or Williams, and Williams drove right on Bledsoe with three seconds remaining before lofting a runner high over the arms of Lopez's help defense. Williams lay on his back, under the hoop, when his teammates ran off the bench to mob him.
Harrell then intercepted the Bucks' final inbound pass, which had been tipped by 7-foot-3 Boban Marajanovic, and a gritty win was over.
"There were so many times in this game for both teams to quit," Rivers said, and the fact his team hadn't despite its deflating play in the second quarter and at the end of the fourth was celebrated afterward.
Lawrence Frank, the team's president of basketball operations, glided among staffers and players while handing out fist-bumps with a smile.
Sitting at his locker with his back to the room, Williams looked up when Beverley walked by.
"Big shot," Beverley said, and they exchanged nods.
Twitter: @andrewgreif
---
Get our high school sports newsletter
Prep Rally is devoted to the SoCal high school sports experience, bringing you scores, stories and a behind-the-scenes look at what makes prep sports so popular.
You may occasionally receive promotional content from the Los Angeles Times.