Clippers can't close out Cavaliers and fall 118-113 in overtime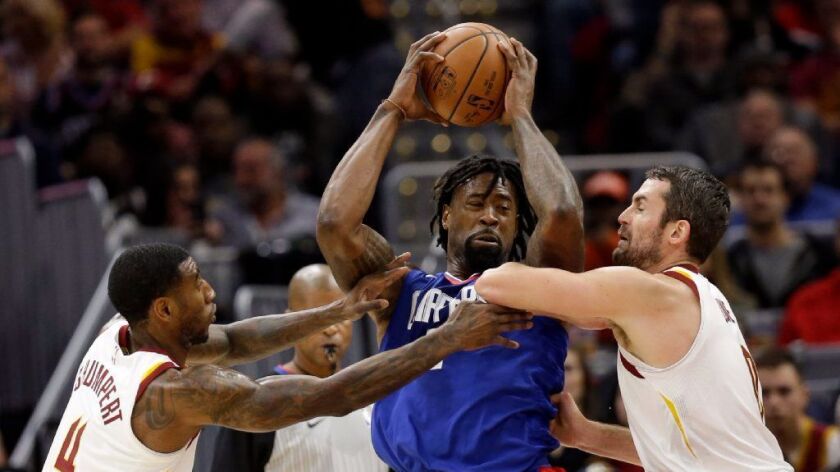 Reporting from CLEVELAND —
They played with purpose, with determination, with fight, and still the Clippers lost.
So, how the Clippers mentally grasp a close, agonizing 118-113 overtime loss to the Cleveland Cavaliers and LeBron James on Friday night at Quicken Loans Arena will be another step in whichever direction the Clippers decide to head.
The Clippers have lost seven consecutive games, nine of 10, and so many of the defeats are deflating because of how they lose.
They have failed to execute when the game hangs in the balance, this time being unable to hold on to a 10-point lead in the fourth quarter.
They have slowed their pace on offense, this time shooting 33.3% and scoring only eight points in overtime while the Cavaliers shot 50% and scored 13 in the final five minutes.
"This is about the fourth game to me that we've had a chance to win it at the end and we just have not gotten it done," Clippers coach Doc Rivers said. "It tells you that you are closer than you think you are, no matter what your record is. When you have three of your top six guys out and you're still in all these games, playing the Cavs and all these guys, it tells you that your team is in there. But you still want to pull one out, and we will."
All five of the Clippers starters scored in double figures, six players total.
They were active on defense for the most part, holding the Cavaliers to 46.7% shooting overall.
They shared the basketball for the most part, handing out 29 assists on 46 made field goals.
They trusted the system and one another for the most part, racing out to a 12-0 lead at the start of the game and even building a 15-point lead in the third.
But as they did in losses to Philadelphia, New Orleans, Cleveland and so many others during this losing stretch, the Clippers could not deliver during the game's most tense moments.
"What are we going to do, start feeling bad for ourselves," said Austin Rivers, who had 16 points but was six for 18 from the field, two for 10 from three-point range. "Ain't nobody else going to feel bad for us. If we go 4-0 on the rest of this road trip, we're right back at .500… We don't have a chance to really pout. We just have to keep playing."
While James was producing 39 points and 14 rebounds and was putting the finishing touches on the Clippers with a 16-foot turnaround with 31.7 seconds left for a five-point Cavaliers lead, Blake Griffin was not productive in the clutch.
He was one for eight in the fourth quarter, which included one shot that barely grazed the rim with the score tied at 105 with 36.2 seconds left in the fourth and a missed 20-foot jumper with 3.9 seconds left in the fourth and the score still tied.
He was one for four in the overtime, missing his first three shots before scoring on a running layup.
"I've got to be much better down the stretch offensively," said Griffin, who scored 23 points on eight-for-25 shooting. "I just [missed] too many easy buckets."
---
Get our high school sports newsletter
Prep Rally is devoted to the SoCal high school sports experience, bringing you scores, stories and a behind-the-scenes look at what makes prep sports so popular.
You may occasionally receive promotional content from the Los Angeles Times.