Clippers' Matt Barnes show's he's flexible, reshapes body with yoga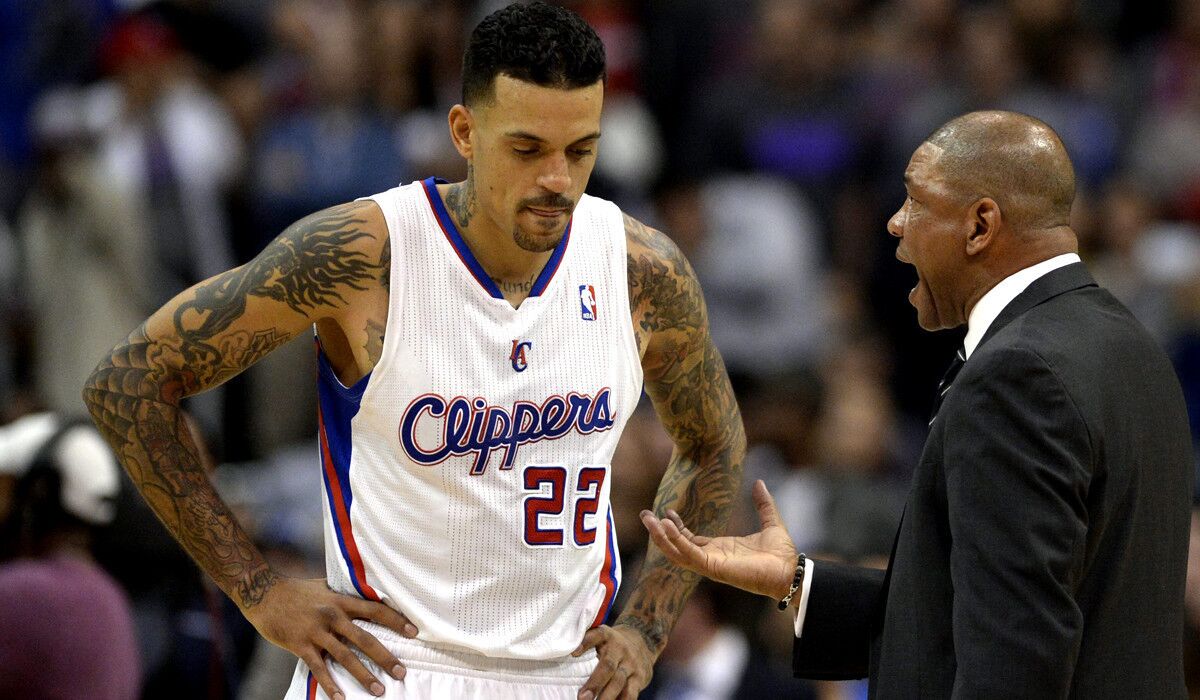 Matt Barnes wanted to become a healthier, more limber NBA player at age 34.
If it sounds like a stretch, it certainly was.
The Clippers small forward spent part of his summer participating in yoga classes in Manhattan Beach. His classmates weren't exactly his basketball peers.
"It was all ladies that were 45 to 60," Barnes said. "When I went in there, I was like, 'Am I in the right place?' "
Barnes showed up in shorts, a white tank top and his usual array of tattoos, prompting quizzical looks. But he quickly made friends and even received a few pointers from his more seasoned classmates.
His yoga and an improved diet that involved eating heartier but smarter helped Barnes lose 18 pounds. At 210 pounds, the veteran of 11 NBA seasons is the lightest he's been since he was a junior in high school.
He will probably still play the heavy in any on-court scrapes involving his teammates, but Barnes knew he was reaching the point of his career in which he needed to carry less weight and improve his flexibility.
"I'm still not as flexible as I'd like to be and it's something I continue to work on," he said, "but I just knew that I couldn't miss as much time as I did last year."
Barnes was injured in the summer, during training camp and didn't fare much better once the season started. He missed 19 games because of eye surgery and a bruised right thigh.
He is fully recovered now, though he fell on his hip in the Clippers' first exhibition game. That's not going to be enough to stop someone who said he was harboring "a lot of built-up excitement" about this season.
Barnes is part of a small forward rotation that remains fluid two weeks before the season opener. He said he preferred to come off the bench because he likes being able to energize the second unit, but he also wouldn't mind being part of what he called one of the best starting lineups in the league.
"I do know that I'm going to be playing and that's all that matters," he said.
Ball security
Coach Doc Rivers acknowledged that something was bothering him about his team. It has to rebound better.
"We have proved that we're not a good rebounding team," he said, "and we have to be a great rebounding team."
The Clippers have been outrebounded in all three exhibition games, continuing a troubling trend from last season. Rivers said part of the problem was guard penetration that put the Clippers' big men out of rebounding position because they were engaged in help defense.
Another issue, ironically, is the presence of center DeAndre Jordan, the NBA's leading rebounder last season.
"A shot goes up and everybody's gone except for D.J., like D.J. will get it," Rivers said. "Well, he can't get them all, so we have to be a better rebounding team, clearly."
Twitter: @latbbolch
---
Get our high school sports newsletter
Prep Rally is devoted to the SoCal high school sports experience, bringing you scores, stories and a behind-the-scenes look at what makes prep sports so popular.
You may occasionally receive promotional content from the Los Angeles Times.