Clippers' DeAndre Jordan affects rivals' intentional foul success rate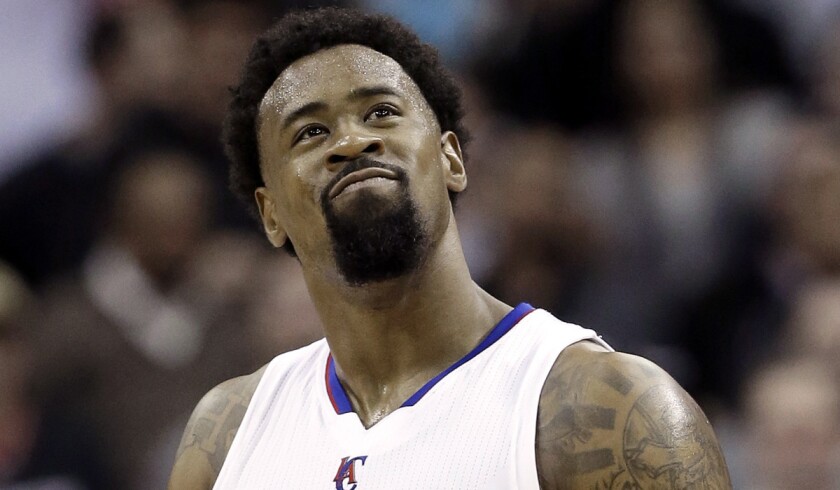 Reporting from CHICAGO —
Maybe teams are going about this intentionally fouling DeAndre Jordan thing all wrong.
Clippers Coach Doc Rivers said the analytics he's seen have suggested the best time to use the hack-a-whoever strategy is when the score is tied or the fouling team is ahead, not behind.
"That's hard for coaches to do, but analytically they'll tell you that's when you should commit the fouls," Rivers said Friday night after the Memphis Grizzlies' attempt to rally by repeatedly sending Jordan to the free-throw line failed during a 97-79 loss to the Clippers at FedEx Forum.
"You don't want to take a chance of giving them one more point, but if you think about it, if you're up and you did that and he split foul [shots], they can never come back. Whereas if you play defense, they're getting twos and threes instead of ones. It makes sense, it's just scary to do."
Jordan might have given teams momentary pause about intentionally fouling him by making five of eight free throws in that scenario against Memphis. The Clippers increased their lead by three points over the 53-second span the Grizzlies kept sending Jordan to the line.
And it's not exactly an aberration. Since the Clippers' victory over Houston on Feb. 11, Jordan has added to his team's lead in four of the six instances in which he has been intentionally fouled on two or more consecutive possessions.
Not that Jordan expects teams to abandon the strategy.
"They're still going to do it," said Jordan, who is making 40.9% of his free throws this season. "Even if I make two, they're going to be like, 'Aw, we don't believe it, we're going to foul him again.' It doesn't matter."
Sending Jordan to the free-throw line again and again has been a formula for success … for the Clippers. In Jordan's career, including in the playoffs, the team is 9-0 when he has taken 14 or more free throws.
Healing powers
Jamal Crawford has made 49.4% of his shots since the trade deadline, a significant uptick for the shooting guard who shot 34.8% in January and 37% during the first six games of February.
Crawford said his improvement had more to do with the gradual healing of his right elbow, which sustained a burst bursa sac in December, than any agenda related to proving his worth.
"I think I'm healthy and I think I just had to start picking my shots a little bit and be a little more patient, just trust this would come back around," said Crawford, who was the subject of trade rumors. "I'm playing more too, so you don't have to squeeze so much in in a little bit of time. You can extend and pick your shots better."
Crawford's playing time has increased because of the absence of the injured Blake Griffin, but Rivers said Griffin's being away has made things trickier for his guards. Teams are routinely trapping them whenever Spencer Hawes is off the court because the Clippers' other big men, Jordan and Glen Davis, have limited shooting range.
"I told our guards, 'You're going to struggle, just live with it,'" Rivers said. "'I can't help you.'"
Crawford has persevered just fine. He has scored 15 or more points as a reserve in 10 consecutive games, the longest streak of his career and the longest in the NBA this season.
Etc.
Jordan is set to play in his 300th consecutive game Sunday when the Clippers play Chicago at the United Center, the longest active streak in the NBA. … The Clippers did not practice Saturday.
Clippers today
AT CHICAGO
When: 10 a.m. PST.
Where: United Center.
On the air: TV: Channel 7; Radio: 980, 1330.
Records: Clippers 38-21; Bulls 37-22.
Record vs. Bulls: 0-1.
Update: The Bulls have split their two games since learning that point guard Derrick Rose would require surgery to repair a torn meniscus in his right knee. The team has put Rose's timeline for a return at four to six weeks, meaning he is expected to play again this season. Aaron Brooks replaced Rose in the starting lineup during a loss to Charlotte and a victory over Minnesota. Pau Gasol didn't play Friday because of illness, but he is expected to be ready for the Clippers.
—Ben Bolch
Twitter: @latbbolch
---
Get the latest on L.A.'s teams in the daily Sports Report newsletter.
You may occasionally receive promotional content from the Los Angeles Times.