Clippers' Dahntay Jones says his bumping Draymond Green was accidental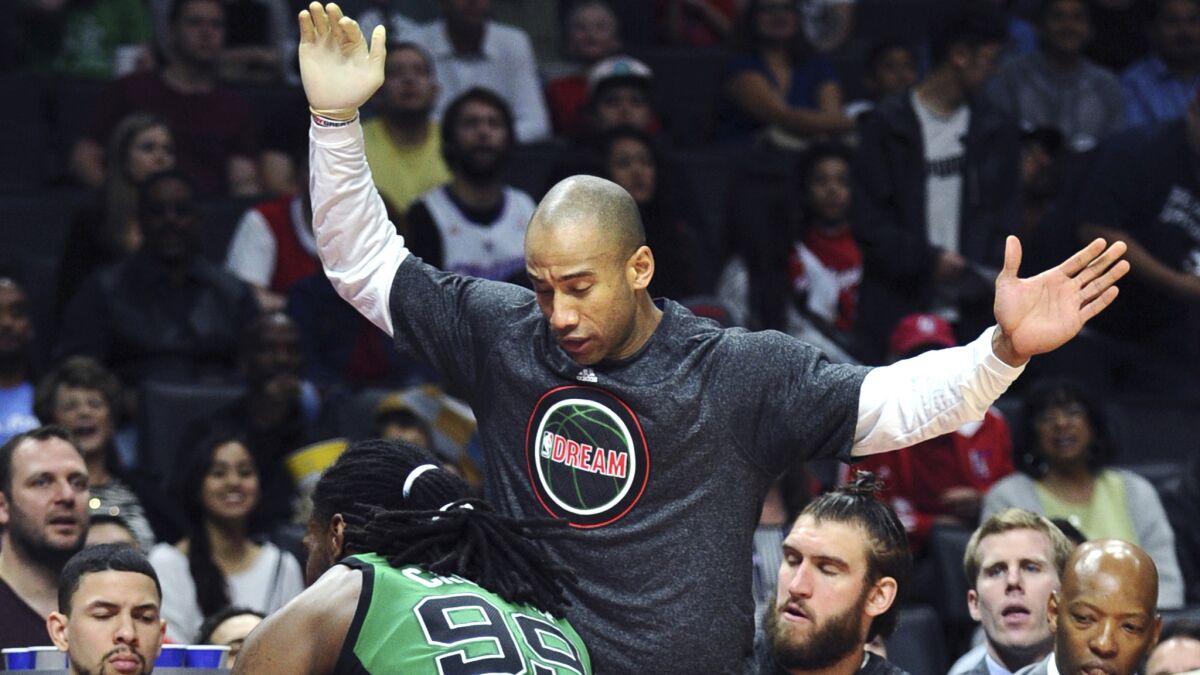 No, Dahntay Jones insists, he does not have a split personality. He is not the Clippers' head cheerleader and lead instigator.
The reserve swingman said his bump of Draymond Green while the Golden State forward was being interviewed on national television Sunday was accidental, though the NBA determined otherwise Monday by fining Jones $10,000.
"Some people like to draw attention to themselves and make themselves bigger than what it is," Jones said of Green, who made comments critical of his Clippers counterpart after Jones brushed his arm while walking to the locker room.
Jones said he would appeal the fine, in part because he did not look at Green or try to engage him in any manner.
"We never got into it, we never exchanged any words," Jones said. "We never exchanged any glances. We never ran into each other. I don't even know him as an individual, so there's no bad blood. Somebody had a good game and wanted a little bit more attention."
Green scored a game-high 23 points during the Warriors' 106-98 victory before going on a lengthy rant about Jones, who has rarely played since the Clippers signed him in late January.
"Me getting suspended and him getting suspended, it's different," Green said. "If [Jones] gets suspended, they may not even notice."
Green went on to say that Jones "got the camera time he was looking for," a reference to the 11-year veteran's lack of a role besides energetically cheering teammates from the bench.
Jones called Green's comments "a little bit immature. I would have just shrugged it off. … I apologize if I hurt his feelings."
Clippers Coach Doc Rivers said he was awoken Monday by the sound of his phone receiving a text message from Rod Thorn, the NBA's president of basketball operations who was investigating the incident. Rivers said he had no idea what Thorn was referring to and went back to sleep.
Rivers was incredulous when he watched replay footage later in the day.
"Wow, that was such a violent bump!" Rivers deadpanned. "I'm telling you. It was amazing. I told Dahntay, 'You've got to be careful. That was too hard.' I guess that tough guy at Golden State, I mean, I think the bump was too hard for him, clearly, the way he reacted."
Lawler honored
As far as Rivers is concerned, there's no question whose jersey should be the first the Clippers hang at Staples Center. The only uncertainty is what's displayed on the fabric.
"The first one will be a microphone or a mustache or something," Rivers said in reference to longtime broadcaster Ralph Lawler, who was honored Monday night for his 36 years of service.
Video tributes for the NBA's third-longest-tenured broadcaster were made by legendary Dodgers counterpart Vin Scully and NBA Hall of Famer Charles Barkley. Former Clippers in attendance included former Coach Gene Shue, in addition to Marques Johnson, Norm Nixon, Gary Grant, Corey Maggette, Lamond Murray, Olden Polynice, Pooh Richardson, Keyon Dooling and Derek Anderson.
"It's just been a great ride," Lawler told the crowd at halftime after receiving a standing ovation. "I don't know what I've done to deserve this."
ben.bolch@latimes.com
Twitter: @latbbolch
---
Get our high school sports newsletter
Prep Rally is devoted to the SoCal high school sports experience, bringing you scores, stories and a behind-the-scenes look at what makes prep sports so popular.
You may occasionally receive promotional content from the Los Angeles Times.