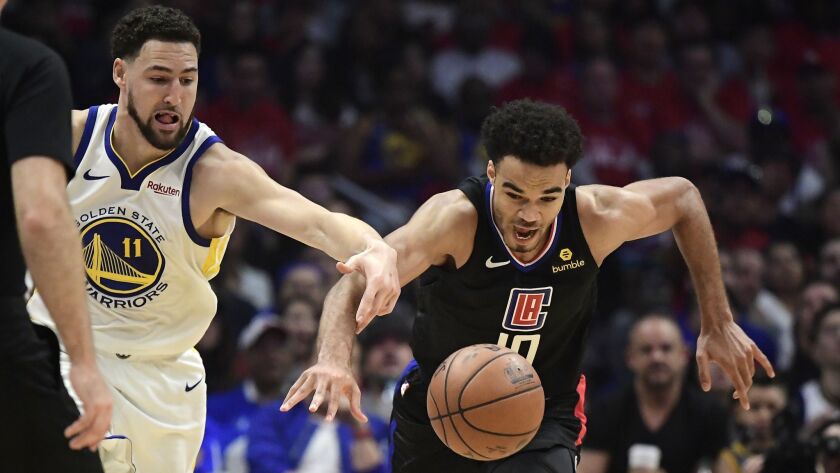 The Los Angeles Clippers open NBA Las Vegas Summer League play against the Lakers at 4:30 p.m. Saturday at Thomas & Mack Center.
Second-year shooting guard Jerome Robinson, who got off to a slow start last summer because of a foot injury sustained during play in Las Vegas, will headline the Clippers' contingent.
Among the other top players on the squad could be former Florida State teammates Mfiondu Kabengele and Terance Mann, who were selected in the first and second rounds of the NBA draft in June. Kabengele is a 6-foot-10, 250-pound power forward; Mann is a 6-7, 215-pound wing.
The only other players on the roster with any NBA experience are 6-8 center Cliff Alexander, 6-8 forward Nigel Hayes and 6-1 guard Derrick Walton Jr.
The rest of the roster is made up of undrafted rookies: 6-8 forward Oshae Brisett, 6-9 forward Robert Carter, 6-8 guard Amir Coffey, 6-8 forward Kaiser Gates, 7-0 center Isaac Humphries, 6-1 guard Treamaine Isabell and 6-4 guard David Michineau.
The Clippers also play at 8:30 p.m. Sunday vs. Memphis; 8:30 p.m. Tuesday vs. Washington and 7 p.m. Thursday vs. Sacramento. They are guaranteed at least one more game if they fail to qualify for the single-elimination tournament, which concludes July 15.
LAS VEGAS SUMMER LEAGUE SCHEDULE
(all times PDT)
Games played at Cox Pavilion and Thomas & Mack Center
Friday, July 5
Croatia vs. Detroit, noon, Cox (NBA TV)
Milwaukee vs. Philadelphia, 12:30 p.m., T&M (ESPN2)
Cleveland vs. Minnesota, 2 p.m., Cox (NBA TV)
China vs. Miami, 2:30 p.m., T&M (ESPNU)
Brooklyn vs. Dallas, 4 p.m., Cox (NBA TV)
Chicago vs. Lakers, 4:30 p.m., T&M (ESPN)
Golden State vs. Charlotte, 6 p.m., Cox (NBA TV)
New Orleans vs. New York, 6:30 p.m., T&M (ESPN)
San Antonio vs. Orlando, 8 p.m., Cox (NBA TV)
Denver vs. Phoenix, 8:30 p.m., T&M (ESPN)
Saturday, July 6
Utah vs. Oklahoma City, noon, Cox (NBA TV)
Detroit vs. Portland, 12:30 p.m. T&M (ESPNU)
Milwaukee vs. Atlanta, 2 p.m., Cox (NBA TV)
Philadelphia vs. Boston, 2:30 p.m. T&M (ESPN)
Indiana vs. Memphis, 4 p.m., Cox (NBA TV)
Lakers vs. Clippers, 4:30 p.m. T&M (ESPNU)
Houston vs. Dallas, 6 p.m., Cox (NBA TV)
Washington vs. New Orleans, 7 p.m. T&M (ESPN)
Sacramento vs. China, 8 p.m., Cox (NBA TV)
Sunday, July 7
Golden State vs. Toronto, 9 a.m., T&M (ESPN)
Charlotte vs. San Antonio, 12:30 p.m. T&M (ESPN2)
Croatia vs. Brooklyn, 1 p.m., Cox (NBA TV)
Atlanta vs. Minnesota, 2:30 p.m. T&M (ESPN2)
Orlando vs. Denver, 3 p.m., Cox (NBA TV)
Cleveland vs. Chicago, 4:30 p.m. T&M (ESPN)
Miami vs. Utah, 5 p.m., Cox (NBA TV)
Phoenix vs. New York, 6:30 p.m. T&M (ESPN)
Portland vs. Houston, 7 p.m., Cox (NBA TV)
Clippers vs. Memphis, 8:30 p.m., T&M (ESPN2)
Monday, July 8
Philadelphia vs. Oklahoma City, noon, Cox (ESPNU)
Dallas vs. Sacramento, 12:30 p.m., T&M (NBA TV)
Detroit vs. Indiana, 2 p.m., Cox (ESPNU)
Brooklyn vs. Washington, 2 p.m. , T&M (NBA TV)
Toronto vs. San Antonio, 4 p.m., Cox (ESPNU)
Boston vs. Cleveland, 4:30 p.m., T&M (NBA TV)
Minnesota vs. Milwaukee, 6 p.m., Cox (ESPNU)
Chicago vs. New Orleans, 6:30 p.m., T&M (NBA TV)
Charlotte vs. China, 8 p.m., Cox (ESPNU)
Lakers vs. Golden State, 8:30 p.m., T&M (NBA TV)
Tuesday, July 9
Oklahoma City vs. Croatia, 12:30 p.m., T&M (NBA TV)
Orlando vs. Miami, 1 p.m., Cox (ESPN2)
Atlanta vs. Indiana, 2:30 p.m., T&M (NBA TV)
Utah vs. Portland, 3 p.m., Cox (ESPN2)
Memphis vs. Phoenix, 4:30 p.m., T&M (NBA TV)
Boston vs. Denver, 5 p.m., Cox (ESPN2)
Toronto vs. New York, 6:30 p.m., T&M (NBA TV)
Houston vs. Sacramento, 7 p.m., Cox (ESPN2)
Wizards vs. Clippers, 8:30 p.m., T&M (NBA TV)
Wednesday, July 10
Detroit vs. Philadelphia, 12:30 p.m., Cox (NBA TV)
Dallas vs. Croatia, 12:30 p.m., T&M (ESPNU)
Chicago vs. Charlotte, 2 p.m., Cox (NBA TV)
Brooklyn vs. Orlando, 2:30 p.m., T&M (ESPNU)
Miami vs. Minnesota, 4 p.m., Cox (NBA TV)
New Orleans vs. Cleveland, 4:30 p.m., T&M (ESPN2)
Phoenix vs. San Antonio, 6 p.m., Cox (NBA TV)
New York vs. Lakers, 6:30 p.m., T&M (ESPN2)
Milwaukee vs. China, 8 p.m., Cox (NBA TV)
Denver vs. Golden State, 8:30 p.m., T&M (ESPNU)
Thursday, July 11
Indiana vs. Toronto, 3 p.m., Cox (NBA TV)
Atlanta vs. Washington, 3:30 p.m., T&M (ESPN2)
Oklahoma City vs. Portland, 5 p.m., Cox (NBA TV)
Houston vs. Utah, 5:30 p.m., T&M (ESPNU)
Clippers vs. Sacramento, 7 p.m., Cox (NBA TV)
Memphis vs. Boston, 7:30 p.m., T&M (ESPN2)
---