Mfiondu Kabengele and fellow Clippers rookies get ready for summer league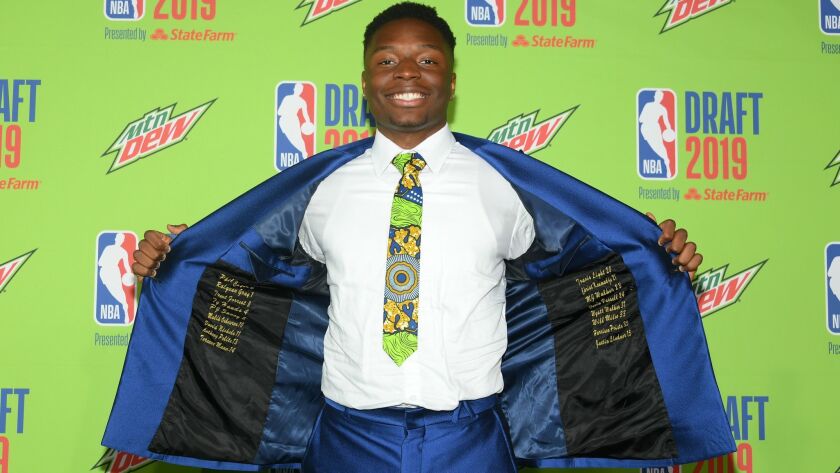 Watching from the stands of NBA arenas as a child, Mfiondu Kabengele cheered as his uncle, Hall of Fame center Dikembe Mutombo, celebrated blocked shots with a trademark wag of the index finger. When the games ended, he saw that the adulation often followed Mutombo to postgame dinners with family.
"You don't realize how famous he is until the game's ending," Kabengele said. "You sit down and have dinner with him and people are asking for pictures and bothering him. You think of him as your uncle, but you don't realize he's a Mutombo, how famous he is, how people recognize him."
Despite seeing the NBA up close from such a young age, it took many more years before Kabengele saw himself as having a place in the league too. Consider that as a junior in high school in Canada, he was 6 feet 4 and 220 pounds. He had no scholarship offers until midway through his lone season at an Indiana prep school as he continued to grow and fill out. He redshirted his freshman season at Florida State.
It wasn't until this past winter, as the now 6-foot-10, 250-pound Kabengele was midway through his sophomore season in Tallahassee, that he recognized the opportunity to make the NBA.
Maybe that quick rise from college sixth man to the 27th overall pick in June's draft is why Kabengele, a late-blooming forward, was all smiles Monday during his first day of the team's summer league minicamp.
It's a lot to take in, so Kabengele will attempt to keep his thought process simple during his NBA debut Saturday in Las Vegas against the Lakers.
"Just be myself, be consistent, play defense," he said, "and show the reasons why they drafted me."
In summer league play, Kabengele will be one of dozens of players hoping to prove they belong. The Clippers' summer roster includes Terance Mann, a 6-7 guard who was the 48th overall pick and a teammate of Kabengele's at Florida State. A likely candidate to spend portions of next season in the G League, Mann aims to show his shooting is better than advertised. The roster also includes Jerome Robinson, a Clippers first-round pick a year ago who is seeking to assert his skills as a playmaker after a foot injury derailed his rookie season.
The rest of the team is littered with players hoping to catch the eye of an NBA team, including a host of undrafted rookies including Syracuse's Oshae Brissett, Maryland's Robert Carter, Minnesota's Amir Coffey, Xavier's Kaiser Gates and Kentucky's Isaac Humphries.
The Clippers' Las Vegas schedule also includes games Sunday against Memphis, Tuesday against Washington, July 11 against Sacramento and a fifth game against an opponent determined later. Brian Adams, the coach of the Clippers' G League affiliate in Ontario, is the team's head coach.
So far, the NBA transition has not been as severe as Kabengele and Mann might have expected. Competing in the Atlantic Coast Conference, which produced six of the first 11 picks in June's NBA draft, provided rugged experience facing players such as Duke's Zion Williamson, the No. 1 overall pick, and his teammate R.J. Barrett, who was selected third overall.
"There's really nothing like the NBA," Mann said, "but I think [the ACC] kind of gives you a good look at how it could be preparing for big-time players night in and night out."
And just as Florida State coach Leonard Hamilton was up front about what it took to play, Clippers coach Doc Rivers is blunt with his players about his expectations for their roles.
"It's all about defense," Kabengele said. "You play defense, you play."
Sign up for our daily sports newsletter »
With 3,289 career blocked shots, the second most in NBA history, Kabengele's uncle was one of the league's best defenders ever. Yet while Kabengele shares some of Mutombo's genes, his game isn't a clone. His experience playing guard in high school makes him comfortable operating on the perimeter, where he made 37.4% of his three-pointers in college. But his late growth spurt now makes him a frontcourt player, and he averaged nearly 1.5 blocks a game this past season. He's expected to start his career as a power forward, but as Kabengele adds strength, he could transition into a center.
His uncle has been influential in his development. When Kabengele blocked just one shot in his first seven games this past season, Mutombo suggested Kabengele delay how quickly he rolled over to help protect the rim.
"Those are kind of the little details he taught me," Kabengele said. "He's done everything he could. He said 'be yourself.' My last name is Kabengele, so I'm a different kind of player. Even though we are family ... there's no added pressure."
That includes no pressure from his family to continue Mutombo's iconic, post-block finger wag.
"I'll find something else," Kabengele said, smiling broadly. "It will come organically."
Kabengele can be forgiven for not arriving in the NBA with his celebrations planned. It was only a few months ago that he considered he might be able to follow in his uncle's pro footsteps at all.
Twitter: @andrewgreif
---
Get the latest on L.A.'s teams in the daily Sports Report newsletter.
You may occasionally receive promotional content from the Los Angeles Times.