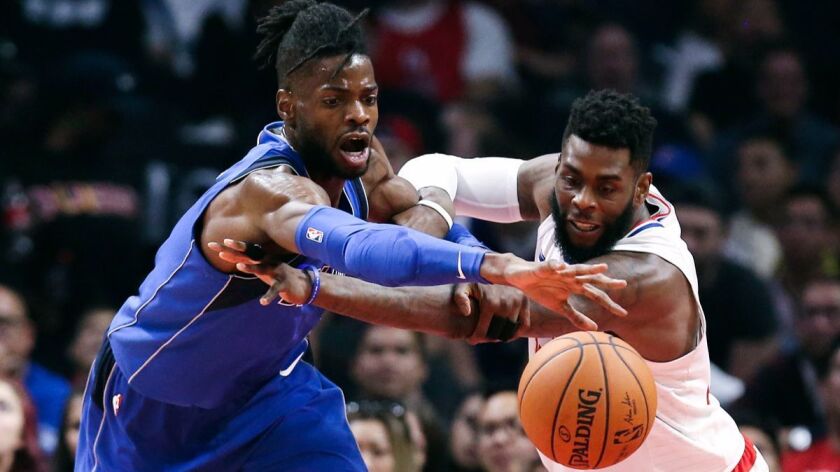 There was no better opponent for the Clippers to get their verve back than facing the dreadful Dallas Mavericks.
All it took was for the Clippers to play with enough exuberance and drive to dispatch the Mavericks 119-98 Wednesday night at Staples Center before a smallish crowd of 13,487.
In running over the 1-8 Mavericks, the Clippers (5-2) snapped a two-game losing streak.
Perhaps more importantly, the Clippers had recovered from having seen their vitality zapped in the wake of another loss to the Golden State Warriors on Monday night.
"You need to be reassured sometimes," Clippers coach Doc Rivers said. "I just felt the fun coming back. We started playing again, playing freer. I thought we needed that."
None of the Clippers starters played in the fourth quarter, but four of them scored in double-figures.
Blake Griffin led the way with 20 points, six rebounds and seven assists.
Austin Rivers had another solid game with 19 points on seven-for-12 shooting, two for four from three-point range. Danilo Gallinari was stellar with 14 points, six rebounds and four assists. DeAndre Jordan chipped in with 13 points, nine rebounds and two blocks.
Lou Williams came off the bench to provide the Clippers with 17 points on five-for-eight shooting, two for three on three-pointers.
Doc Rivers even went to his reserves early, letting Montrezl Harrell and rookie Sindarius Thornwell get some run in the second quarter when the game was still close.
Harrell showcased his skills, scoring six of his eight points in the second. Thornwell, a rookie, was solid with three total points.
"Sindarius, the guy just knows how to play basketball," Rivers said. "He's just been really fun to coach.
"Montrezl is one of those guys, you put him in and energy is going to happen. He just plays so hard."
The Mavericks had entered the game with the worst winning percentage in the NBA at 12.5%. They left with an 11.1% winning percentage, still the worst.
They were ranked 26th in scoring (98.3 points per game) and next to last in field-goal percentage (42.2%).
Dallas has become a team that relies on the three-pointer. The Mavericks entered the game ranked fourth in three-point percentage (38.9%) and tied for third in attempts (32.8).
But the Clippers made sure the Mavericks never got that part of their game going.
The Clippers broke the game open in the second quarter, outscoring the Mavericks 34-19, opening a 66-48 halftime lead.
The Clippers shot 57.9% from the field in the first half.
Though the Mavericks made 43.8% of their three-point field goals in the first 24 minutes, they made just 39.1% of their shots overall in the first half.
For the game, the Mavericks attempted 36 three-pointers and made 12. They shot 39.3% from the field.
"It felt like the first five minutes we still had a hangover defensively," Rivers said. "We were awful. And then all of a sudden we clicked in and started getting stops and running. This is the first game in three games that we've got our pace back. We were running."
Twitter: @BA_Turner
---