Clippers snap four-game losing streak with 125-121 victory over Mavericks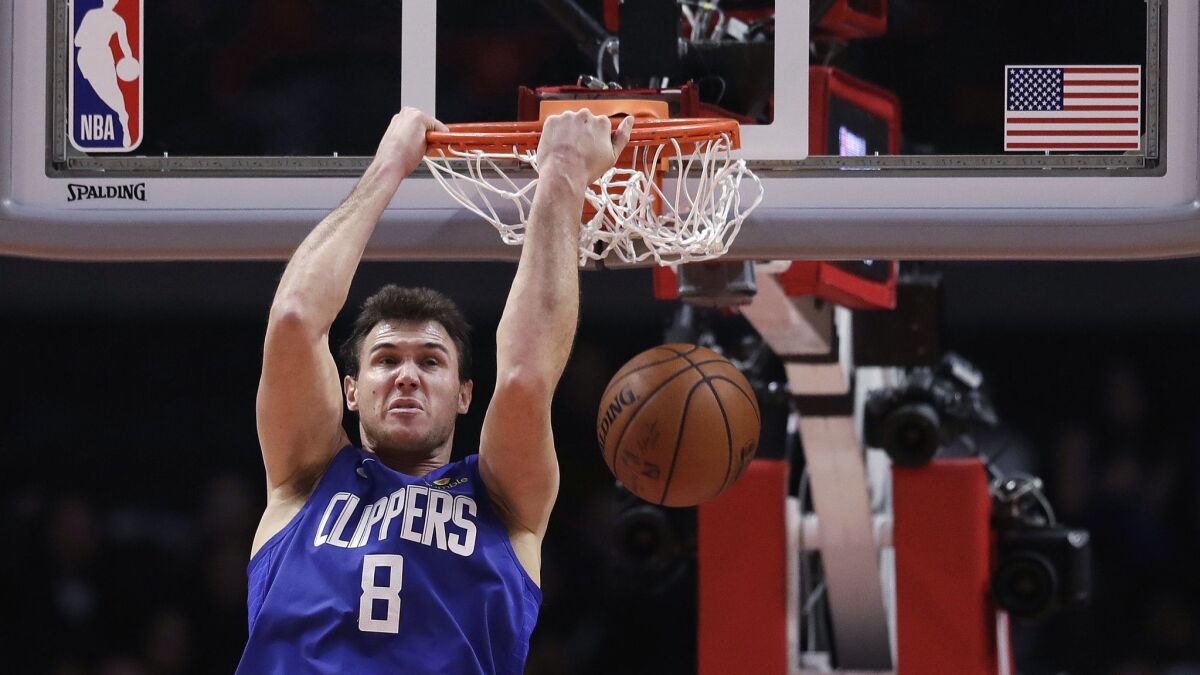 For all the talk of former Clipper DeAndre Jordan's return Thursday at Staples Center, the reappearance that mattered most was that of the Clippers' bench.
After missing four games with a hamstring injury, guard Lou Williams scored 26 points in 24 minutes off the bench and was clutch in the fourth quarter during a 125-121 Clippers victory over Dallas.
"Lou was fantastic," coach Doc Rivers said. "I thought early on his passing was fantastic and then he started the scoring barrage down the stretch. I just think he gives us a confidence when you have him on the floor. It gives us a closer at the end of the game."
It ended a four-game losing streak for Los Angeles and featured the type of forceful bench performance that had been customary during the season's surprising start — and missing amid the team's slide this month. Clippers reserves outscored the Mavericks' 67-49, with forward Montrezl Harrell getting 18 points, six rebounds and four assists.
Williams scored 13 consecutive points in a stretch spanning the third and fourth quarters and continued his playmaking late. He followed his midrange jumper for a six-point lead with 1:33 left in the game with an assist to Danilo Gallinari on a backdoor cut for a dunk with 1:02 remaining to cap a 15-2 L.A. run.
That eight-point lead was down to two with 3.8 seconds left, after a 26-foot step-back three-pointer by Mavericks rookie Luka Doncic.
Tobias Harris made two free throws to secure the victory.
Before tipoff, Rivers said he couldn't remember being more excited to watch a rookie play.
"He's just fun to watch," Rivers said of Doncic.
Doncic proceeded to score 32 points.
"I was sick of him," Rivers said afterward. "He is a handful."
So are the Clippers (18-13) when their bench is rolling, as it was again. Just as reserves powered the team's strong first six weeks, their struggles to recapture that efficiency contributed to their recent slide. The Clippers entered Thursday losers of seven of their last nine games, a stretch in which Williams and Harrell were either hurt or ineffective. Williams is instant offense. Harrell is typically an injection of energy, to the point Rivers likened him to a "barometer" for the team. They looked like their old selves Thursday. For that matter, so did their team.
Gallinari scored a season-high 32 points, Harris added 16 and the Clippers overcame 30% shooting from three-point range to shoot 56% from the field.
It didn't look so promising to start. It took Rivers all of 2 minutes, 43 seconds to call his first timeout as Dallas (15-15) was sharper to start. Doncic's step-back on a three-pointer in the first quarter was so effective it created a gulf of several feet between himself and defender Avery Bradley, and he made the shot for an 11-4 Dallas lead. Shai Gilgeous-Alexander left soon after earning his second foul.
Instead of snowballing, Dallas' lead withered.
Williams, who'd missed his last four games with an injured hamstring, scored his first basket on a trademark shot one minute into the second quarter.
Harrell caught the carom of a missed corner three-pointer for a dunk, two of the 14 points that marked his most in a first half this season. Ty Wallace scored on consecutive drives and continued to make the case for more playing time. The Clippers led by 11 at halftime and were shooting 60%.
The good times didn't last.
As Doncic went off for 14 points in the third quarter, Rivers lost his footing and fell to the court arguing a non-call on a double-dribble. He feared he'd torn a knee ligament but laughed it off afterward. Harris hobbled off the court late in the third quarter went to the bench, where he stayed until midway through the fourth. Ninety seconds into the fourth quarter, Dallas led by one after a three-pointer by Devin Harris.
The Clippers' only answer came from Williams. Leading by two with less than three minutes to go, Harrell caught his own missed layup and followed it with a layup over Jordan, and a foul. Jordan had 11 points and 22 rebounds in his first game in Los Angeles against his former team since joining Dallas.
Twitter: @andrewgreif
---
Get our high school sports newsletter
Prep Rally is devoted to the SoCal high school sports experience, bringing you scores, stories and a behind-the-scenes look at what makes prep sports so popular.
You may occasionally receive promotional content from the Los Angeles Times.