Newsletter: Clippers! A message for DeAndre Jordan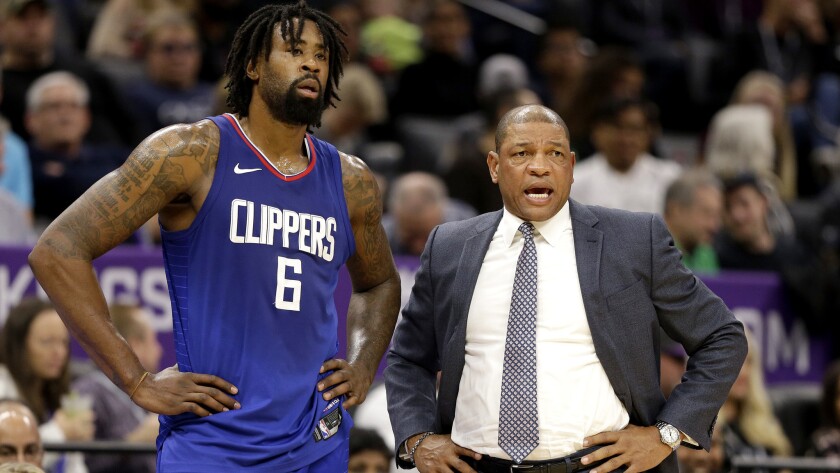 Hi, my name is Broderick Turner, and welcome back to the Los Angeles Times' Clippers newsletter.
Be who you are, DeAndre Jordan. That's all the Clippers want you to be even during these troublesome times.
Be that rebounding phenom you've always been. Be that defensive force you've always been. Be that above-the-rim offensive threat you've always been. Be that active player you've always been.
And if you can be that, the Clippers will live with the consequences that you bring to the team.
"He does what he does," Clippers coach Doc Rivers said. "I don't want to ask him to do more. I want him to rebound. I guess he can rebound more, which is hard to say. Defensively, he has to be darn near perfect because some of the young guys are getting beat off the dribble and DJ has to be there and with his guy. DJ has a lot on his plate right now."
Indeed Jordan does, especially with him being the last man standing from the successful six-year, regular-season run the Clippers had.
Blake Griffin is down with a sprained medial collateral ligament in his left knee. Chris Paul, J.J. Redick and Jamal Crawford, all central characters during that time, are gone.
Injuries to new players Danio Gallinari (who returned Wednesday night from a sprained left glute), Milos Teodosic (plantar fascia injury to left foot) and Patrick Beverley (season-ending right knee surgery) have put added pressure on Jordan to perform.
"I think I want to continue to do what I'm doing, but do a little bit more of it," Jordan said. "We all got to step up to make up for the loss of Pat, Milos, Gallo who is coming back, and Blake.
"You'll never be able to fully replace those guys, but we all got to step it up even more. I'm not going to come out here and start doing isos [isolation plays] and pushing the ball up and doing crazy stuff. But whatever they need for me to do for us to win, that's what I'm going to do."
The Clippers just want Jordan to be the player that was a 2017 NBA All-Star. They just want Jordan to be the player that has been on the All-NBA team and All-NBA defensive team.
"I don't think I need to step out of my game," Jordan said. "I just need to pick up what more I've been doing and be a leader for this team."
Jordan is second in the NBA in total rebounds (13.9) and offensive rebounds (4.6). He is tied for 12th in double-doubles (11) and leads the NBA in field-goal percentage (68.5%).
See, this is what the Clippers believe Jordan still can be.
He's also the team's defensive-signal caller and they still want him to handle those duties.
"The only thing I've asked of DJ is to not get frustrated with his talk. Like DJ, he communicates. He's like Mike Singletary," said Rivers, referring to the old Chicago Bears middle linebacker. "When DJ gives a command and a guy doesn't do it or doesn't hear it or doesn't understand it, you just got to keep playing. That's where DJ can get frustrated."
Offense has never been Jordan's strong suit, but he does score on lob dunks.
And there have been some games in which Jordan has moved across the line and scored. It's just that he's not a low-post presence.
"We want him to duck-in and play," Rivers said. "DJ is what he is. When he gets it deep, he's terrific. We want to get him deep more…But he is what he is."
So there it is, DeAndre Jordan.
Be who you are.
In case you missed it
Clippers unsure when Milos Teodosic can return from injury.
Austin Rivers apologizes for cursing at fan.
Up next
All times Pacific
Saturday vs. Washington, 12:30 p.m.
Monday vs. Toronto, 7:30 p.m.
Wednesday at Orlando, 4 p.m.
And finally
We'd love for you to subscribe or to spread the word and ask your friends to subscribe. It's free! Click here to subscribe.
Have a comment or something you'd like to see in a future Clippers newsletter? Email me and follow me on Twitter: @BA_Turner.
---
Get our high school sports newsletter
Prep Rally is devoted to the SoCal high school sports experience, bringing you scores, stories and a behind-the-scenes look at what makes prep sports so popular.
You may occasionally receive promotional content from the Los Angeles Times.