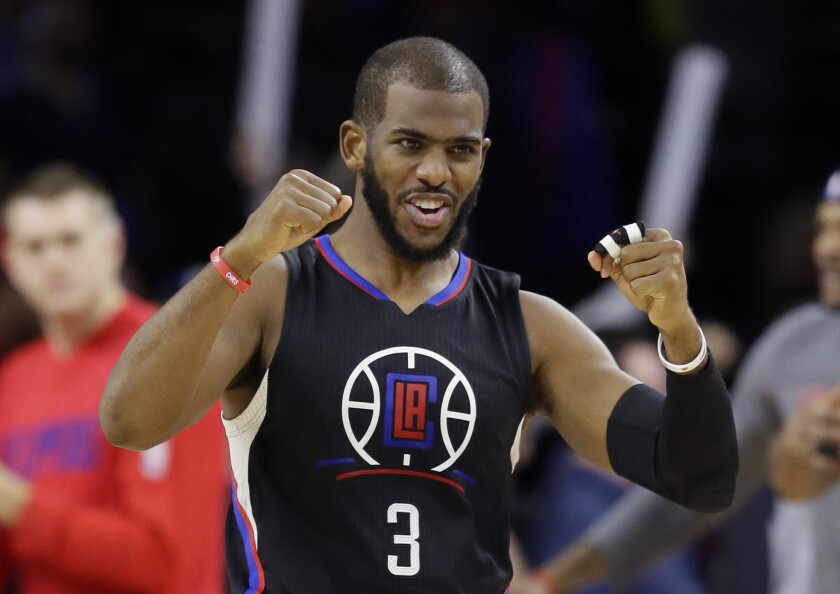 Reporting from AUBURN HILLS, Mich. —
Sometimes Doc's orders are better overridden.
Twice, Clippers Coach Doc Rivers drew up plays late in a taut game Monday night. And twice, his players convinced him they should run something else.
The collaborative approach worked for everyone. J.J. Redick made a three-pointer that sent the game into overtime and Jamal Crawford made another three that provided the go-ahead points for the Clippers in a wild 105-103 victory over the Detroit Pistons at the Palace of Auburn Hills.
"I've got to tell you, this was the players' win today," Rivers said after the Clippers rallied from a six-point deficit in the final two minutes of regulation to complete their trip with four wins in five games. "I mean, really. I probably screwed this game up more than you know."
Clippers forward Blake Griffin was the ultimate savior, eluding double teams to make the passes that led to Redick's and Crawford's baskets. It was as if he wanted to live up to Pistons Coach Stan Van Gundy's pregame assertion that Griffin was "easily the best passing true big in the league."
Griffin found a wide-open Crawford for the 25-footer that gave the Clippers a 105-102 lead with 12 seconds left in overtime.
"I looked at Jamal and there was nobody within 10 feet," said Griffin, who finished with 34 points, 11 rebounds and seven assists. "He did the rest."
Clippers guard Austin Rivers fouled Reggie Jackson on purpose with nine seconds left so that Detroit couldn't take a potentially tying three-pointer. Jackson made the first free throw but missed the second, resulting in a rebound by Pistons center Andre Drummond. Drummond and Jackson missed putbacks from point-blank range and Jackson missed a 15-footer at the buzzer.
The Clippers (15-10) somehow persevered, improving to a season-high five games over .500 after notching three of their wins on the trip in the final minute.
"Just the way we bounced back and came from behind in the fourth quarter and stayed together, hit big shots, it was good," Griffin said.
Redick was the primary catalyst late in regulation after Detroit held an 87-81 lead with less than two minutes to play. Redick made a three-pointer and then purposefully jumped on Drummond's shoulder along the free-throw lane after Crawford had made two free throws to pull the Clippers to within 93-91.
"It didn't feel silly, but then they kind of hesitated to blow the whistle," said Redick, who had 24 points and made four three-pointers. "As I was hanging there, that kind of felt silly."
The strategy worked after the notoriously poor-shooting Drummond made one of two free throws and the Clippers overruled Rivers' play call in the timeout huddle. Redick said their plan was for Griffin to get a layup or for Redick to take a three-pointer.
When the Pistons double-teamed Griffin, he passed to Redick in the corner. Redick sidestepped Kentavious Caldwell-Pope to get behind the three-point line for a 23-footer that tied the score with 19 seconds to go.
Jackson, who finished with 34 points, missed a 20-foot jumper at the end of regulation that could have won it for the Pistons.
The comeback allowed the Clippers to overlook a horrendous game from their bench, which surrendered a 10-point lead at the beginning of the fourth quarter. Lance Stephenson did not play despite poor ball movement and a lack of playmaking from the other Clippers reserves.
"We're going to go with him, tonight I just didn't feel it," Rivers said when asked why Stephenson was held out for the second time this season. "You know we won the game, right?"
They barely did, after the players made the winning calls.
Twitter: @latbbolch
---