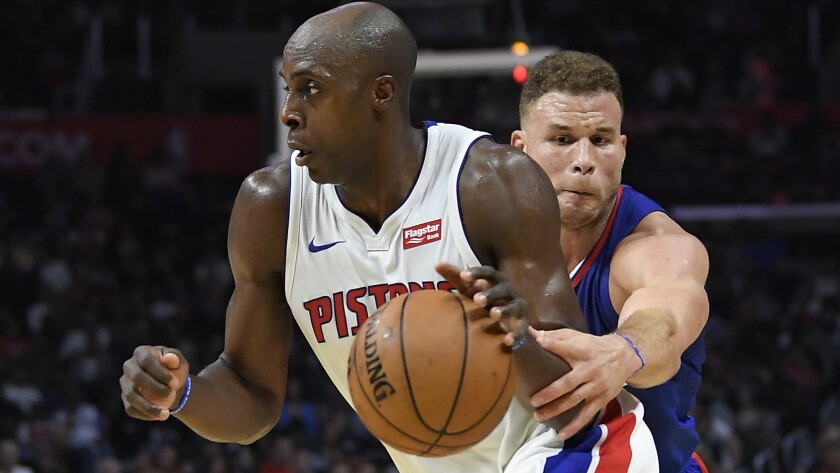 To begin with, coach Doc Rivers said the Clippers didn't have the "right spirit" during their 95-87 loss to the Detroit Pistons on Saturday night at Staples Center before 17,247 fans.
Then he proceeded to rip his team for not playing together, for not playing as a group, for not working together.
On the flip side, his players disagreed with Rivers' assessment.
"I didn't think we played together," Rivers said after the Clippers lost their first game of the season. "We've been great. But today was a step backwards. We played the blame game, pointing fingers at each other. That's something we have not done at all, but today it was here. I've seen winning, and that's not winning tonight.... We deserved to lose. I really believe that.
"Just watching our spirit. We tried to rally. It's easy to do when you get down. But we lost the lead because our heads weren't right, for whatever reason. You get 4-0 and you read the papers. I don't know what the ... reason was. We're going to be a really good basketball team, but we're never going to be a good team if we play and act like that."
After scoring 19 points on five-for-18 shooting, Blake Griffin was asked about Rivers' comments.
"Naw, I didn't see that, to be honest," Griffin said. "I didn't really see that. I thought we missed shots. I thought we made small, stupid mistakes here and there just as a team. But I didn't see anybody pointing fingers. But that's a perspective thing, so maybe that's how he saw it from his perspective.… I don't think now is the time to start pointing fingers."
DeAndre Jordan had seven points and 14 rebounds.
"Nobody is going to be happy when you lose a game," Jordan said. "But us being 4-1, I think that's OK. We were the only undefeated team in the league to start the night tonight, and unfortunately we're not anymore. I don't think that we were going to go 82-0."
The Clippers couldn't contain the Pistons' three-point shooters in the fourth quarter, watching them make three straight at one point and four total in the final 12 minutes.
Stanley Johnson made the first three-pointer in the fourth, followed by two straight from Langston Galloway and another by Anthony Tolliver.
Then when Reggie Jackson, who had 15 points and seven assists, scored, the Clippers were in a 92-84 hole.
Danilo Gallinari made a three-pointer to pull the Clippers to within 92-87, and L.A. got a defensive stop by forcing the Pistons into a 24-second clock violation with one minute, three seconds left. But the Clippers couldn't take advantage.
They shot the ball poorly all game, finishing at 33.3% from the field.
Austin Rivers had a strong game with 20 points on six-for-12 shooting, including six-for-eight on three-pointers.
Gallinari had 13 points, but he was just four-for-16 from the field, including three-for-10 from three-point range.
Meanwhile, the Pistons shot 40.9% from the field.
But they played better defense in the fourth than the Clippers, holding them to just 15 points.
The Los Angeles Dodgers in the 2017 World Series
On Now
Video: Kenley Jansen, Cody Bellinger, Rich Hill talk about losing Game 7
1:59
On Now
Video: Analysis: Dodgers lose Game 7 and the World Series
11:43
On Now
Video: Yu Darvish talks about using his slider for Game 7
1:34
On Now
Video: Kenley Jansen and others talk about winning Game 6
1:58
On Now
Video: Analyzing the Dodgers Game 6 win
7:26
On Now
Video: Clayton Kershaw on starting Game 5 of the World Series
1:57
On Now
Video: Dave Roberts Talks Rich Hill and Kenley Jansen pitching in Game 6
1:57
On Now
Video: Dave Roberts talks preparing for Game 7
1:26
On Now
Video: Here it is, Game 7, and Bill Plaschke knows who wins
2:22
On Now
Video: Rich Hill talks about Game 6 of the World Series
1:48
Twitter: @BA_Turner
---