Steve Ballmer's opinions on the Clippers couldn't be clearer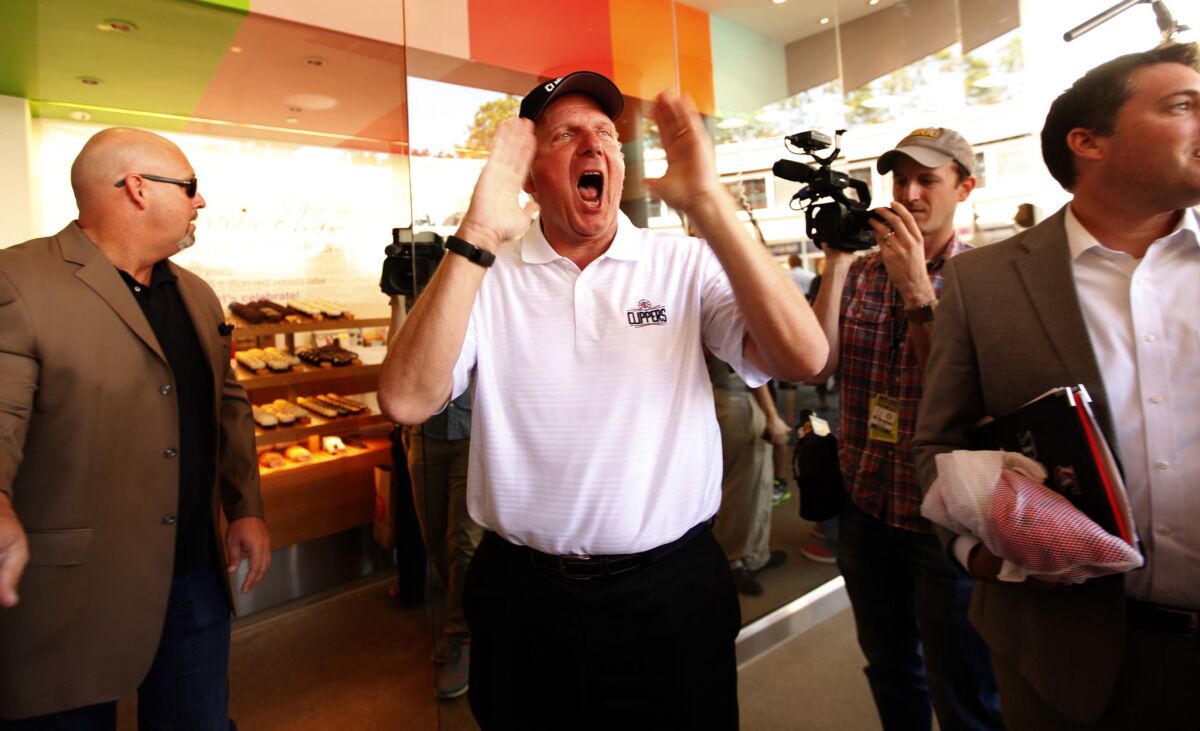 One month after slinking out of Staples Center amid one of the worst collapses in Los Angeles professional sports history, the Clippers marched boldly back across the landscape Thursday, rolling out a new logo plastered on T-shirts delivered to cheering fans in a citywide caravan.
But before the party started, owner Steve Ballmer sat in a small room at L.A. Live and remembered how their last party ended, with the Clippers losing a 19-point lead to the Houston Rockets in Game 6 of the conference semifinals and then being dominated in Game 7 to become only the ninth team in NBA history to blow a three-games-to-one lead and lose a playoff series.
"I was upset, I was sad," Ballmer said. "We were on kind of a fairy-tale ride."
From his wild introductory pep rally in August to the roars that accompanied his cheerleading-bear presence throughout the winter, Ballmer's first season with his $2-billion investment was indeed a magical ride that ended abruptly in tatters, leaving him with nothing but strong opinions on how to fix it. In a refreshingly honest and direct conversation with The Times on Thursday morning, Ballmer critiqued and challenged and laid out those opinions in words as strong as any new logo.
He believes the Clippers should win a championship if they keep their Big Three intact. He believes Doc Rivers should evolve as president of basketball operations with more experience and leadership. He believes Clippers fans need to get louder. He's not thrilled with being the third tenant in Staples Center. The Clippers' name is not going to change. And, oh yeah, for the last time, he said he'd be crazy to move this team back to Seattle.
"I don't think just running around like a cowboy in a Western town shooting people is going to get you to the conference finals," Ballmer said. "We believe we are very close. The key for us is not to blow things up."
Start with the roster. Ballmer reiterated that the Clippers hope to re-sign potential free DeAndre Jordan — "We love D.J." — and that with Chris Paul and Blake Griffin, they have a title-worthy threesome.
"You have arguably three of the best 20 to 25 guys in the NBA," Ballmer said. "You should be able to win it with three of the best 20 to 25 guys in the NBA. I don't think you'll find another team with three of the best 20 to 25 guys in the NBA."
While Ballmer seemingly wasn't trying to place the pressure on Rivers, the optics of this statement are clear. Rivers is widely praised as a coach, yet he has been criticized for his role as the basketball operations boss, particularly this season after he built a weak Clippers bench. Ballmer heartily endorses Rivers as the face of his franchise, but noted that Rivers is still growing as an executive and will hopefully benefit from his first summer of ownership stability.
"Doc has done a good job as [basketball operations president], but Doc is also a guy who is constantly growing," Ballmer said. "He's newer as [an executive] than as a coach. He's in a steep learning curve."
Ballmer noted that in the two previous summers, Rivers made personnel decisions without the benefit of ownership input. Ballmer said his presence this summer could help lend perspective to prospective moves. He said he continues to support the idea of one man running the entire team, from roster to floor, because his neighbor Pete Carroll has experienced success in that role with the Seattle Seahawks.
"I like being able to have direct conversations with Doc," Ballmer said. "This is the first year we really have a chance to see what Doc has got as [an executive]. I consider this his real coming-out party as an executive."
It should be interesting. By trading for gifted yet eccentric guard Lance Stephenson, who was introduced to Clippers fans Thursday, Rivers is unafraid to start that party by inviting a potentially disruptive crasher.
Ballmer is also hoping this season is a coming-out party for Clippers fans. Even though they are the loudest basketball fans in Los Angeles, Ballmer said they need to turn it up a notch, and he hopes to tailor the game production to encourage that.
"To me, it's how do we get the place more boisterous, more supportive, more engaged?" he said.
When asked if the roaring Clipper Nation actually needs to be louder, he said, "Absolutely. It's not like other arenas, it's not as noisy as other arenas. For Los Angeles, it's noisy, but who cares? We're competing against everyone in the league. We've got to do some stuff to get our folks moving some."
As for Staples Center, Ballmer is proud that his team has made it a Clippers home on game nights, complete with covering up the Lakers' banners, but he said it's only natural to want more priority, which could eventually mean building his own arena.
"We're third guy in, we have third choice in dates," he said. "If you are a good businessman, you don't come to the end of your lease and say, 'I have no options, landlord, please take me to the woodshed and beat me.' We'll have options."
Meanwhile, even though the logo has changed — "It was important for us to say this really is a new era for the Clippers, we're turning the page," he said — the name isn't going anywhere.
"Somebody once told me nobody know what 'Clippers' means, but now everybody knows what 'Clippers' means," he said. "It's the guys who stood up to tough situations and fought through it. It's not ships, it's people who stand up to adversity."
Ballmer also confirmed what he has been stating since he bought the team, that the Clippers will make their stand in Los Angeles, not in his Seattle home, and he cited an easily understandable reason.
"This team, outside of Los Angeles, isn't worth what I paid for it," Ballmer said. "It's worth what I paid for it because it is in this market with its financial opportunities and buyer base. I'm not moving this team. I'm happy to be playing in Los Angeles, and when it comes time to renew our lease, we'll either renew here or we'll build here."
With Ballmer, they are certainly building and changing, and even if you hate the new logo — it does look like a weird version of the loser Chicago Cubs logo — one has to admire that he's unafraid of making challenges and effecting change. And really, the bottom line is that the Clippers can change their logo every season and nobody is really going to notice until that logo is on uniforms that are stained with sweat in the middle of June.
Ballmer clearly understands that bottom line. Even the "relentless" motto that seemingly accompanied every Clippers move this season could be benched for something else even more … relentless?
"Last year it was 'relentless,' it could be something different," Ballmer said. "Marketing slogans come and go."
How about "No more excuses"? The owner would seem to agree.
Follow Bill Plaschke on Twitter @billplaschke
---
Get our high school sports newsletter
Prep Rally is devoted to the SoCal high school sports experience, bringing you scores, stories and a behind-the-scenes look at what makes prep sports so popular.
You may occasionally receive promotional content from the Los Angeles Times.