Don't expect Doc Rivers to be sentimental about Kobe Bryant's Lakers exit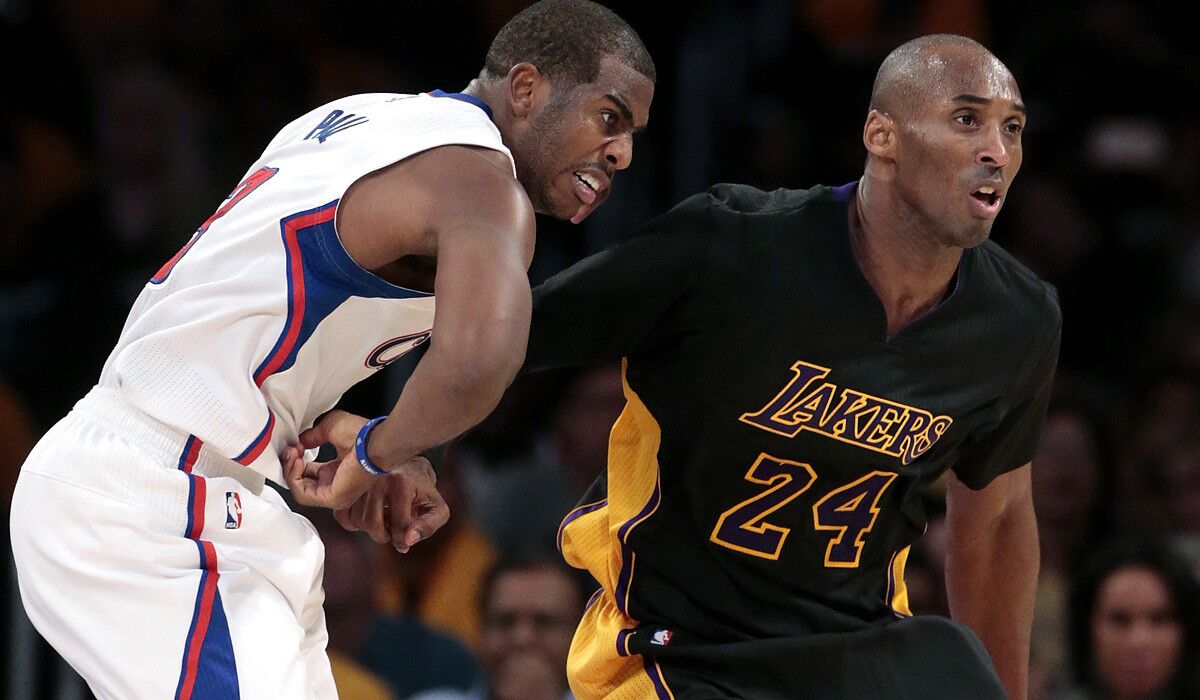 Doc Rivers isn't contemplating rocking chairs, gold watches or any other farewell gift for the last time the Clippers play host to Kobe Bryant.
Just the opposite, actually.
"I know I'd like to take something from him," Rivers said Monday. "The 2010 ring, I know I'd like to have that back."
That would be the 2010 NBA championship ring Bryant won with the Lakers over Rivers' Boston Celtics in a taut seven-game series played at Staples Center, the same arena Rivers and Bryant have called home since Rivers joined the Clippers in the summer of 2013.
Bryant announced Sunday that this season would be his last, leading to fond remembrances from friend and rival alike for the player some have called this generation's Michael Jordan.
"I know a lot of people say we'll never see another Jordan," Clippers shooting guard Jamal Crawford said. "I know for sure we won't ever see another Kobe."
Bryant is a five-time NBA champion and 17-time All-Star who ranks third on the league's all-time scoring list, trailing only Kareem Abdul-Jabbar and Karl Malione. There's no question where he falls on the list of most detail-oriented teammates of Clippers forward Wesley Johnson .
"His approach to just any little thing, he was focused and his mentality was very, very intense," Johnson said. "I think that's really what set him apart from everybody."
Johnson played in 40 of a possible 164 games with Bryant during their two seasons together as Lakers teammates, mostly as a result of an assortment of injuries to Bryant. The shooting guard has devolved into one of the league's most inefficient players in his 20th professional season, leading some to believe he had no other choice except to call it quits.
"Father Time caught up with him," Johnson said, "and I think he finally accepted it."
Crawford, who had logged 32,274 regular-season minutes in his 16 NBA seasons before Monday, said Bryant's impending retirement made him mull his own longevity.
"It makes everything human once you see the best start to walk out, and you were in the league with him," Crawford said. "He's played a lot more minutes, though."
The Clippers will face the Lakers on Christmas at Staples Center before playing host to them on Jan. 29 and April 5. The teams will meet for a final time April 6 in a designated Lakers home game.
Double recall
The Clippers recalled second-year guard C.J. Wilcox and rookie forward Branden Dawson from the Bakersfield Jam of the Development League, though their next games probably won't come with the Clippers.
The two are slated to play for the Jam on Saturday in a game against the Los Angeles D-Fenders at the Lakers' practice facility. Both players were inactive Monday for the Clippers' game against the Portland Trail Blazers at Staples Center.
Wilcox averaged 19.6 points, 4.1 rebounds and 2.7 assists for the Jam, and Dawson averaged 6.3 points and 3.8 rebounds.
"It was great just to be playing again," said Dawson, who is still waiting to make his Clippers debut.
Twitter: @latbbolch
Get our high school sports newsletter
Prep Rally is devoted to the SoCal high school sports experience, bringing you scores, stories and a behind-the-scenes look at what makes prep sports so popular.
You may occasionally receive promotional content from the Los Angeles Times.