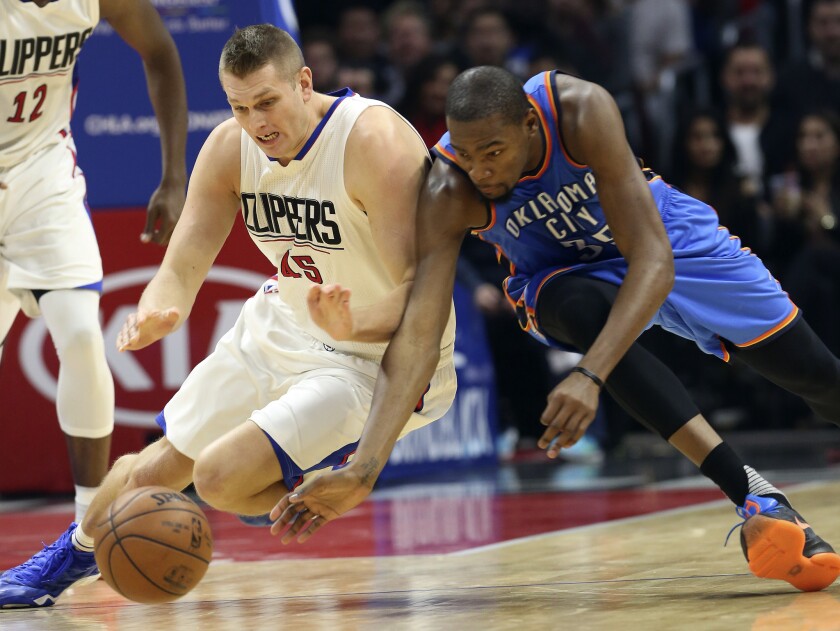 Breaking through?
Cole Aldrich had no indication the Clippers' game against the Thunder would be any different from the two dozen-plus that preceded it.
The backup center figured he would complete his pregame workout, watch the opening minutes and hope to play at some point, preferably before the final part of a blowout. Rivers had given Aldrich no hint that things would go otherwise.
Then something unexpected happened. Aldrich checked into the game in the first quarter to play meaningful minutes and made the most of them. He dived on the court for a steal and took a pass from Lance Stephenson for a layup, Aldrich acknowledging the assist by patting Stephenson on his backside on the way back up the court.
Aldrich's best sequence came early in the fourth quarter when he blocked an attempted layup by Westbrook and then took a pass from Wesley Johnson for a dunk. The fans inside Staples Center roared and the Clippers led by eight points.
The Clippers couldn't hold on, but Aldrich emerged as a big winner with his effort.
"I think that was a prime example of being a star in your role and not trying to reach outside of that," Clippers forward Blake Griffin said. "He just did what we need him to do and that's huge."
Rivers said he went with Aldrich as his backup big man instead of Josh Smith because he thought Aldrich would energize his team. Absolutely correct.
Aldrich, who had logged only 24 minutes before Monday in a mop-up role, said he figured he might have earned more playing time with his energetic play at the end of the Clippers' loss to the Houston Rockets on Saturday. But not even he could have envisioned this. Aldrich finished with five points, four rebounds, three steals and two blocks in 13 minutes against the Thunder.
"When Coach called his number he was ready," Paul said. "So I think that sort of energized the team. He played with the right spirit and did all the little things."
Aldrich, who signed a veteran's minimum contract over the summer, said he was encouraged more by the team's collective effort than his breakthrough.
"If we play this way the rest of the year, we're going to win a lot of games," Aldrich said. "We played with a lot of heart and a lot of enthusiasm and it was fun out there."
Rivers said Smith took his one-game demotion well, but the true test of whether Aldrich has supplanted Smith in the rotation will be if he plays against teams that use smaller lineups than the Thunder.
Twitter: @latbbolch
Times correspondent Melissa Rohlin contributed to this report.
---