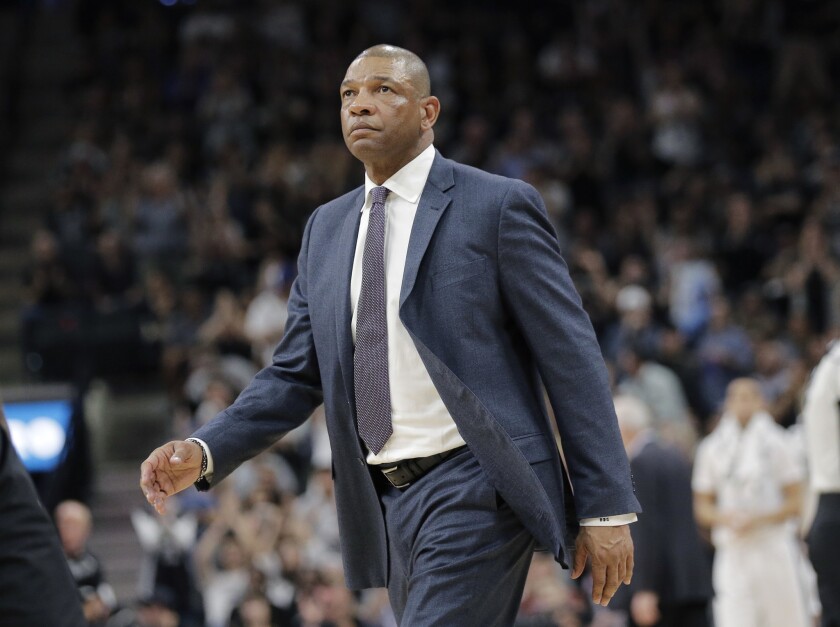 Reporting from SAN ANTONIO —
Wilt Chamberlain would be pleased with the state of morning shoot-arounds in the NBA. They're largely becoming extinct.
The late center once relayed a message to Lakers coach Bill Sharman that he would show up at the team's arena only once on game day, and Sharman could decide whether it would be for the shoot-around or the game.
It's not hard to figure out which option Sharman chose.
The Clippers are among the teams that are holding fewer shoot-arounds each season. They did not have one Tuesday before their game against the San Antonio Spurs, choosing instead to let their practice the previous day and a more condensed walk-through on the day of the game suffice.
Clippers Coach Doc Rivers had a one-word explanation.
"Rest," Rivers said. "I think it's good. Especially on the road, I think it's really important."
Most teams don't hold shoot-arounds on the second day of back-to-back situations. The Clippers have taken that a step further by rarely holding them at all on the road and only about half the time at home.
Spurs Coach Gregg Popovich said shoot-arounds are largely a function of old-school thinking.
"It was the modus operandi for every organization," Popovich said. "It was habit. It was what everyone did. If you didn't do it, you were recalcitrant or you weren't doing your job. Some owners would look and say, 'Why aren't you doing a shoot-around?' If you were a young coach, you have to have a shoot-around because you're doing what you have to do.
"And, basically, half of them are ... a total waste of time. Another appearance for players, a mental appearance, a bit of a physical appearance. It just mentally wears you out more than anything."
Not surprisingly, the Spurs don't hold them often.
"In general, shoot-arounds could be kaputskied," Popovich said. "And, players, I think, appreciate that. It's one less appearance. It's a little bit of rest, mentally. You know the old Wilt saying: 'Do you want it this morning or do you want it tonight?' Wilt was pretty right on."
Seeing things
The goggles-wearing Luc Mbah a Moute said his vision remained blurry from the lacerated left eyelid that recently forced him to miss five games.
"That's wearing off slowly," Mbah a Moute said. "It's not back to normal yet, but it's good enough to play."
Mbah a Moute said the double vision he had been experiencing was gone "for the most part." He expected to wear the goggles to protect his eye for a least a few more weeks until his next doctor's visit.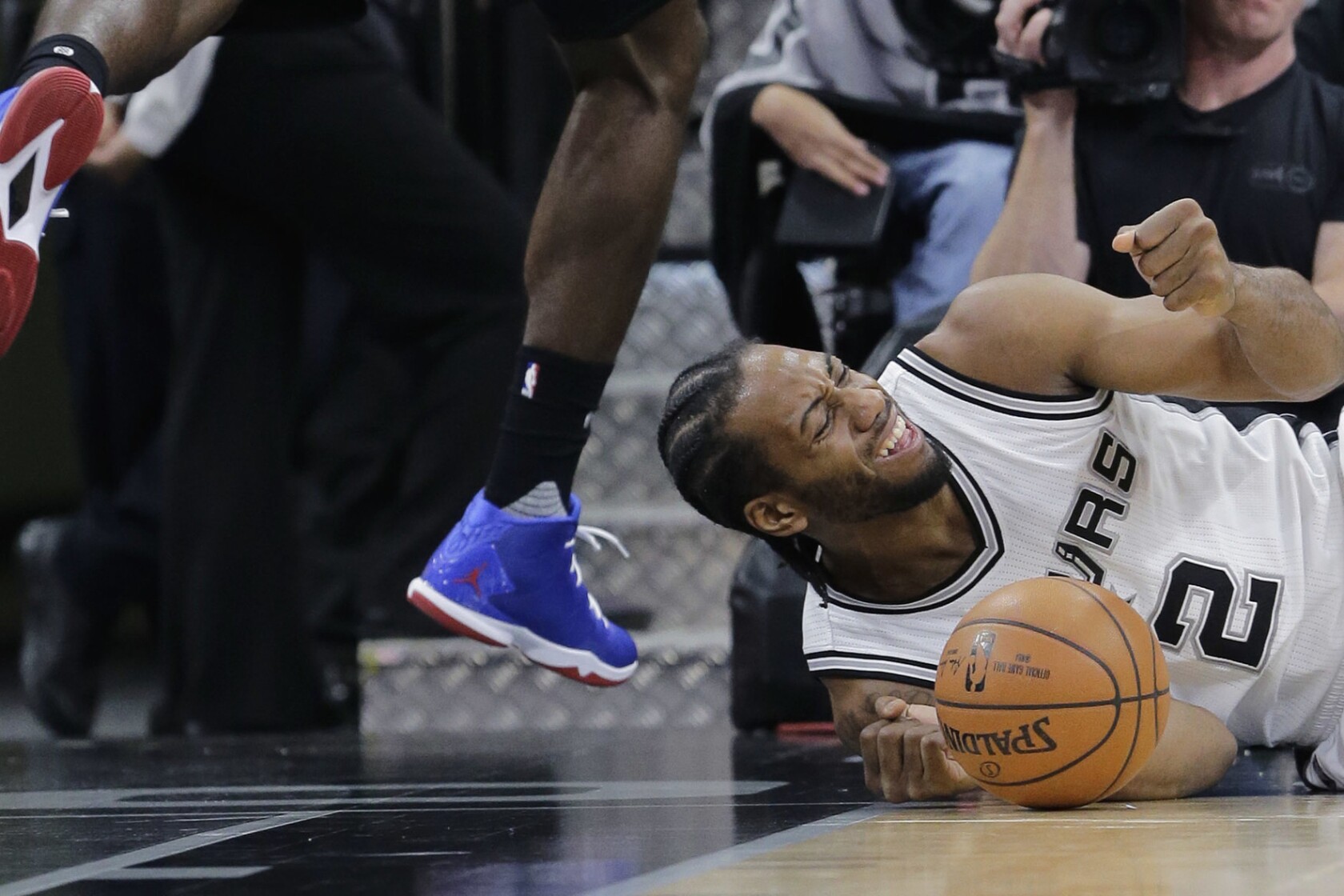 Spurs forward Kawhi Leonard (2) crashes to the floor after he was bumped by Clippers forward Jeff Green during the first half.
(Eric Gay / Associated Press)
Spurs guard Patty Mills, center, drives around Clippers guard Austin Rivers during the first half.
(Eric Gay / Associated Press)
Clippers Coach Doc Rivers keeps watch over his team during the first half.
(Eric Gay / Associated Press)
Spurs forward LaMarcus Aldridge (12) is fouled by Clippers center DeAndre Jordan (6) during the first half.
(Eric Gay / Associated Press)
Spurs Coach Gregg Popovich talks to his players during the first half.
(Eric Gay / Associated Press)
Mbah a Moute said he intended to spend more time practicing his shooting to compensate for his vision problems. He missed all four free throws and his only shot while going scoreless against the Spurs in his second game back from his injury.
Etc.
The Clippers will sign forward Jeff Ayres for the remainder of the season on Wednesday to fill their final roster spot. Ayres spent 20 days with the team before the All-Star break. … Clippers forward Paul Pierce sat out a third consecutive game because of a sore right big toe. Rivers said he did not know if Pierce would be able to play against Houston on Wednesday. … Popovich waved his hands in circular fashion like an old-timey showgirl and said, "Hollywood," as if he was singing a line from "Hooray for Hollywood," when he saw longtime Clippers broadcaster Ralph Lawler before the game. Lawler was recently honored with a star on the Hollywood Walk of Fame.
Twitter: @latbbolch
---