Clippers' DeAndre Jordan happy to finally be an NBA All-Star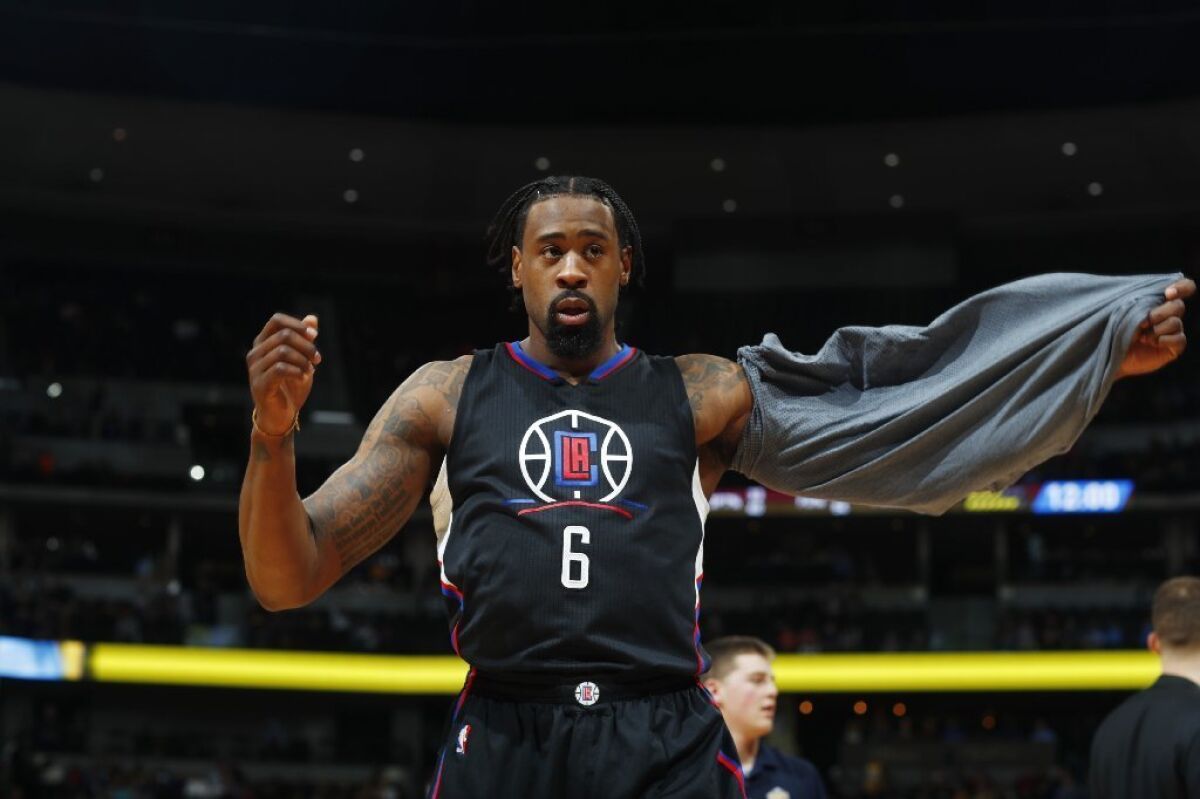 For so much of his nine years in the NBA, DeAndre Jordan sought validation for his skills as the center for the Clippers.
The affirmation Jordan yearned for took shape at the end of last season, continued throughout the summer and now the 6-foot-11 big man has received full recognition of his talent when he was chosen last week by NBA coaches to be a reserve on the Western Conference All-Star team.
Jordan made the All-NBA and All-Defense first teams last season and was the starting center on Team USA's gold-medal winning Olympics basketball team last summer.
Now he's a first-time NBA All-Star.
"I feel like once you stop caring about it, it happens," Jordan said Monday before practice. "My thing was, I know how much my teammates and our organization values me and I know the respect that I get from other coaches and my peers in the NBA, which is amazing. So after a while, I kind of stopped caring about the validation.
"And then, all I wanted was the respect from my peers and my teammates and coaches. That's what I started to get and I just continued to play. I really didn't care about it. This past calendar year has been a great one for me, and I just want it to be better for our organization."
Jordan is more known for his defense and rebounding, and that doesn't usually make for a fit for the All-Star competitions.
But the coaches valued Jordan's contributions. This season he is tied for first in the league in rebounds (13.8) and eighth in blocked shots (1.75).
"Players need to be validated these days more than in the past, for sure," Clippers Coach Doc Rivers said. "But, I just think he felt like he wants to be great and he knew he could do more. That's what he chased."
Jordan admitted he's "interested" in competing in the dunk contest, after the league "reached out to" him about it.
What Jordan is sure about is that his family has canceled a vacation in Hawaii during the All-Star break to be with him in New Orleans for the game on Feb. 19.
His mother, Kimberly Jordan-Williams, and brothers Cory, Brett and Avery have made new plans.
"My mom was the one who was like, 'DJ, are you for real?' … She was like, 'All right, because if you cancel this trip, it'll be more money for you to pay for it.' I was like, 'It's cool,'" Jordan said, laughing. "My brothers are really excited. They're happy for me. This was great. It's a huge honor."
No updates on Anthony
There wasn't any significant update Monday on the trade rumors that surfaced last week about the Clippers trying to acquire Knicks forward Carmelo Anthony in a deal involving Clippers guards Austin Rivers and Jamal Crawford.
Doc Rivers was asked Monday whether it was worthwhile for the Clippers to send four players to New York for the veteran forward.
"I'm not going to answer all of that stuff," Rivers said. "It's all hearsay. It's not coming from us. I'm not going to answer it."
Twitter: @BA_Turner
Get our high school sports newsletter
Prep Rally is devoted to the SoCal high school sports experience, bringing you scores, stories and a behind-the-scenes look at what makes prep sports so popular.
You may occasionally receive promotional content from the Los Angeles Times.