Clippers defense will be tested by Rockets, who like to take aim from long range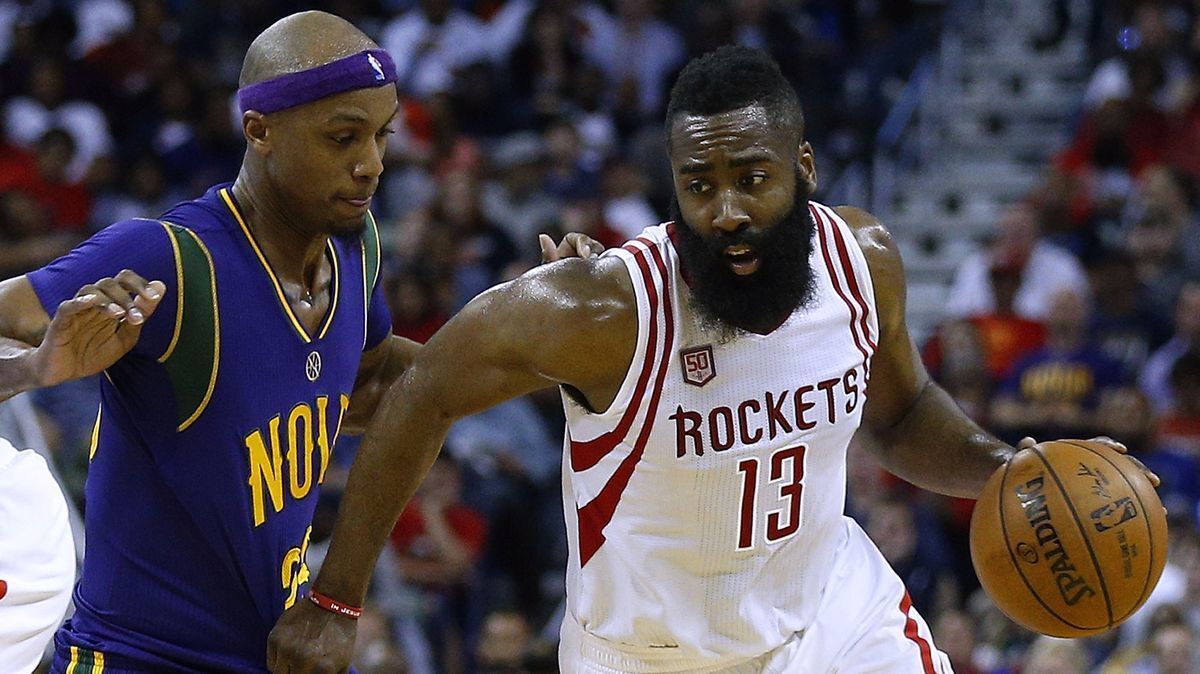 The difficult test facing the Clippers is threefold.
They will be tasked with trying to corral potent Houston Rockets guard James Harden, one of the favorites for league most valuable player. They will have to contend with a Rockets squad that shoots and makes more three-pointers than any team in the NBA. And the Clippers will get to measure themselves against one of the teams ahead of them in the playoff race in the Western Conference.
How can they pass this test against the Rockets on Wednesday night at Staples Center? Defense.
"They've got a guy named Harden that they kind of play off of, and Harden does a great job with it, but they do a great job," Clippers Coach Doc Rivers said. "They spread the floor, they space the floor and he attacks. He's probably the toughest cover in the league one on one. So he clearly draws in help, and when he does, give him credit, he makes the right pass at the right time."
Harden initiates enough to be third in the NBA in scoring (28.8 points) and first in assists (11.8).
And mostly because of Harden, the Rockets are second in the league in scoring (115 points per game).
So slowing him down just a little is paramount for the Clippers.
"It takes trying to stay in front of him as much as possible and trying to keep him out of the lane, which is nearly impossible, and doing that without fouling him," Rivers said. "That's one, but their dribble penetration is what triggers their drive and kick action until they find three-point shooters."
Ah, yes, the three-point bombers.
The Rockets' arsenal of three-pointer shooters has them first in the league in attempts (40.4) and makes (14.6).
Harden and Eric Gordon are tied for second in three-point attempts per game (nine) and forwards Trevor Ariza and Ryan Anderson are tied for seventh (seven).
But with Harden setting the action so much because the ball is often in his hands, Rivers said the Clippers will use Luc Mbah a Moute, Austin Rivers, J.J. Redick and even Chris Paul on the Rockets All-Star.
"What we've learned with Harden, there's not one guy that's going to guard him for a whole game," Rivers said. "I just think it's impossible. Secondly, that guy won't make it through the game because he'd foul out. Harden's a great player. If he was easy to stop, he wouldn't be a great player. So, these are the type of players that you have to game-plan for, but you also have to keep your traditional defensive principles."
Coming out of the All-Star break, the Clippers lost to Golden State and San Antonio, the league's top two teams record-wise.
The Rockets have the fourth-best record in the league.
"I don't know if you want to use [this game] as a measuring stick, but you still see where you've got to go," Rivers said. "So I guess you always measure a little bit, but I don't think we're as good as we're going to be yet."
CLIPPERS TONIGHT
VS. HOUSTON
When: 7:30 p.m Wednesday.
Where: Staples Center.
On the air: TV: Prime Ticket, ESPN; Radio: 570.
Records: Clippers 36-23; Rockets 42-19.
Record vs. Rockets: Clippers 0-1.
Update: In February, Blake Griffin averaged 26.2 points, 8.6 rebounds and 6.2 assists, making him and Oklahoma City's Russell Westbrook the only two players in the NBA to average at least 25 points, eight rebounds and six assists last month. Clippers All-Star center DeAndre Jordan, who has 6,511 rebounds over his nine-year career, surpassed 6,500 rebounds in his 651st career game. That made Jordan the second-fastest to accomplish that feat, among active players. Dwight Howard was the fastest (514 games).
Twitter: @BA_Turner
Get our high school sports newsletter
Prep Rally is devoted to the SoCal high school sports experience, bringing you scores, stories and a behind-the-scenes look at what makes prep sports so popular.
You may occasionally receive promotional content from the Los Angeles Times.