Clippers' DeAndre Jordan speaks out about Texans owner Bob McNair's controversial comment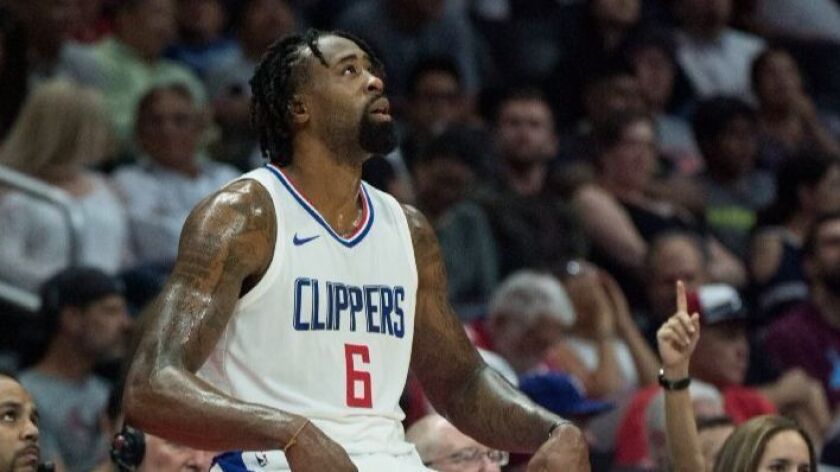 Being a Houston native, Clippers center DeAndre Jordan said he felt compelled to speak out on Twitter about the controversial statement made by Houston Texans owner Bob McNair.
During the recent NFL owners meeting, McNair said, "We can't have the inmates running the prison," referring to the ongoing demonstrations by the players during the national anthem to bring awareness to social injustices.
Texans wide receiver DeAndre Hopkins walked out of practice Friday once he was told of McNair's comment. Though McNair apologized, several NFL and NBA players voiced their displeasure with him.
"Like, obviously I've heard that analogy before. But I thought it was — I could be wrong — you can't let the prisoners take over the asylum, not the prison," Jordan said. "Especially in the day and age we're in right now, it just kind of rubbed me the wrong way. Being from Houston and a native, I felt like I had to say something. I felt it in my gut to say something."
Jordan took to his Twitter account on Friday.
"Too late Bob. I ain't rolling! Hopefully nobody is…even though I'm not a Texans fan, I'm from Houston and this irks me … and millions!" Jordan tweeted.
He expounded upon his feelings Saturday during the Clippers' shoot-around in preparation for a game against Detroit at Staples Center.
"Obviously I wasn't the only one that felt like that," Jordan said. "Even some of their players felt that way. DeAndre Hopkins felt that way. I respect him for doing what he was doing and doing what he did. We're going to back guys like that because at the end of the day, we're all human.
"We all have feelings and emotions, so we're going to stand up for what we believe in, regardless of color, it doesn't matter."
Jordan has shown how much he loves Houston by donating $100 for every rebound he grabs this season to help the city rebuild from the devastation of Hurricane Harvey.
Jordan, who leads the NBA in rebounds (18.3), had already raised $7,300 before the Pistons' game.
"I did this because I didn't want people to forget about it," Jordan said. "I did something right as everything was going on, right after. But six months later, people may forget about it, something else may happen and then people may forget about what happened. I just want it to be an ongoing thing from me, because it's going to take decades to rebuild that city. So I just wanted to do my part and help as much as I can. Obviously I'm helping a lot right now in these four games. The more I help, the more it's going to help the city I grew up in and was raised in."
The Los Angeles Dodgers in the 2017 World Series
On Now
Video: Kenley Jansen, Cody Bellinger, Rich Hill talk about losing Game 7
1:59
On Now
Video: Analysis: Dodgers lose Game 7 and the World Series
11:43
On Now
Video: Yu Darvish talks about using his slider for Game 7
1:34
On Now
Video: Kenley Jansen and others talk about winning Game 6
1:58
On Now
Video: Analyzing the Dodgers Game 6 win
7:26
On Now
Video: Clayton Kershaw on starting Game 5 of the World Series
1:57
On Now
Video: Dave Roberts Talks Rich Hill and Kenley Jansen pitching in Game 6
1:57
On Now
Video: Dave Roberts talks preparing for Game 7
1:26
On Now
Video: Here it is, Game 7, and Bill Plaschke knows who wins
2:22
On Now
Video: Rich Hill talks about Game 6 of the World Series
1:48
Follow Broderick Turner on Twitter @BA_Turner
---
Get our high school sports newsletter
Prep Rally is devoted to the SoCal high school sports experience, bringing you scores, stories and a behind-the-scenes look at what makes prep sports so popular.
You may occasionally receive promotional content from the Los Angeles Times.