Montrezl Harrell stars in Clippers' win with parental inspiration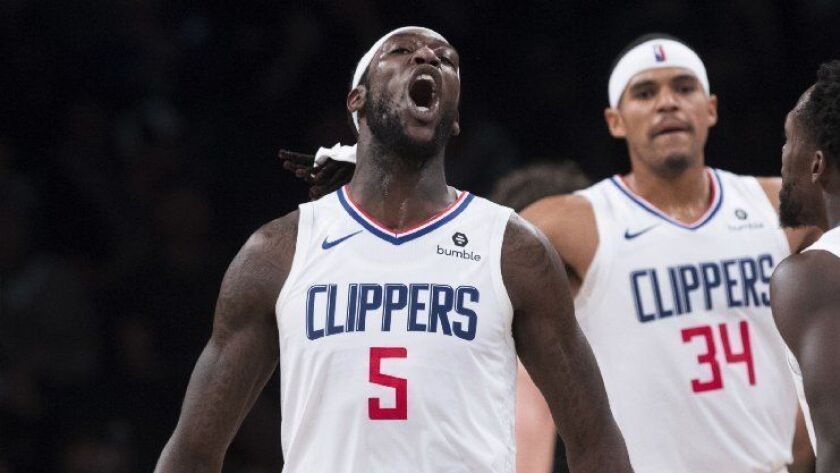 Reporting from NEW YORK —
Montrezl Harrell's irrepressible performance Saturday was reminiscent of so many his mother had seen before.
Just not quite like this.
As the Clippers rallied from a 15-point deficit to beat the Brooklyn Nets, 127-119, Selena Harrell was watching live inside Barclays Center as her son played what has become a starring role off the bench -- the first time she'd seen her son play in the NBA in person since he was drafted four seasons ago.
"It's more fun in person than watching it on TV," she said, standing outside the team's locker room. "It's exciting for me. Very, very exciting."
Harrell's father, Samuel, has traveled from the family's home in Rocky Mount, N.C., to Los Angeles to watch a handful of Clippers games in person, but with two jobs as a nursing home nurse, and two younger sons, Cadarius and Quatauis, to keep tabs on, Selena said it was more difficult to get away. The first and only time she watched Montrezl play in person while in college at Louisville was on senior night.
"I'm trying to make some more time to go see him play more often," she said.
Montrezl Harrell called the occasion "definitely special," and not only because it included 16 points, 10 rebounds and a dunk over Brooklyn's Joe Harris that was so powerful it sent the defender flying onto the hardwood.
"I'm a big family person," he said.
Rather than attend the 2015 NBA draft where he was chosen 32nd overall by Houston, Harrell stayed in Rocky Mount in part because it kept him near grandmothers who were not healthy enough to make the trip. After he played poorly during this season's first two games, he said things turned around once he refocused on his young son and daughter. Seeing both his parents in the stands, then, was "amazing."
"It means everything to me to have my parents here so they can be here to support me," Harrell said. "I love my family in general and everything I do is for them and trying to put them in a better situation."
Harrell's parents arrived in New York after a five-hour train ride from North Carolina and witnessed their son's 188th career game and an energetic performance that has become his trademark. After signing a two-year, $12-million contract in July, Harrell has averaged 14.6 points, 6.6 rebounds and 1.8 blocks while shooting 68% in 24 minutes a game. His energy has been infectious for teammates, coach Doc Rivers has said, and also won over fans. During Thursday's victory against San Antonio, four fans in homemade T-shirts reading "(Un)official Montrezl Harrell Fan Club" sat courtside, slapping hands after each play Harrell made.
It was no coincidence Harrell's outfit Saturday included a chain with a bejeweled Energizer bunny.
His parents waited down a hallway with camera phones recording the moment as Harrell emerged from the locker room afterward.
"Good win, good win, good win!" Selena said, her son approaching.
Tucked in a bag was a keepsake gift to remember their rare trip by.
After the Clippers secured their fourth consecutive victory, which is tied with Houston and Dallas for the longest active streak, Harrell ran to the edge of the court and took off his white Clippers jersey. A few fans clamored for Harrell to hand it to them but on this night, he'd already picked out the recipients.
His parents.
CLIPPERS AT ATLANTA HAWKS
When: Monday, 4:30 p.m. PST
On the air: TV: Prime Ticket; Radio: 570, 1330.
Update: The matchup will feature two top rookie guards in the Clippers' Shai Gilgeous-Alexander and Hawks' Trae Young. Gilgeous-Alexander is averaging 9.7 points, 3.3 rebounds and 2.9 assists in 27.2 minutes this season. Young leads all rookies and ranks fourth among all players with 7.8 assists a game and ranks second among qualifying rookies by averaging 16.3 points. The Clippers have won five of their last six in their series against Atlanta.
Twitter: @andrewgreif
---
Get our high school sports newsletter
Prep Rally is devoted to the SoCal high school sports experience, bringing you scores, stories and a behind-the-scenes look at what makes prep sports so popular.
You may occasionally receive promotional content from the Los Angeles Times.