Clippers rookie Shai Gilgeous-Alexander is a quick study under tutelage of Doc Rivers and Sam Cassell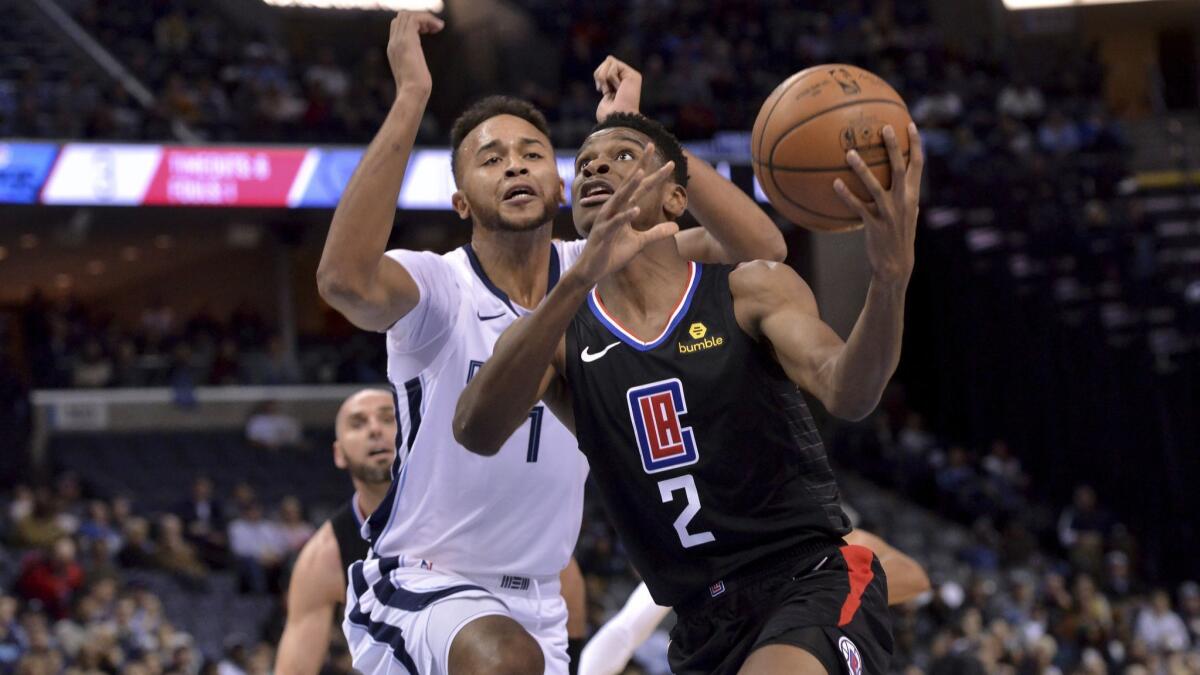 His teachers were once the same type of students Shai Gilgeous-Alexander is now. When Clippers coach Doc Rivers and assistant coach Sam Cassell offer instructions to the prized rookie, he understands both know of what they speak.
Gilgeous-Alexander is being taught all the nuances of playing point guard from two former NBA players who were successful during their time in the league playing the position.
Over the course of 13 seasons in the NBA that had stops with Atlanta, the Clippers, New York and San Antonio, Rivers was a starting point guard and that is reason enough in Gilgeous-Alexander's eyes to pay close attention to his coach.
"It's a privilege," Gilgeous-Alexander said before the Clippers practiced Friday. "He can show you things and see things that you almost don't see. You learn from him every day and I feel myself getting better from it."
Over the course of 15 seasons in the NBA that had stops with eight teams, Cassell developed into a sensational point guard who won two NBA titles in Houston, more than reason enough for Gilgeous-Alexander to listen to the talkative assistant.
"I learn so much from both of them every day," Gilgeous-Alexander said. "Little things they see, but also what I see out there. They just try to help me out along this process."
He is the starting point guard now for the Clippers, averaging 10.7 points, 3.3 rebounds and 3.0 assists per game.
His constant conversations with Rivers and Cassell have helped his growth.
"His biggest thing is just me learning every day and getting better," Gilgeous-Alexander said of Rivers. "As long as I do that, I'll be good. With him and Sam in my ear every day, I have no choice."
Rivers wasn't at practice Friday, but the team said he'll be at Saturday's game against the Miami Heat at Staples Center.
Clippers assistant coach Rex Kalamian, who is in charge of the team's defense, discussed how impressed they all are with Gilgeous-Alexander's "composure" and "calming approach" when he plays.
"Doc, I know, is always on him about what he can do to improve offensively," Kalamian said. "And I'm always on him about what he can do defensively to improve. We're going to have to understand that those things will come with time and some jumps he can make automatically about who he's guarding and what the league is about. We can teach him that quickly. I think some things he's going to pick up in time."
Gilgeous-Alexander has one problem with which his coaches can't help: transportation.
"I don't have a car yet," Gilgeous-Alexander, 20, said.
And he doesn't yet have a driver's license.
So how does he get around?
"Um, Uber," Gilgeous-Alexander said, smiling. "Friends."
Do Uber drivers ever recognize him?
"Sometimes," Gilgeous-Alexander said, smiling again. "But I'm smart. I put my hoodie on when I go into the Uber."
UP NEXT
VS. MIAMI
When: 7:30 p.m., Saturday.
On the air: TV: Prime Ticket; Radio: 570, 1330.
Update: The Clippers have won nine consecutive games at Staples Center, the longest active home winning streak in the NBA. Lou Williams is ranked first in the league in bench scoring at 17.6 points a game and Montrezl Harrell is ranked fourth with 16.1 points per game. The two of them are the only pair of teammates off the bench in the league to average 15-plus points a game this season.
Twitter: @BA_Turner
Get our high school sports newsletter
Prep Rally is devoted to the SoCal high school sports experience, bringing you scores, stories and a behind-the-scenes look at what makes prep sports so popular.
You may occasionally receive promotional content from the Los Angeles Times.