Clippers' rugged schedule continues with a game in Phoenix on Monday and a home game against Toronto on Tuesday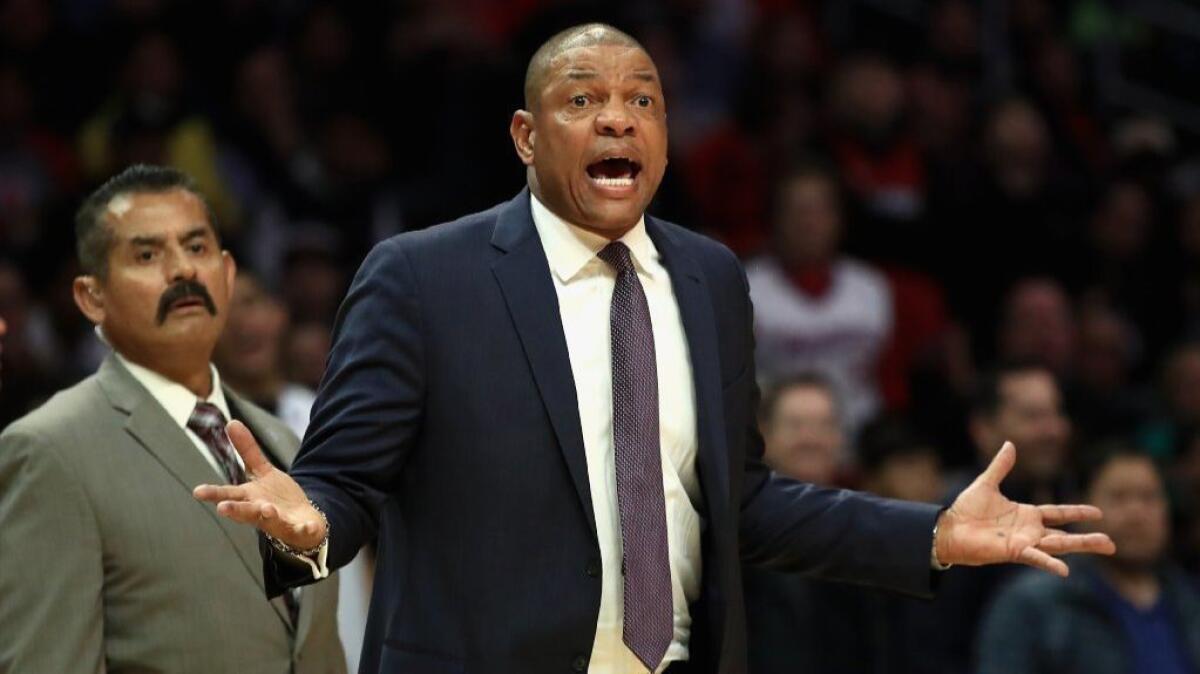 After one game at Staples Center following a week on the road, the Clippers head to Phoenix on Monday night for a game that will be their 15th on the road this season.
The Clippers had just returned to Staples Center for a game against the Miami Heat on Saturday night knowing they wouldn't be home long.
After they come back from Phoenix to play powerful Toronto on Tuesday night at Staples Center, the Clippers head out for games at San Antonio on Thursday and Oklahoma City on Saturday.
"This is the third time in a row that we've gone on a trip, come home for one game, go back out on the road," coach Doc Rivers said Saturday night. "This one is even crazier. We play at Phoenix and then we play the next night at home and then we go back out on the road. So it's tough to get a rhythm."
The Clippers have a 7-7 record on the road, a big difference from their 9-2 record at home following a 121-98 loss to Miami.
They were tied for having played the third-most road games in the league before Sunday's games.
"Listen, right now I think we're [third] in the league in road games played, third in the league in toughest schedule in the league. So, where we are record-wise is good," said Rivers, referring to the Clippers' 16-9 record that has them fourth in the rugged West, only one game behind conference leader Golden State through Saturday. "And you know that must mean at some point things are going to ease up and so you can make a run. But we've got to get through this stretch right now."
With such a demanding schedule, Rivers said he has tried to give players more rest and to have fewer practice sessions.
"Listen, our schedule is what it is and there's nothing we can do about it," Rivers said. "You're the third tenant" at Staples Center behind the Lakers and Kings. "That's a fight I've given up on a long time ago. I just look at our schedule and I accept it."
As for the players, they simply try to focus on the game ahead of them and not worry much about where the game is going to be played.
"It's tough, but it is the NBA season," Danilo Gallinari said. "This is something that I'm used to it and we have a lot of vets that are used to it. We have no excuses and just got to win every game. It doesn't matter the game, the schedule. It's tough, but it's nothing new to us."
Clippers need energy
The Clippers gave up 65 points to the Heat in the first half, a clear sign to Rivers that the team lacked the necessary energy to compete.
"If we don't come and play with great intensity and play hard. … Like, we're not like some of the other teams that can still win," Rivers said. "We're just not one of those teams. So for us, our energy and how hard we play is part of what we have to do every night to win."
UP NEXT
AT PHOENIX
When: Monday, 6 p.m. PST.
On Air: TV: Prime Ticket; Radio: 570, 1330.
Update: The Clippers have defeated the Suns nine consecutive times, L.A.'s second-longest winning streak against an opponent. Phoenix has the worst record in the NBA (4-22) and is the worst scoring team (102.2 points per game). Suns center Deandre Ayton is second in the league among rookies in scoring (15.8 points) and first in rebounds (10.1).
Twitter: @BA_Turner
Get our high school sports newsletter
Prep Rally is devoted to the SoCal high school sports experience, bringing you scores, stories and a behind-the-scenes look at what makes prep sports so popular.
You may occasionally receive promotional content from the Los Angeles Times.