Clippers upbeat despite December struggles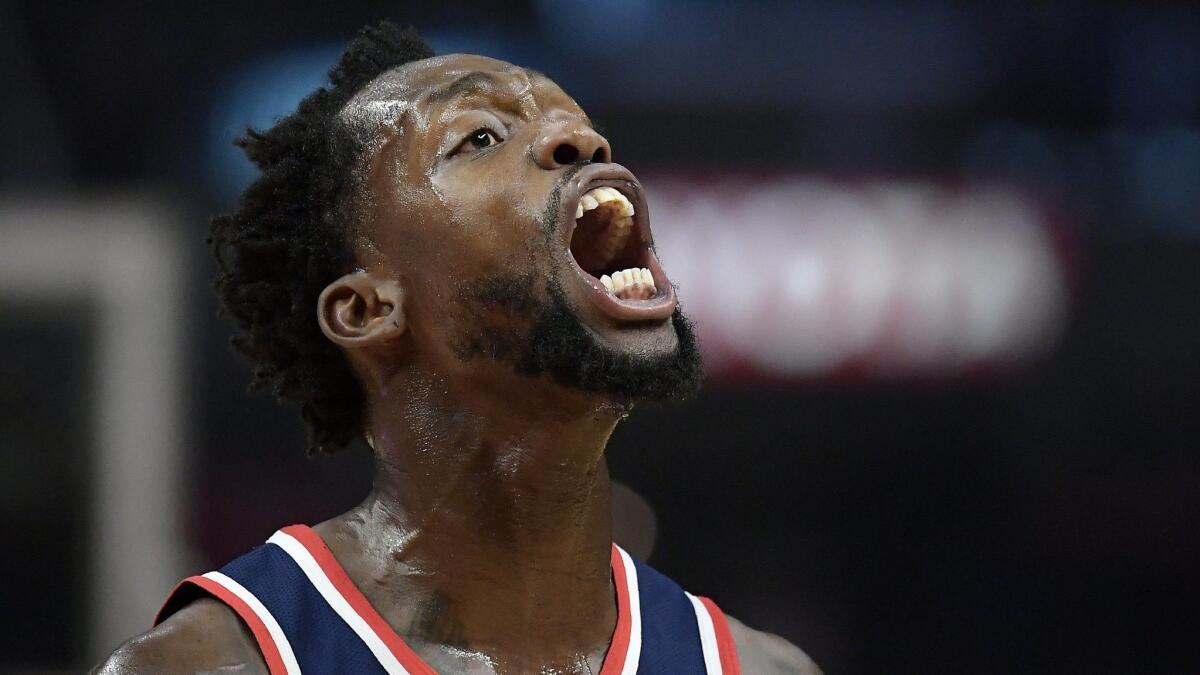 No one exited the Clippers locker room Saturday feeling good about what had taken place during a 122-111 loss to San Antonio at Staples Center.
"In the second half," Clippers center Montrezl Harrell said, "we just lost our composure."
Said guard Lou Williams: "Tonight was just a bad night."
As they enter 2019 and near the halfway mark of the NBA's regular season, the Clippers remain reassured that games like that have been few and far between.
Predicted by few to be a playoff contender following the official breakup of their three-superstar era, the Clippers are 21-15 and fourth in the Western Conference standings, three games behind conference-leading Denver and 1 1/2 games ahead of the Spurs, who would be the eighth playoff seed if the regular season ended today.
"We're in a good spot," Williams said. "The West is a heavy conference, there are teams that's over .500 that's not in the playoff picture. We're five, six games over .500. We're playing pretty good basketball and in the mix of everything. So we feel pretty good about where we are."
The Clippers have played the third-hardest schedule so far, with opponents combining to win 52% of their games, according to ESPN metrics that also expected the team's current win-loss record to be two games worse.
They've beaten such predictions in part by playing well in close games. How the Clippers fare in such situations in 2019 will be a bellwether of their ability to remain in the playoff race.
The Clippers have played in 21 games where the score has been within five points in the final five minutes, the fifth-most "clutch" games in the NBA this season, and are 14-7 in them, which ties for the fourth-best clutch winning percentage. Coach Doc Rivers expected close games to be the norm at the season's start and it's turned out that way. The Clippers' scoring differential ranks eighth in the West, as they've outscored opponents by 1.1 points a game.
Their success in close, marquee matchups — overtime wins against Golden State, Milwaukee and Memphis — put them in first place in the West through the season's first six weeks and turned them into an out-of-nowhere darling.
Did the team begin to believe its own hype and grow complacent during December, when it won only six of its 15 games? No, said forward Tobias Harris, an All-Star candidate.
"A lot of that came from different teams adjusting to us," he said. "That's just taking a longer time than needed to adjust back to what we know worked for us and got us wins in the beginning of the season."
The offense has remained strong, posting the league's seventh-best rating, but the defense ranks 21st. They've clamped down on opponents' corner three-pointers, a major problem last season, only to have problems at other spots. During Saturday's game, it was San Antonio center LaMarcus Aldridge taking advantage of the Clippers' inconsistent center rotation of Boban Marjanovic, Harrell and Marcin Gortat for 38 points. Harrell called assistant Rex Kalamanian over to his locker afterward and they discussed potential fixes for the defense.
Harrell later stood and voiced a frustration that Saturday's second half had devolved into too much isolation and not enough movement, both offensively and defensively. Passes weren't bouncing from player to player offensively, and rotations either weren't coming or weren't effective defensively.
"We can't have those letdowns because we're just a team that keeps competing and keeps fighting and keeps grinding and finding ways," Harrell said. "We've got to do that all game, pretty much. We can't do it in spurts of the game and hoping that Lou goes off, or run off 20 points or [Gallinari] goes off for 20 points. We can't keep fighting from behind like that."
The loss was chalked up to little energy and physicality at the end of a stretch of three games in four nights. The Clippers are in "a good spot" in the big picture, Harris maintained — while understanding that in the West's tightly packed standings, all it takes for a team to feel as though it's fighting from behind are a few bad nights.
"We're in a good position," forward Mike Scott said. "But it's the West, you can't drop games. It's so tight with the records."
Twitter: @andrewgreif
Get our high school sports newsletter
Prep Rally is devoted to the SoCal high school sports experience, bringing you scores, stories and a behind-the-scenes look at what makes prep sports so popular.
You may occasionally receive promotional content from the Los Angeles Times.