Clippers feeling upbeat about new-look squad after improbable win over Celtics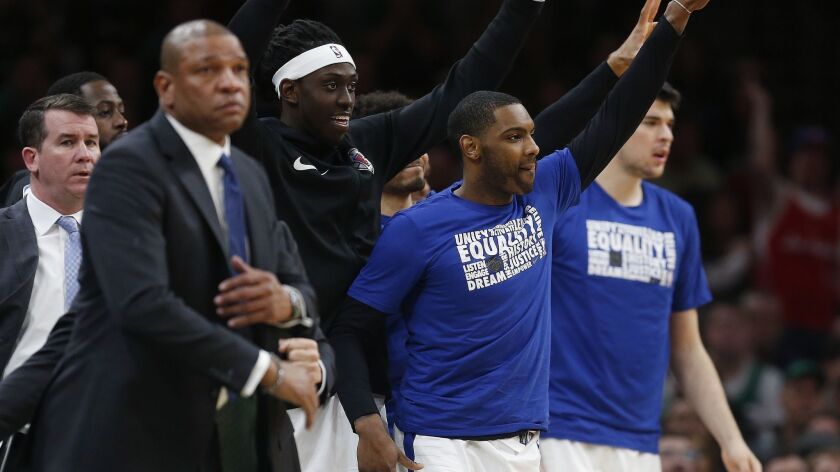 Reporting from Minneapolis —
The new-look Clippers entered Saturday's game in Boston like puzzle pieces unsure about their collective fit.
They left TD Garden calling their debut as positive a first impression imaginable for a group attempting to pull off a difficult feat – building trust on the fly while holding onto a playoff spot in the regular season's stretch run.
"It was a little bit of a roller coaster game, right?" rookie Landry Shamet said after the Clippers rallied from 28 points down to beat Boston, 123-112, in the largest comeback in franchise history. "I learned a lot in a really short period of time about this team.
"You've got Patrick Beverley and [Montrezl Harrell], two guys that are going to play hard all the time. They want to win, they make it very obvious. When you get in a situation like that and they keep clawing, as vocal as they were, and as hard as they play, it trickles down from there. Everybody else meets that standard."
Los Angeles' improbable victory kept it half a game behind seventh-place San Antonio and one game ahead of ninth-place Sacramento in the Western Conference standings. It was its second game following Thursday's trade deadline but its first with most of its new acquisitions available to play. (Wilson Chandler remains out with a strained right quad.) The Clippers had one practice, one shootaround and some time at their hotel with Shamet, Garrett Temple, JaMychal Green and Ivica Zubac before tipoff.
They spent that time "just being ourselves," Temple said. "At the end of the day, the basketball court is everyone's safe haven."
After what coach Doc Rivers termed an "uptight" first half, the Clippers' free-flowing play after halftime offered a blueprint for how they envision playing together.
After scoring 41 points in the first quarter, Boston scored 38 points after halftime while committing 11 turnovers. They helped the Clippers hold a 14-4 advantage in transition points after halftime -- crucial for an attack that had installed next to nothing in its half-court offense.
"The blueprint is defend and get out and run so we don't have to face set defenses," said Temple, who started at small forward in his Clippers debut. "But just also move the ball, shoot open shots and make quick decisions.
"We know that we can guard, man. Still learning each other's tendencies but we know what the people can and can't do. If we can defend, we can beat anybody."
With leading scorer Tobias Harris, one of the team's best off-the-dribble creators of offense, traded the Clippers can no longer bank on one go-scorer, especially during first quarters, where Harris ranked 10th in the league in scoring.
The Clippers spread the ball around instead, with eight scorers in double figures. (Nine is the franchise record.) Seventeen of their 23 field goals after halftime were assisted.
Rivers credited Beverley with keeping his teammates focused even while falling behind by 28.
"It's amazing sometimes [Beverley] doesn't have to score and his spirit helps you win the game," Rivers said. "At halftime it wasn't a team talking about they were going to lose. They were talking about how they were going to win. Doesn't mean it's going to happen, but they do believe that."
Clippers coaches are walking a difficult line of not installing too much too quickly and overwhelming the new additions while knowing they have little ground to lose with only 25 games remaining. The Clippers weren't planning on adding to their playbook Sunday, a travel day en route to Minnesota, and "then the next game we may put one more thing in," Rivers said. "We're going to take it slow but you can still win that way."
Saturday's comeback, which broke the ice between new teammates and broke a team record in the process, indicated as much.
"It makes that much of a difference," Shamet said. "Comeback win like that or lose by 30? It's like, dang, it makes it a lot easier, this transition. I'm just excited to keep going forward."
UP NEXT
AT MINNESOTA
When: 5 p.m. PST Monday
On the air: TV: Prime Ticket; Radio: 570, 1330.
Update: This is the last stop of the Clippers' six-game road trip. Minnesota (25-30) has lost four consecutive games and six of its last seven. Clippers (31-26) guard Patrick Beverley made two key three-pointers late against Boston and has made 47.5% of his three-pointers in his last 29 games, while also averaging 5.6 rebounds and 4.7 assists. Beverley called himself "stronger than I've ever been" following the knee surgery that caused him to miss nearly the entire last season. New center Ivica Zubac had 12 points, nine rebounds and three blocks, only the seventh time this season a Clipper has posted those totals or more. "Zubac can really play," coach Doc Rivers said.
Sign up for our daily sports newsletter »
Twitter: @andrewgreif
---
Get the latest on L.A.'s teams in the daily Sports Report newsletter.
You may occasionally receive promotional content from the Los Angeles Times.