Clippers forward Danilo Gallinari says he didn't take rest day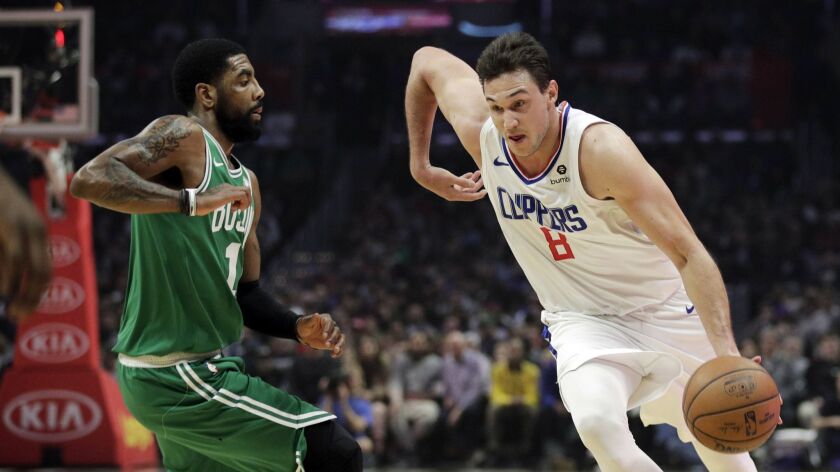 To be absolutely clear, Danilo Gallinari adamantly told the media Thursday, he didn't sit out the Clippers' loss Tuesday to the Portland Trail Blazers to rest for rest's sake.
In a firm tone, Gallinari said he was held out of the game because of a sore left ankle.
"I didn't take any rest last game," Gallinari said before the Clippers practiced Thursday. "I don't know what the [physical therapists] told you or what anybody told you, but it wasn't rest. I'm not resting. I don't need any rest. I'm ready to go."
There is much at stake for the Clippers, who are holding one of the top eight spots in the competitive Western Conference.
They are intent on making the playoffs and Gallinari wants to do his part when he's healthy enough. The 6-foot-10 forward is listed as questionable for Friday night's game against the Chicago Bulls at Staples Center.
"I'm ready for the next one," Gallinari said. "I just had a problem where I needed to take care of my foot. My foot was hurting from last week so I needed to take care of this problem and now it's going to be fine."
Gallinari has been instrumental in the Clippers winning five of their last six games, his production this season one of the best of his 10-year career.
He's averaging 19.2 points per game, the second-highest of his career since he averaged 19.3 points per game during the 2014-15 season with the Denver Nuggets.
He's averaging a career-high 5.9 rebounds and shooting a career-best 45.7% from the field. He's also shooting 43.5% from three-point range, 90.3% from the free-thrown line and averaging 2.4 assists per game.
So yes, the Clippers need Gallinari if his body will allow.
"He'll be ready tomorrow, most likely," Clippers coach Doc Rivers said. "I can't guarantee that, but he looks good.
"It wasn't a rest day. His ankle was just hurting and we just felt it would be better for him not to further that."
Gallinari didn't practice Thursday, but he rode a stationary bike and got treatment from the Clippers' medical staff.
"I don't want to sit any game out," Gallinari said. "If the coaches or the [physical therapists] are telling me I should sit one out, like, OK. But if it's up to me, I'll play every game."
Short practice
Rivers said forwards JaMychal Green and Wilson Chandler didn't practice because both were sick.
That left the Clippers with no power forwards to run their sets.
Rivers said he constantly has to determine how important it is for his players to get rest or have physical practices.
"It's a balancing act," Rivers said. "I have to think I'd rather have their legs at the end of the day. Like today, we were going to have a really good practice, but it's going to be short because we've got a couple of guys out due to sickness now."
FRIDAY
VS CHICAGO
When: 7:30 p.m.
On the air: TV: Prime Ticket; Radio: 570, 1330.
UPDATE: The Bulls, who have lost three consecutive games, have the fourth-worst record in the NBA at 19-50. … Bulls guard Zach LaVine, who leads the Bulls in scoring (23.8 points per game), is listed as probable after missing the last two games with a knee injury. Bulls forward Otto Porter Jr. (knee) also is listed as probable.
Twitter: @BA_Turner
---