Injury-plagued Clippers fall to Spurs 109-91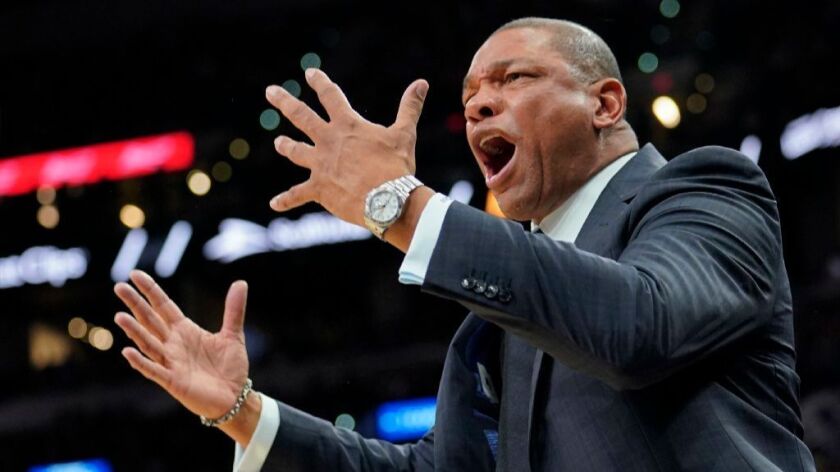 Reporting from SAN ANTONIO —
Those sounds emanating from the Clippers on Monday night were yet another sad song, the lyrics streaming about more injuries taking hold of a health-adverse team.
This time the melody went like this: Lou Williams (right ankle) and Wesley Johnson (left foot soreness) couldn't play against the San Antonio Spurs because of their injuries.
And so the chorus continued to blare like it always does when the Clippers are without enough healthy bodies, the rest of the group marching onward and competing for stretches but coming up short again as the Clippers did in a 109-91 loss to the Spurs at AT&T Center before 18,418 fans.
Williams and Johnson remained in the locker room and watched the Clippers lose their third straight game, neither able to help out, injuries taking them down just like Blake Griffin (left knee), Danilo Gallinari (left glute) and Patrick Beverley (season-ending right knee surgery) before them.
"At the end of the day, we just didn't have enough in the tank," Clippers coach Doc Rivers said. "You could clearly see us running out of gas. But again, I like how we're playing."
His team fell into a 15-point hole in the second quarter.
But the Clippers did what they have done so much of this season, which was claw back into the game in the third quarter.
They cut their deficit to two points in the third, but the Spurs responded by opening a 15-point lead again by the end of the quarter, ending any chance for the Clippers.
"I thought tonight they got down because they had so many good looks," Rivers said. "You could literally see it on their face. I just told them, 'Listen, if they are your shots and they are good looks, keep taking them.' "
The Clippers started two players on two-way contract that were signed to play for their NBA development league team.
But instead of spending most of their time with the Agua Caliente Clippers of Ontario, Jamil Wilson and C.J. Williams were starting for the short-handed Clippers against the Spurs.
Wilson had a nice shooting game, scoring a career-high 13 points on five-for-12 shooting.
C.J. Williams had five points in a foul-plagued 27 minutes 15 seconds.
"We've just got to figure out a way to win when we've got guys out," said DeAndre Jordan, who had a double-double with 13 points and 14 rebounds. "It's frustrating, but we can't let it take over. It's all right to be frustrated, but we've got to lock in more. For me, I definitely can't get too frustrated. It's definitely something that I've dealt with before with injuries. But I've got to still be a presence and a leader for us."
The Clippers did get Austin Rivers back after he missed the last two games while in the NBA's concussion protocol.
But he missed 11 of his 15 shots, clearly still not himself after being out since suffering the concussion last Wednesday night at Orlando.
"This has been a terrible season so far for just our health, I guess," said Austin Rivers, who finished with 12 points. "It seems like one guy comes in and two guys go out. One guy comes in and two guys out. Two guys come back and one guy goes out. We've got to keep our heads up, man."
Twitter: @BA_Turner
---
Get the latest on L.A.'s teams in the daily Sports Report newsletter.
You may occasionally receive promotional content from the Los Angeles Times.