Column: Clippers are a far cry from last season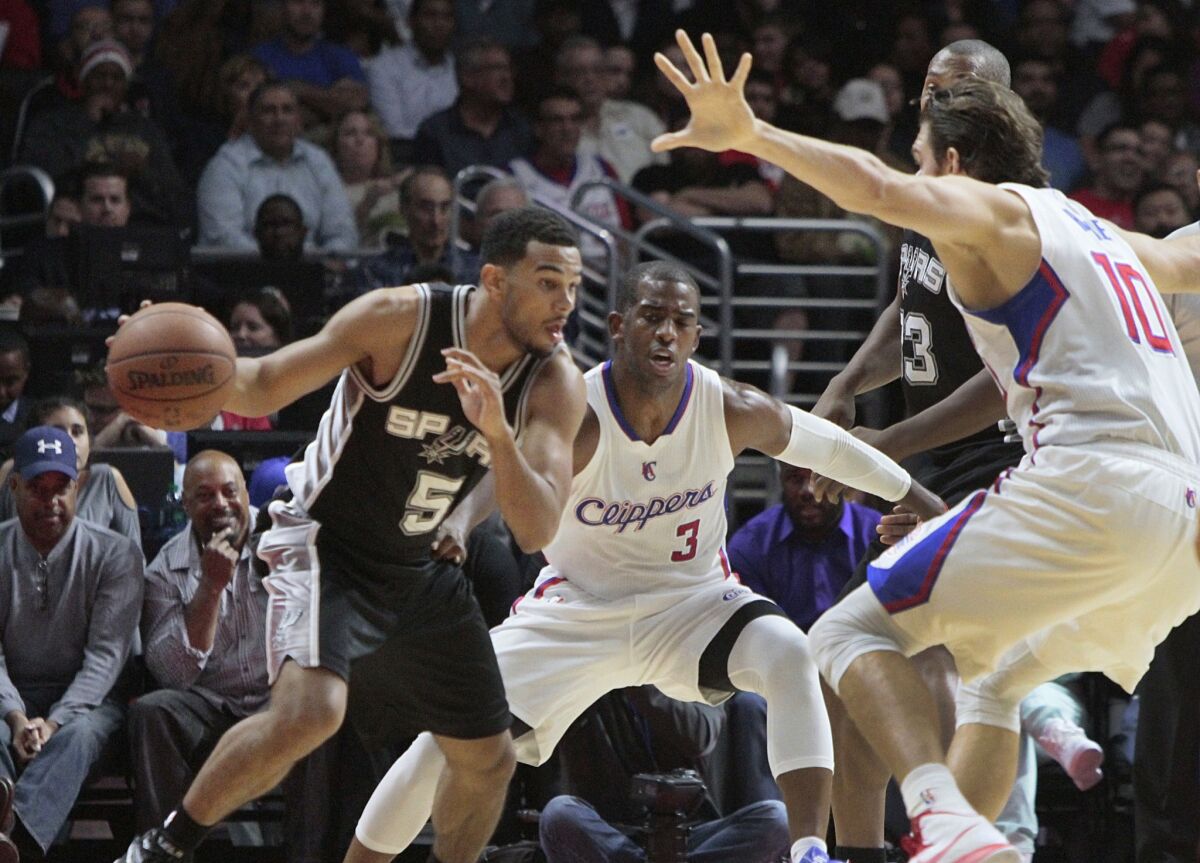 Well, it's ugly, it's awful, but at least it's official.
These aren't the same Clippers.
This is not a team of inspiration, this is a team of exasperation. This is not a highlight reel, this is a blooper video.
This is not the same group that last spring captured a city's heart, this is a group whose own vaunted Clipper Nation could be quickly losing its faith.
These truths were certified Tuesday night in a meltdown of old-fashioned Clippers proportions against defending NBA champions, a game in which the San Antonio Spurs took that metaphorical measuring stick and stuck it through the Clippers' not-so-hardcore chest.
With 5 minutes 49 seconds to play in front of a Staples Center crowd that had been murmuring in worry all game, the Clippers led the Spurs by seven points. One quick, queasy nightmare later, the Clippers had lost by four, falling, 89-85, for their third dispiriting loss in seven games.
No, no, this wasn't embarrassed-at-Golden-State bad. In some ways, this was worse.
This was the eptiome of a Clippers team that, over the course of the six months between last season's mesmerizing playoff run and now, have seemingly lost themselves.
These Clippers look nothing like those Clippers. These Clippers act nothing like Coach Doc Rivers' Clippers. These Clippers are certainly not what was promised of owner Steve Ballmer's Clippers.
"I keep saying, we just didn't execute down the stretch," Rivers said. "We just didn't function well down the stretch. That's one of the things I'm learning about this team."
Here's what happened down that stretch late Monday night, and brace yourself.
With the Clippers leading by one point in the final two minutes, Kawhi Leonard stole the ball from Chris Paul and scored to give the Spurs their first lead of the game. Then Blake Griffin threw a really silly ally-oop pass that was stolen by Boris Diaw, who scored to give the Spurs a three-point lead.
Fast forward through a bunch of carnage, including another Paul turnover, to the final 10 seconds, when the Cippers still had the ball and a chance to tie. With fans standing and screaming in mostly disbelief, Paul missed a layup, Griffin fell to the court while grabbing the rebound, and that was that.
"One thing I though they did that we didn't do is they trust the pass down the stretch," Rivers said. "I think we trusted the pass for 42 minutes, the last six months we didn't anymore.''
The Clippers held the Spurs to two-for-19 shooting from three-point range and lost. The Clippers ourebounded the Spurs by five, outshot the Spurs by holding them to 40%, and lost.
This is because, among other things, the Clippers committed more than twice as many turnovers (17) while often acting either confused or lethargic or just absent. It made for one of the most unexciting Clippers games in Rivers' two seasons here. It was almost as if they had all decided to show up wearing Benoit Benjamin throwbacks.
Griffin, even with 23 points Monday, isn't the same. He spent so much time this summer working on his jump shot, he feels he apparently feels he has to constantly show it off. Before Monday, his average shot this season is from 12 feet, three feet farther than last season. Yet, he was shooting only 25% from 10 to 16 feet. It doesn't equate.
"I think by the end of the year it will all figure itself out," Rivers said. "I don't mind the shot, but I do want him to be in more of an attack mode at times, but I do think he's finding his way toward that."
In other words, the hope is that he'll eventually realize that a guy who can dunk over a car needs to play closer to the rim, where the Clippers can get closer to a championship.
Paul, even with a 72-9 assist-to-turnover ratio for the season, isn't the same commanding presence. J.J. Redick isn't the same presence, shooting 41% before Monday, which would be a career low. He was also shooting 27% from three-point range, which would also be a career low.
Then there is Matt Barnes, who isn't even close to being the same. The summer yoga classes were a cute story, but they didn't stop the apparent sudden aging of the 34-year-old whose player-efficiency rating is 5.6, which would be a career low and far below the league average of 15.0
The Clippers have a serious problem at small forward, such that Monday night they started three guards for a second consecutive game, taking Jamal Crawford, last season's sixth man of the year, off a bench where he is so valuable. If Barnes doesn't improve, they will surely have to think about a trade, and one would hate to think that Crawford would be part of that deal, but that's the reality.
It's only been seven games, but past Clippers heroics are fading as fast as their largely quiet and seemingly bored fans Monday night.
A new Clippers era. Wake them when it starts.
---
Get our high school sports newsletter
Prep Rally is devoted to the SoCal high school sports experience, bringing you scores, stories and a behind-the-scenes look at what makes prep sports so popular.
You may occasionally receive promotional content from the Los Angeles Times.