Kawhi Leonard is focal point of Clippers' free agent signings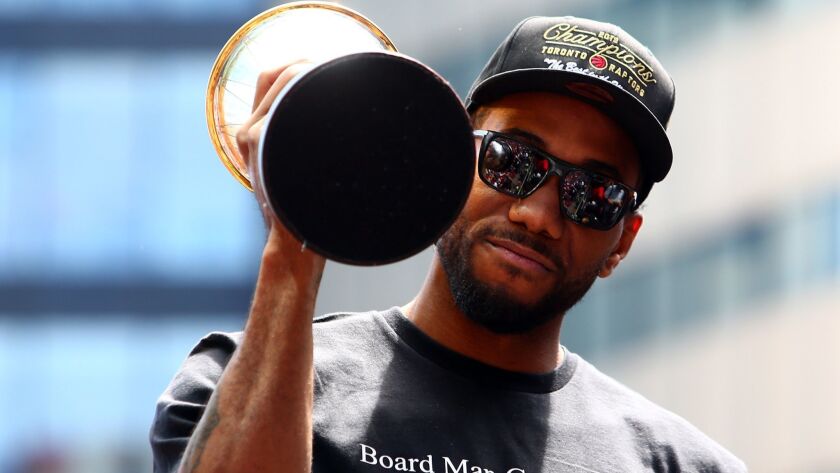 Less than an hour after the NBA draft ended Thursday, a night in which the Clippers added two players they'd targeted all along, the team's president of basketball operations walked into a Manhattan Beach hotel conference room energized. The night had gone as well as Lawrence Frank and his staff could have planned.
Next came the pivot. The NBA's free agency period begins June 30, and just like the draft, the Clippers have targeted a handful of players for months, if not since the team's front office was reshuffled and expanded nearly two years ago. Free agency is not like the draft, where teams hold a measure of control. By mid-July there is no guarantee the Clippers will leave free agency with a bounce in their step, their carefully detailed plan executed as envisioned.
"In the draft the organization chooses the player," Frank said. "In free agency, the player chooses the organization."
With enough salary cap room to sign a star to a maximum salary contract, the Clippers are rapidly approaching the NBA's free agency period confident in their planning but without any clue whether it will pay off.
"All we can do is be ourselves and represent ourselves in the best possible light," Frank said. "And hopefully the players that we're attracted to are also attracted to us and we just keep building."
They are most attracted to NBA Finals MVP Kawhi Leonard, who will hit free agency only weeks after the Moreno Valley-raised forward led Toronto to its first championship. Signing Leonard would represent a coup for a team that has never been a top destination for free agents. Adding a player of his caliber would transform the Clippers — one of three teams never to appear in a conference finals — into a Western Conference title contender.
The New York Knicks and Lakers are expected to be granted meetings with Leonard as well, but the race for Leonard's signature has long been considered a two-team fight between the Clippers and Raptors. What he will decide remains anyone's guess.
Frank cautioned that the Clippers "never put all our eggs in one basket" in free agency, and the team, with its projected $52 million in cap space, will court numerous players.
Qualifying offers are expected to be made to guard Rodney McGruder and center Ivica Zubac to make them restricted free agents. Also expected is an attempt to re-sign JaMychal Green, a forward who made a strong impression during three months with the team following a February trade from Memphis. During a first-round playoff matchup against Golden State, the Clippers were most effective when the 6-foot-9 Green was inserted as a small-ball big man. Should Green sign elsewhere, the roster would need another player with a similar skill set, capable of guarding centers close to the rim while pulling them away from the hoop offensively to open spacing for Clippers' playmakers.
One free agent expected to draw strong interest across the league is forward Al Horford, who declined his contract option with Boston next season worth $30.1 million to seek a longer, more lucrative deal. A New York Times report suggested he did so with the knowledge that at least one offer in the range of four years and $100 million will be waiting. The Clippers are one of few teams with enough cap space to even consider paying Horford more than $20 million annually but the fit does not appear seamless. Such an asking price is steep and Horford's age — he recently turned 33, more than a decade older than the young core the Clippers are building around in hopes of extending their window as a contender as long as possible.
The Clippers will face a difficult decision in what to offer Patrick Beverley. The veteran guard is an unrestricted free agent coming off a strong season in which he served as the Clippers' spark plug and reduced doubts about his ability less than two years after a serious knee injury. Beverley, who will turn 31 in July, has made clear in several interviews since the season's end that he will follow the money. Caught by TMZ cameras waiting for a ride at Los Angeles International Airport this week, Beverley called his summer goal "securing my family's future."
Sign up for our daily sports newsletter »
The Clippers never downplayed the Chicago native's importance last season, when Beverley's edge rubbed off on the rest of the locker room. For his part, Beverley has said leaving teammates he has grown close to would be difficult. It remains to be seen how closely the two sides will see eye to eye on his market value.
After the draft, Frank called himself more excited than nervous for free agency, believing in his team's preparation. Left unsaid were other reasons for optimism. Given the team's numerous future draft picks that could be swapped in a trade, free agency isn't the only pathway for the Clippers to potentially acquire a star player. The team could have cap space next summer, too.
"However it plays out we just feel very, very confident that we're going to build a sustainable contender," Frank said.
Minutes later, he left the conference room and returned to the team's draft room. A fruitful night was almost over. A world of uncertainty awaited.
Twitter: @andrewgreif
---
Get the latest on L.A.'s teams in the daily Sports Report newsletter.
You may occasionally receive promotional content from the Los Angeles Times.