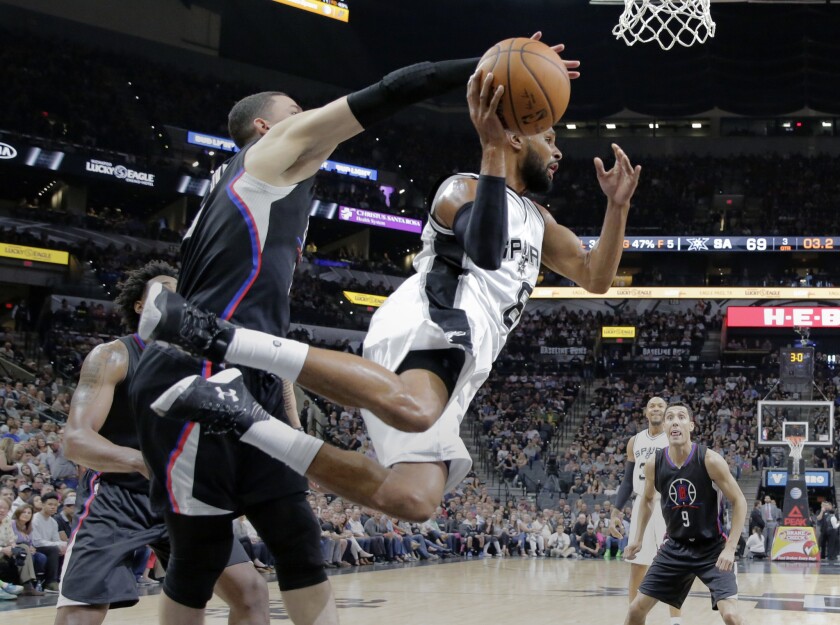 Reporting from San Antonio —
The Clippers like to say you can't win every game on a trip unless you win the first one.
That possibility was erased after a 108-87 loss to the San Antonio Spurs on Tuesday night at AT&T Center, and there's still a chance the Clippers could lose every game on their five-game trip unless they right themselves quickly.
Here are five takeaways from the game:
1. The adrenaline rush of needing to play together without Blake Griffin seems to be wearing off.
It felt as if the Clippers fully embraced their "Together We Will" mantra in their first 30 games without the star power forward, but they have slipped recently in losing four of their last six games.
Their defense hasn't been as good, their shots haven't fallen with as much regularity and the old second-unit problems have resurfaced. Even recent victories over New York and Dallas felt like a struggle. \
"We have to just keep plugging away," Clippers Coach Doc Rivers said, "and get as many wins as we can get."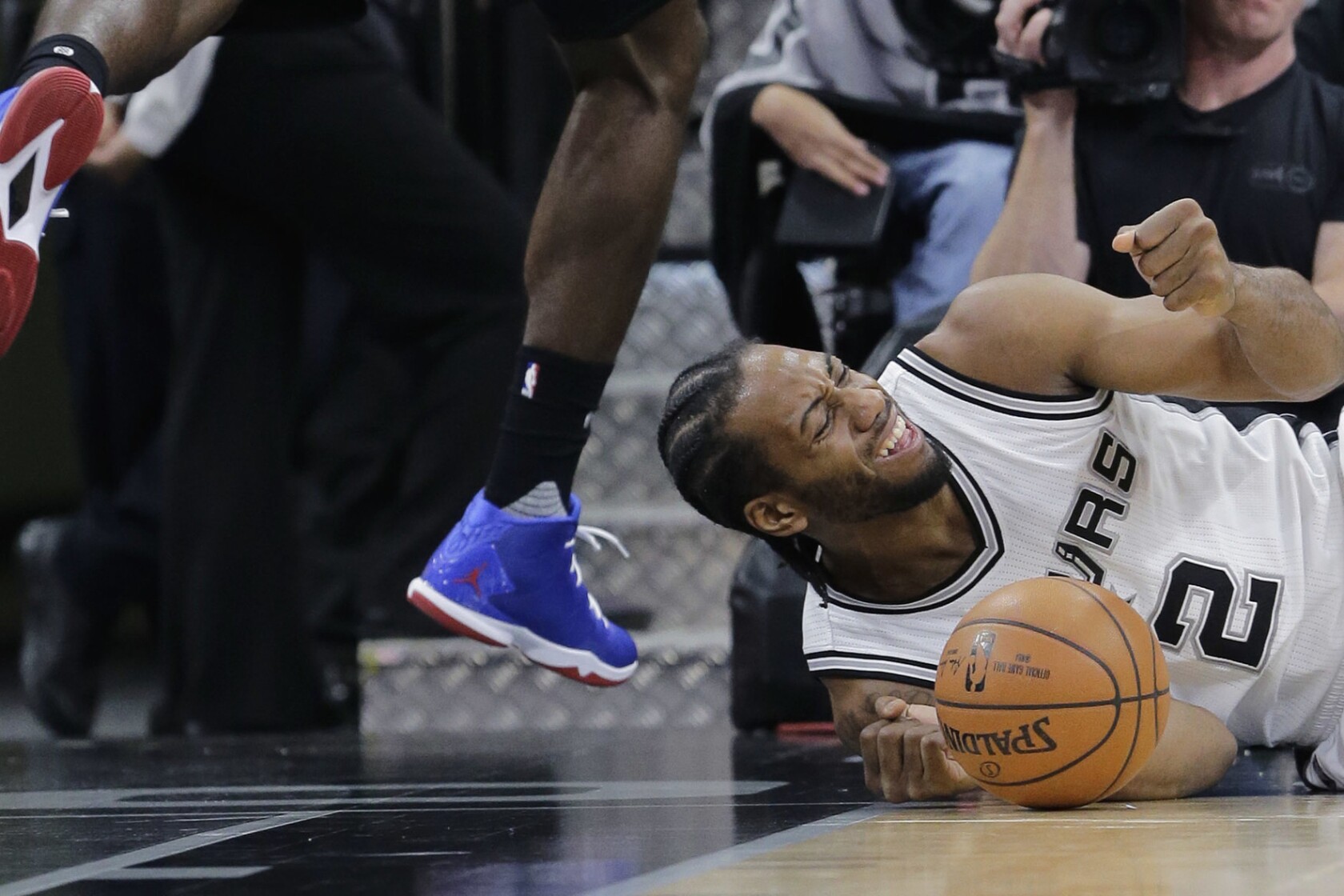 Spurs forward Kawhi Leonard (2) crashes to the floor after he was bumped by Clippers forward Jeff Green during the first half.
(Eric Gay / Associated Press)
Spurs guard Patty Mills, center, drives around Clippers guard Austin Rivers during the first half.
(Eric Gay / Associated Press)
Clippers Coach Doc Rivers keeps watch over his team during the first half.
(Eric Gay / Associated Press)
Spurs forward LaMarcus Aldridge (12) is fouled by Clippers center DeAndre Jordan (6) during the first half.
(Eric Gay / Associated Press)
Spurs Coach Gregg Popovich talks to his players during the first half.
(Eric Gay / Associated Press)
2. Jamal Crawford, Wesley Johnson and Austin Rivers can only play better, right? Right?
The trio of reserves combined to make only two of 16 shots against the Spurs.
"Jamal couldn't get it going. Austin couldn't get it going. Wes couldn't get it going. And when you look at their shots, you weren't that upset with the shots; they just wouldn't go," Doc Rivers said. "The Spurs are a great defensive team, but you can't have offensive lulls against them because they're going to score eventually with their ball movement, and I thought that happened in both halves."
Austin Rivers cited lackluster defense and ball movement for the second unit's shortcomings on a night it was outscored, 51-20, by its San Antonio counterparts. Are those easily fixable problems? "Yeah," Austin Rivers said. "We have no choice. We can't get any worse than we're playing right now."
3. There's a reason the Spurs are 33-0 at home.
The arrival of LaMarcus Aldridge and Kawhi Leonard's ascent to superstardom have propped up the aging trio of Tim Duncan, Tony Parker and Manu Ginobili.
Duncan and Parker weren't big factors against the Clippers, but Ginobili looked like he was still in his prime while making two timely three-pointers on the way to 13 points.
Aldridge finished with 17 points ,and Leonard scored 20 points to help lock down Clippers point guard Chris Paul in the second half, holding him to only four points after halftime.
4. The dog days of the season are nipping at the Clippers.
There are only 16 games left in the regular season, enough to make the playoffs seem far away but not enough for any significant movement in the standings.
"The light at the end of the tunnel is still a very distant dot," Clippers shooting guard J.J. Redick said. "You've got to squint to see it. But it's there. For us, given our circumstances this year, we're kind of trying to get Blake back."
The Clippers are hoping to at least hold onto a No. 4 seeding, which would entail homecourt advantage in the first round of the playoffs.
5. Houston could be a problem for the Clippers.
The Clippers have lost five of the past six meetings between the teams, going back to last season's playoff disaster. The Rockets have won five of seven games and trail Portland by only one-half game for sixth place in the Western Conference standings.
And there's also the possibility of a Josh Smith revenge game, should Houston Coach J.B. Bickerstaff allow the veteran forward whom the Clippers traded to the Rockets last month to play against his former team. Smith has shot poorly since coming to Houston and has not played in the team's past five games.
Twitter: @latbbolch
---