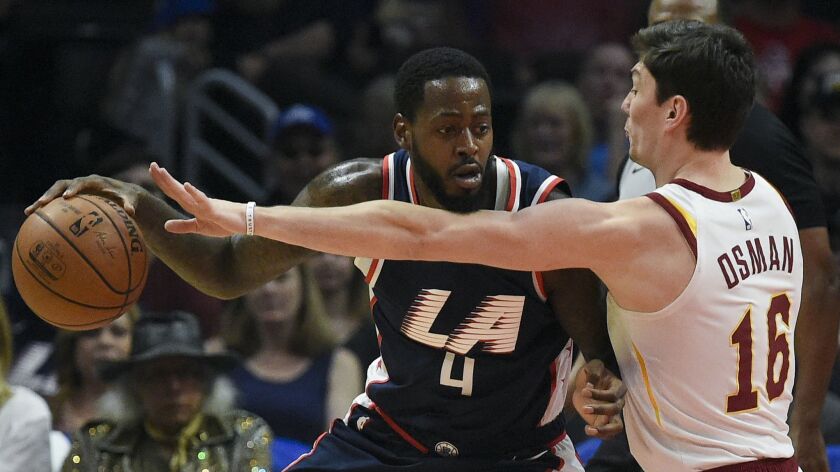 One takeaway from the NBA's postseason was the reminder that Kawhi Leonard still can transform into a one-man dynasty slayer.
Stars such as Leonard, a 6-foot-7 force on each end of the court, win championships in the NBA. But the unraveling of the uber-talented but injured Golden State Warriors, and the ascension of Leonard's Toronto Raptors, provided another reminder too: No matter the talent of a star, a team's playoff fortunes also hinge on a roster's depth.

The Clippers reshaped the NBA's balance of power over the weekend by landing a pair of mega-watt stars capable of leading their intended championship push — Leonard in free agency and Paul George via trade with Oklahoma City.
Crucially, they also added key reinforcements in the process.
The latest was forward JaMychal Green, who agreed to a two-year deal worth almost $10 million, according to a person with knowledge of the terms. The contract includes a player option for the second season. Green announced his return Monday in an Instagram post with the caption: "Run it back."
With Green back, seven of the 11 Clippers who averaged at least nine minutes per game in the playoffs remain with the team, which returns 65% of its postseason scoring. They include guard Patrick Beverley, who agreed to a three-year deal worth $40 million on June 30, and center Ivica Zubac, who on Saturday agreed to return on a four-year contract worth $28 million.
Then there's Rodney McGruder, who agreed to a three-year contract worth $15 million on July 2. Though McGruder was not eligible to play in the playoffs because he was claimed off waivers too late in the season, he spent the postseason around the Clippers and grew comfortable with many of the teammates he will play with in the coming season.
In addition, the team traded for 6-9 former Portland forward Maurice Harkless, who has started more than half of his 475 career games.
Leonard and George are in the primes of their careers and create perhaps the best all-round tandem in the NBA when healthy, and each has parachuted into a new team and found immediate success.
Leonard led the Raptors to their first championship in his lone season in Toronto. In 2017-18, his first season after being traded from Indiana to Oklahoma City, George averaged 21.9 points, 5.7 rebounds and shot nearly a career-high 40.9% on three-pointers. During the most recent season, he finished third in the voting for most valuable player.
Sign up for our daily sports newsletter »
Coming off a quadriceps injury that knocked him out nearly the entire 2017-18 season in San Antonio, Leonard limited his workload during Toronto's regular season in order to protect his health and readiness for the postseason. He could opt for a similar approach in Los Angeles, as could George, who has undergone surgeries on each shoulder this offseason.
Because of that, there is no way to project how often the Clippers will pair their best players during the season, and thus provide a window into the lineups the team might use during pressure-filled playoff moments.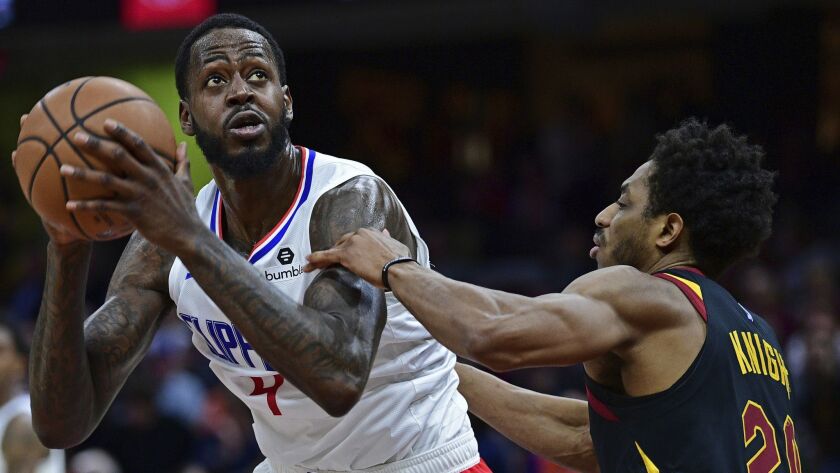 But as the team navigates its feeling-out period, the transition figures to be aided by the continuity and depth provided by contributors like Beverley, Green and Zubac, who already are well versed in how each other plays and how they fit within coach Doc Rivers' system.
Traded from Memphis at February's trade deadline, Green displayed toughness that immediately clicked with his Clippers teammates, and his versatility allowed coaches to be more flexible with their lineups. Rivers' decision to insert Green as a small-ball center midway through the Clippers' first-round playoff matchup against Golden State helped push the series to six games.
Thornwell cut
The Clippers cut second-year guard Sindarius Thornwell on Saturday. Thornwell, whose contract for next season would have become guaranteed July 20, was a second-round pick in 2017 and averaged nearly 16 minutes a game as a rookie. With the Clippers healthier last season, his playing time decreased to about five minutes a game.
Clippers roster as of Monday
GUARDS
Patrick Beverley (Height: 6-1, Age: 30): In many ways the heart of the Clippers, Beverley was one of 15 players in the league last season to average at least five rebounds a game and shoot better than 39% on three-pointers.
Landry Shamet (6-5, 22): Made 167 three-pointers last season, fourth most by a rookie in NBA history, and earned second-team all-rookie honors. Mostly used as an off-ball shooter last season, he is expected to have a larger role handling the ball.
Jerome Robinson (6-5, 22): A foot injury and deep guard rotation limited him to 33 games as a rookie but he averaged 9.2 minutes per game in the postseason and called the playoff experience a confidence boost entering his second season.
Lou Williams (6-1, 32): Named the NBA's top reserve for the third time in his career, matching an NBA record, after averaging 20 points in fewer than 27 minutes a game last season.
Terance Mann (6-7, 22): Chosen with the 48th pick in June's NBA draft, Mann's shooting is a work in progress but his court vision and length defensively give him a chance to see the court next season. He also grabbed 14 rebounds in his second NBA Summer League game.
FORWARDS
Kawhi Leonard (6-7, 28): Leonard is the first player in league history to be named the most valuable player of the NBA Finals and leave for a different team before the start of the next season. Leonard is expected to sign a four-year contract worth the maximum $142 million.
Paul George (6-9, 29): A six-time All-Star and four-time selection to the league's all-defense team, George is under contract for two more seasons with a player option for the 2021-22 season, as well.
Rodney McGruder (6-4, 27): McGruder was claimed off waivers in April, and signed to a long-term contract this month, in part because of his ability to guard three perimeter positions and his experience, with 112 career starts.
JaMychal Green (6-9, 29): Green made 41% of his three-pointers during 24 regular-season games with the Clippers last season. He became a starter in the playoffs but with George and Leonard on the team, he likely will join Montrezl Harrell and Williams among the players first off the bench.
Maurice Harkless (6-9, 26): Harkless was acquired as part of a multi-team trade July 1 after spending four seasons in Portland. He averaged a career-high 10 points a game three seasons ago, and averaged 7.7 points and 4.5 rebounds during the most recent season.
CENTERS
Ivica Zubac (7-1, 22): Averaged 8.9 points and 6.1 rebounds last season while playing for both the Lakers and Clippers. Matchups with Golden State led him to lose his starting job in the playoffs but he's still expected to begin the season as the starting post.
Montrezl Harrell (6-8, 25): The undersized center feasted against opposing backup posts en route to finishing third in voting for the league's top reserve. Already one of the best at rolling to the rim and catching lobs out of pick-and-rolls in the entire NBA, Harrell has worked on adding a consistent mid-range jump to his skills this summer.
Mfiondu Kabengele (6-10, 21): The Clippers traded up in June's draft to grab Dikembe Mutombo's nephew with the 27th pick. Kabengele was a good shooter at Florida State and has backed that up by making 50% of his shots through two Summer League games.
Twitter: @andrewgreif
---