Column: Kawhi Leonard played NBA's free-agency game to perfection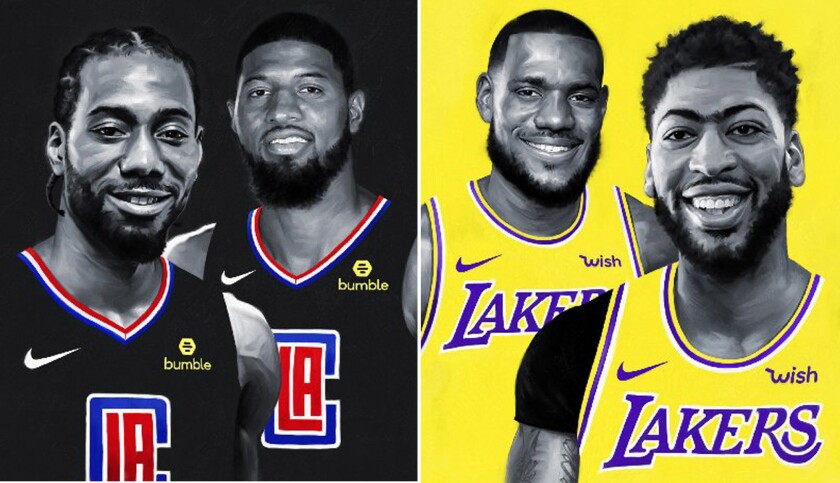 He did more than secure a backup option in case the Clippers failed to complete the trade for Paul George that he set in motion.
By forcing the Lakers to wait for him to decide where he would play next season, Kawhi Leonard made certain he was the only other superstar they possibly could land.
In retrospect, what Leonard did was construct his own team while preventing the soon-to-be-rival Lakers from building theirs.
The ramifications became evident soon after the Clippers reached agreements to acquire Leonard and George. A headline on latimes.com conveyed the magnitude of the disaster for Rob Pelinka simply by stating the facts: "Lakers miss out on Kawhi Leonard but will sign Danny Green, KCP."
As if Leonard's absence could be made up by Green and Kentavious Caldwell-Pope, a.k.a. the human LeBron James tax. (Caldwell-Pope and James share the same agent.)
How ingenious of Leonard.
How devious.
And, boy, how entertaining.
From the Lakers' perspective, Leonard performed what is called a heel turn in professional wrestling — only what he did was substantially more creative than what an average WWE script writer can imagine.
The instinct of many NBA owners and front offices will be to curtail the power of the players, which continued to increase this offseason as Leonard transformed the Clippers into a championship contender and Anthony Davis forced a trade to the Lakers. Attempts to limit player influence will be made under the guise of concern for the league, the assumption being that management knows better how to package its product for consumers.
Except management doesn't know better.
The NBA is the greatest reality show in the world and there isn't a close second, not even "Terrace House." (Multiple seasons of the Japanese program are on Netflix, something to remember the next time the NBA has a work stoppage.)
Some franchises suffer under this model, the latest example being the Oklahoma City Thunder, who acquiesced to George's trade demands a year after signing him to a maximum-salary contract. But suffering is a relative term. The Thunder are still part of a league that is a cultural touchstone in this country.
In an era in which the threat of social media exposure has turned the majority of athletes into bores, the NBA inadvertently discovered an avenue outside of on-court play to showcase its personalities. Baseball could take a lesson.
Sign up for our daily sports newsletter »
Player movement has become a window into the hearts of the NBA's stars.
Empowered like no athletes in any other sport — save, for maybe, soccer — high-end basketball players don't have to accept working conditions the way their contemporaries in baseball and football do.
A valuable ingredient is tampering — specifically, how the NBA tends to look the other way when players commit the infraction.The suspected subterfuge creates intrigue. Every pregame conversation between star players on opposing teams is viewed as a possible pitch. Before the season is over, there are widespread conversations about how rosters will be constructed next season.
The persistent rumors last season that Davis — who also has the same agent as James — was on the verge of moving to the Lakers destroyed whatever harmony existed on the team. The same rumors guaranteed that a 37-win team would remain the most talked-about franchise in a market that includes World Series and Super Bowl contenders.
There also was speculation that Kevin Durant and Kyrie Irving were conspiring to partner in New York. The vision was realized when they joined forces with DeAndre Jordan. What was unexpected was that they did so on the Brooklyn Nets, a choice that marked the continued decline of the New York Knicks.
Compare that to Major League Baseball's approach. Market forces have devalued free agency and stripped it of its excitement, and MLB won't even allow anticipation to build up. Shortly after Bryce Harper signed what was then a record-breaking deal with the Philadelphia Phillies, he said he would recruit Mike Trout, who was eligible to become a free agent in another couple of years. But the Angels quickly moved to ensure their sport wouldn't become water cooler fodder and asked the commissioner's office to investigate Harper for tampering. That was enough to discourage Harper from further mentioning Trout, as MLB forbids tampering of any kind, including by players.
And baseball wonders why it's increasingly marginalized.
Leonard's move inevitably will create more storylines and more conversations.
Leonard forever will be viewed through the prism of his decision to sign with the Clippers instead of the Lakers, a choice that symbolized the scope of his ambition and depth of his confidence, as well as his reluctance to potentially be a supporting actor in someone else's production.
George asking the Thunder for a trade will be widely interpreted as a repudiation of Russell Westbrook.
Leonard and George are Southern California natives, which has raised questions about how they feel about James, Magic Johnson's lack of discretion, and the drama in the Lakers' front office.
Whatever Leonard and George say is immaterial. Their actions were statements.
This is what the NBA sells: not only basketball, but also a never-ending soap opera. So as MLB heads into its All-Star break, attention that was once baseball's is now being diverted to a league that won't restart for three months.
---
Get our high school sports newsletter
Prep Rally is devoted to the SoCal high school sports experience, bringing you scores, stories and a behind-the-scenes look at what makes prep sports so popular.
You may occasionally receive promotional content from the Los Angeles Times.