Two former Lakers are now with the Clippers and they know what this game means to both teams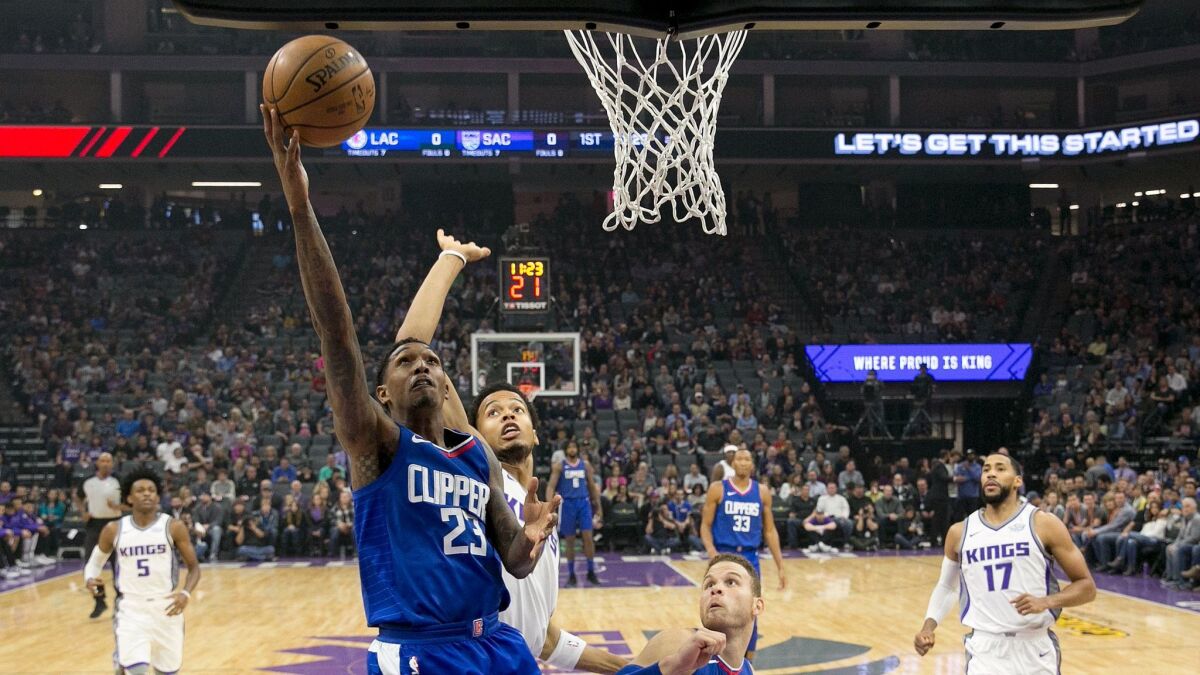 For a unique perspective on how the annual affairs between the Clippers and Lakers are viewed inside both locker rooms, Lou Williams and Wesley Johnson provided insight into how the two teams know it's not just "another game," no matter the chatter otherwise.
And the two players from the Clippers who also spent time playing for the Lakers admitted there is a healthy dose of animosity for the other side.

For the record:
9:45 p.m. Nov. 26, 2017An earlier version of this article said the Clippers had defeated the Lakers 12 consecutive times and 16 of their last 17 games. The Clippers have won four in a row over the Lakers and 15 of the last 17 meetings.
It's about being in the same city of Los Angeles that the Lakers have always owned. It's about sharing the Staples Center arena. It's being in the same Pacific Division.
And it's about a rivalry that overall has been lopsided in favor of the Lakers.
The two teams meet Monday night at Staples Center in what will be the Clippers' home game.
Williams is in his first season with the Clippers, but he spent one-plus seasons playing for the Lakers, from 2015-17.
"It's a big deal — on both sides," Williams said, laughing. "I've been in the Lakers' locker room when it's time to play the Clippers and it's a different environment versus when you play other teams. And I've been in the locker room with the Clippers' organization and it's a different environment versus when you play other teams. So it's a real thing."
Johnson is in his third season with the Clippers after spending the previous two with the Lakers.
In his eyes, it is the Clippers who still yearn to beat the Lakers more than ever.
"I think this side wants it more, because we want to prove a point," Johnson said. "And that's blow them out. We're playing for something, and they're not — plain and simple."
Johnson played with Kobe Bryant, who, every one of his teammates knew, played for championships and didn't treat the Clippers-Lakers games any different from other games.
"Now Kobe, he treated it like a normal game. It was just competition for him," Johnson said. "But over here with the Clippers, it's like just knowing it's a Laker town. Everybody, everywhere you go, it's always Laker fans making noise. Even though we have a huge fan base as well, but it's still Lakers. So we definitely want to prove a point when we play them."
The Clippers have defeated the Lakers four consecutive times, including a 16-point beating in both teams' season opener.
The Clippers have defeated the Lakers 15 out of the last 17 games, giving the Clippers an edge they hope continues.
"It's always fun," Williams said. "Hopefully it gets a little chippy. Get your money's worth."
"I got a lot of respect for the organization," DeAndre Jordan said. "I loved playing them when Kobe was there and [Andrew] Bynum and Pau Gasol and all those guys. They used to kick our [butt], so it was always fun playing against them when they had that team. But they have a lot of young talent and we're all going to be here. So it's going to be a battle that we're going to have for years. So it's cool playing against them."
The Clippers won their last two consecutive games after dropping nine straight.
They are playing their first game at home in two weeks, having been on the road the entire time.
"We've been in a rut, so to have won two in a row, especially on the way home, it was big for us to have these last two go our way on the road," Williams said. "And now we have a couple at home and we're trying to get this thing back on track."
Twitter: @BA_Turner
Get our high school sports newsletter
Prep Rally is devoted to the SoCal high school sports experience, bringing you scores, stories and a behind-the-scenes look at what makes prep sports so popular.
You may occasionally receive promotional content from the Los Angeles Times.