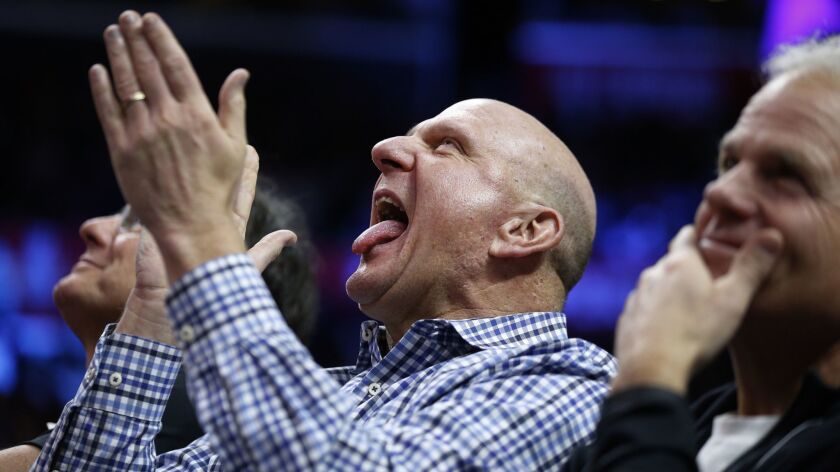 Reporting from Las Vegas —
When the Westgate Las Vegas SuperBook closed on Friday, the Lakers were commanding 3-2 favorites to win the NBA championship next season while the Clippers had slipped to 16-1 with many on Twitter suggesting Kawhi Leonard was leaning towards signing with the Lakers.
When they opened Saturday morning, the Clippers, fresh off the acquisition of Leonard and Paul George, jumped to 3-1 favorite while the Lakers dipped to 5-1.
"I had anticipated if the Clippers had just signed Kawhi they would have moved to 6-1," said Jeff Sherman, the vice president of risk management at the popular sports book. "But when they added Paul George, we moved them to 3-1. They're now the favorites."
The Lakers currently account for 13 percent of the tickets and 41 percent of the money wagered on NBA futures at the Westgate. Sherman had adjusted the odds on Monday when it looked as if Leonard would join LeBron James and Anthony Davis on the Lakers.
"We took a $10,000 bet on the Lakers on Monday night at 7-4 odds and so had to adjust the odds with everyone speculating that Kawhi was going to sign with the Lakers," Sherman said. "So that's when I bumped the Clippers back up to 16-1 and from Tuesday morning until we closed Friday night, we only wrote one ticket for the Clippers at 16-1 odds and that was just for $20. So only one bet came in on them this whole week. Based on what people were saying in media it was either the Lakers or the Raptors. All the bets we took this week were on the Lakers and Raptors, nothing on the Clippers."
The Leonard story had many oddsmakers constantly updating their Twitter for the latest news on where he would sign. Every rumor, every report and every airplane sighting in California or Canada could affect next season's odds.
Sign up for our daily sports newsletter »
"I had the Raptors at 6-1 when Jalen Rose said he was 99 percent certain Kawhi was going to return to Toronto," Sherman said. "If I had left the odds high on Toronto we would have seen a constant stream of money coming in on the Raptors based on that type of information. We did our best but no one knew what he was going to do."
---