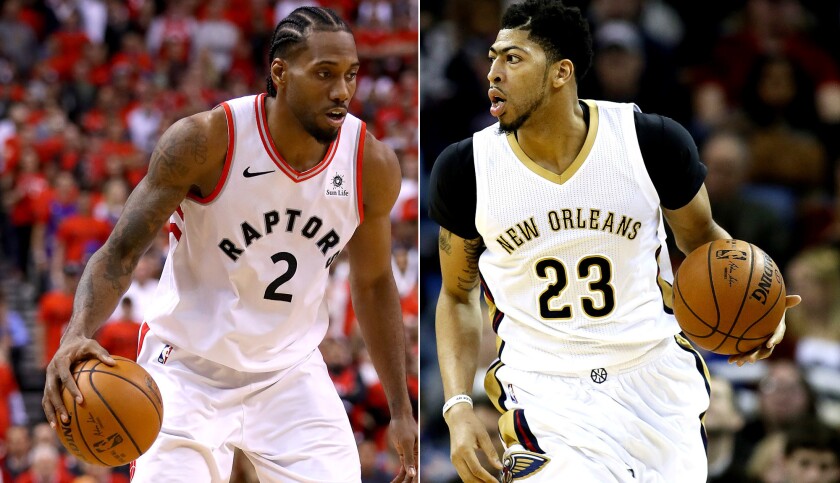 In February of last year, the best basketball players in the world came to Staples Center to put on a star-studded show.
Jack Nicholson, Jamie Foxx, Justin Bieber, Queen Latifah and Arnold Schwarzenegger were among the celebrities in a crowd of more than 17,000 who paid an average of $1,900 a ticket to watch 23 NBA All-Stars strut their stuff.
For locals, it was the only opportunity to see more than one or two of the league's top players in a game in person. Los Angeles, a mecca of the sport, was host to an All-Star Game without a Lakers or Clippers player on a roster.
How embarrassing.
Less than 16 months later, everything has changed. After some bold decisions by both teams in recent days, Staples Center will be the epicenter of the sport for at least 82 games next season — because four of the NBA's seven best players are now either Lakers or Clippers.
The Lakers followed LeBron James' decision to join them last summer by acquiring Anthony Davis from the New Orleans Pelicans in a massive trade three weeks ago. Then, late Friday night, the Clippers made their move, signing reigning NBA Finals' Most Valuable Player Kawhi Leonard in free agency and trading for Oklahoma City's Paul George.
Suddenly those L.A. teams that were bereft of All-Stars are now loaded with them.
"Kawhi, you got your team, the Clippers. LeBron, you got your team, the Lakers," Magic Johnson told The Times shortly after the dust cleared. "Now, let's see what happens."
In Davis, the Lakers added what might be the most talented young player in the league; he's 26. In Leonard and George, the Clippers added a pair of homegrown superstars in their prime to a cast that extended the mighty Golden State Warriors to six games in the last NBA playoffs. Leonard played in high school in Riverside; George in Palmdale.
It will be up to those players to see if the Lakers and Clippers can deliver something Los Angeles has never seen: a real rivalry between NBA teams playing under the same roof; maybe even a playoff series between them with a stake in the NBA championship series on the line.
The teams have shared Staples Center since 1999, but have never been at their best at the same time.
The golden era of professional basketball here has been completely one-sided. The Lakers have won 11 NBA championships since arriving from Minneapolis in 1960. The Clippers have won none since moving from San Diego in 1984.
The Lakers had Elgin Baylor, Jerry West and Wilt Chamberlain in the late 1960s and early '70s; after that, Kareem Abdul-Jabbar during the '80's teamed with Johnson and James Worthy in the team's "Showtime" era; and later, Kobe Bryant and Shaquille O'Neal won three straight titles together.
The Lakers also won titles in 2009-10, as Pau Gasol teamed with Bryant. In fact, dating back to the team's origins in Minneapolis in 1947, the Lakers failed to make the playoffs in back-to-back seasons only once — until 2015. That's a drought that has now reached six years as old age and organizational gaffes have overtaken winning as a defining characteristic.
For the Clippers, being good, in a relative sense, is a relatively new phenomenon. Half of the organization's 14 trips to the playoffs have come in the past eight seasons.
The club had its own era of glory — again, a relative term — called "Lob City," when Chris Paul, Blake Griffin and DeAndre Jordan converged for a span of fastbreaks and dunks … that failed to deliver the Clippers a trip to the Western Conference Finals, much less an NBA title.
But next season, with both teams full of such star power, winning is assumed. Las Vegas bookmakers have installed the Clippers as 3-1 favorites to win the NBA title; the Lakers are next at 5-1.
Making it happen took daring moves.
The Clippers and Lakers each took on hundreds of millions of dollars in salary and traded every first-round pick from now until midway through what could be Suri Cruise's first term as president.
To get Davis, the Lakers sent New Orleans the players they once considered their future — Lonzo Ball, Brandon Ingram and Josh Hart — along with the No. 4 overall pick in this year's draft in addition to most of the Lakers' first-round picks through at 2024.
And, in order to have enough money available to chase Leonard, the Lakers shed salary by trading more young players, including their first-round pick last year, Moe Wagner.
It was an all-in chance the Lakers felt they had to take after a terrible past season that resulted in James, 34, not participating in the playoffs for the first time since he was 21.
Meanwhile, the Clippers' public posture was that they were a team comfortable with whatever happened in free agency. With the team rich in future draft picks and young players already on the roster, the Clippers were free from long-term financial shackles. They had options.
They had become something resembling blue-color darlings: tough, gritty and afraid of no team. The party line was that they would build off that. They talked about drafting more good young players, developing others.
But rival scouts and executives feared — correctly, it turns out — that was mostly lip service. They knew what the Clippers really wanted to do was sign an impact player such as Leonard, who is one of just three players — James and Hall of Famer Abdul-Jabbar are the others — to win a Finals MVP award with two different teams.
The Clippers chased Leonard throughout the season — and weren't covert about it. Members of their front office were easy to spot at several games in Toronto, where Leonard was leading the Raptors to an NBA title. The NBA was worried enough that they fined the Clippers $50,000 for tampering after coach Doc Rivers compared Leonard to Michael Jordan during an interview with ESPN.
The more secret part of the plan was finding Leonard a suitable wing man. Some people around the NBA wondered if that player could be Warriors star Kevin Durant, another free agent. Once that didn't work out — Durant signed with the Brooklyn Nets — Leonard and the Clippers quickly pivoted to George.
The problem was that George had just finished the first season in a four-year deal with the Oklahoma City Thunder, and getting him wasn't going to be easy.
Ultimately, the Clippers paid more for George than the Lakers did for Davis: Shai Gilgeous-Alexander, the underrated Danilo Gallinari, a staggering five first-round picks stretching all the way to 2026, and the rights to swap two more first-round picks if they came ahead of the Thunder's was the price for George, and essentially Leonard.
It was the Clippers opening up their chest full of assets and pouring almost all of them out, just like the Lakers did with Davis.
For both local teams, this wasn't a time to be conservative or pragmatic. This was a time for big action, to be fearless.
Because of their actions, Los Angeles is once again center of the NBA's universe. This time, twice over.
Times staff writer Broderick Turner contributed to this article.
Sign up for our daily sports newsletter »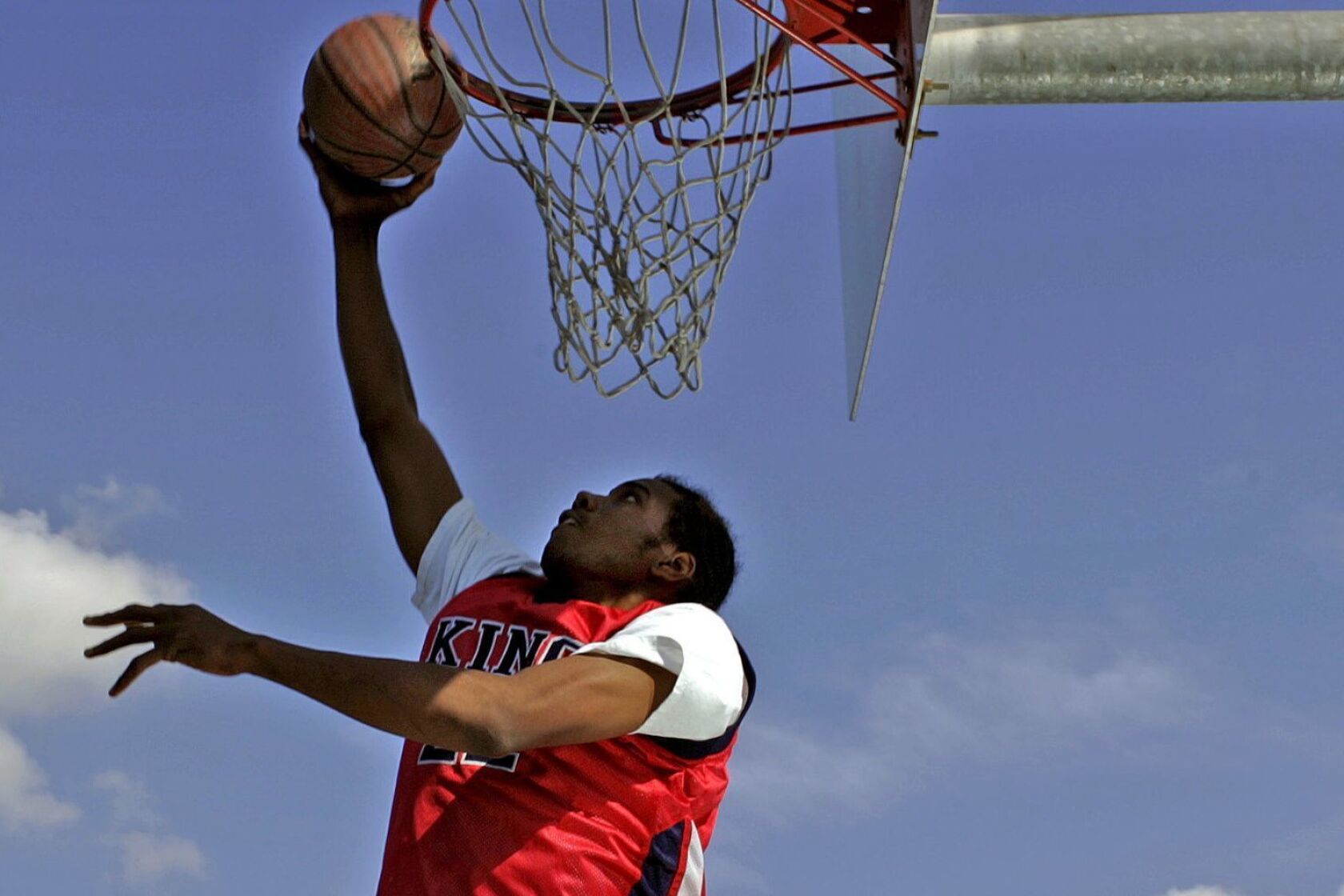 Kawhi Leonard rose to stardom at Martin Luther King High in Riverside.
(Gina Ferazzi / Los Angeles Times)
Riverside King's Kawhi Leonard is fouled by Taft's Bryce Smith a Southern California Regional semifinal playoff game on March 6, 2008.
(Richard Hartog / Los Angeles Times)
SanDiego State forward Kawhi Leonard reacts after he was mistakenly called for a foul during a game against UNLV Rebels on Feb. 12, 2011 in Las Vegas,.
(Ethan Miller / Getty Images)
Kawhi Leonard of San Diego State Aztecs takes off on a fast berak during a game against Temple during an NCAA tournament game on March 19, 2011, in Tucson.
(Harry How / Getty Images)
San Diego State's Kawhi Leonard grabs a rebound from UConn's Roscoe Smith during an NCAA tournament Sweet 16 game at Honda Center on March 24, 2011.
(Chuck Liddy / TNS)
San Diego State forward Kawhi Leonard tries to keep possession of hte ball against UConn defenders during an NCAA West Regional semifinal at Honda Center.on March 24, 2011.
(Robert Gauthier / Los Angeles Times)
Kawhi Leonard poses with NBA Commissioner David Stern at the 2011 NBA draft in Newark, N.J. Leonard was drafted 15th by the Indiana Pacers and was then traded to San Antonio.
(Associated Press)
Spurs coach Gregg Popovich talks to Kawhi Leonard during a game in 2017.
(Brandon Dill / Associated Press)
Kawhi Leonard receives his second trophy as the NBA's defensive player of the year in 2017.
(Associated Press)
Cavaliers forward LeBron James tries to drive past Spurs forward Kawhi Leonard during a game on Jan. 21, 2017.
(Tony Dejak / Associated Press)
Clippers point guard Chris Paul calls for a timeout as Spurs forward Kawhi Leonard tries to steal the ball from af allen Blake Griffin.
(Lawrence K. Ho / Los Angeles Times)
Spurs forward Kawhi Leonard only played nine games during the 2017-18 season.
(Eric Gay / Associated Press)
Kawhi Leonard takes a phone call during one of his first practices with the Raptors on Sept. 26, 2018, in Burnaby, Canada.
(Jonathan Hayward / Canadian Press)
Raptors forward Kawhi Leonard drives against Warriors forward Andre Iguodala during Game 5 of the NBA Finals on June 10, 2019.
(Frank Gunn / Canadian Press)
Raptors forward Kawhi Leonard is fouled by Warriors guard Klay Thompson during Game 4 of the NBA Finals on June 7, 2019, in Oakland.
(Frank Gunn / Canadian Press)
Kawhi Leonard celebrates after the Raptors won the NBA title with a victory over Golden State in Game 6 of the NBA Finals on June 13, 2019, in Oakland.
(Ezra Shaw / Getty Images)
Raptors forward Kawhi Leonard holds the NBA Finals MVP trophy as he poses with his uncle Dennis Robertson and his mother Kim Robertson.
(Frank Gunn / Associated Press)
Raptors forward Kawhi Leonard takes a selfie while holding his Finals MVP trophy during the team's victory parade on June 17, 2019.
(Frank Gunn / Canadian Press)
Sign up for our Lakers newsletter »
Twitter: @DanWoikeSports
---