Column: Clippers' depth shines again as team continues to reach for full potential
The offense isn't seamless. Kawhi Leonard has been getting good looks, but he's shooting a career-low 43.9% from the floor. Everyone is still figuring out where to be and when, and how to get there most efficiently.
The Clippers are still sorting out all the details, large and small, of how to smoothly work Leonard and Paul George into their lineup without losing their identity as a gritty, blue-collar team — yet they're winning. What could have been a chaotic process has been made easier by players' selflessness and patience, fueled by the belief they will eventually smooth out the rough edges and become a cohesive, successful whole.
The details vary, but a pattern has emerged in their first 22 games. Most notable is that they're benefiting from many weapons: Leonard has led them in scoring nine times, Lou Williams seven times, Montrezl Harrell six times (including two times Harrell and Williams shared high-scoring honors), and George twice. Their bench led the NBA in scoring with an average of 53.9 points per game through Tuesday's games. That depth was crucial on Tuesday, when power forward Patrick Patterson — who had been relegated to the bench after starting the first 11 games — scored 19 points and Harrell scored a game-high 26 as the Clippers pulled away from the Portland Trail Blazers and ran off with a 117-97 victory at Staples Center.
It was their ninth straight home win and 13th in 14 home games this season, played out in front of a loud and enthusiastic crowd. "This is the first year, and I said this a while ago, where you feel like it's home," coach Doc Rivers said.
Their success on their home court is impressive for a team that's still sorting itself out — or a team that's fully matured. They were resourceful on Tuesday, as they've been before and will have to be again.
Montrezl Harrell scored 26 points, Paul George added 25 and the Clippers pulled away in the second half to beat the Portland Trail Blazers 117-97.
"In our scouting report, we were talking about Kawhi Leonard, Paul George and Lou Williams. We talked about making sure we slow those guys down," Portland guard Damian Lillard said, adding that the Trail Blazers minimized the damage from Leonard and from Williams, who had nine points. "It just shows you how deep they are, how many guys they can turn to and how much production they get across the board," Lillard said.
Although Leonard had only 11 points on three-for-15 shooting, George had 25 points. This was the seventh game they've played together and only once, against Washington, have both shot 40% or better in the same game. There's still chemistry to be developed between them, tendencies that haven't become instincts. But again, the team is still winning and Rivers kept Leonard at 28 minutes, which should keep him fresh.
"The good thing with Paul and Kawhi is they're so team-oriented. They want to fit everybody in, which is a good thing, but we want to make sure they fit in. So that's the balance we're walking," Rivers said. "And overall we're doing a pretty good job of it, but I just know there's a better one in there."
That has been their mantra: As good as they've looked sometimes, they believe they haven't hit their stride yet. If that's true, imagine how good the finished product might turn out.
"The best part of this team, in my opinion, is that we're not near where we're going to be. And you can feel that. Our guys know that," Rivers said. "They know that we're playing winning basketball. We're playing together, we're playing hard, we're talking, but they also know we don't have it together yet. They know that. They can feel that.
"Offensively, you're calling plays and three guys are staring at you. Two guys know it. Same thing on some of our defensive calls. So the more we play together, the more we have shootarounds and practice time, we're going to get better."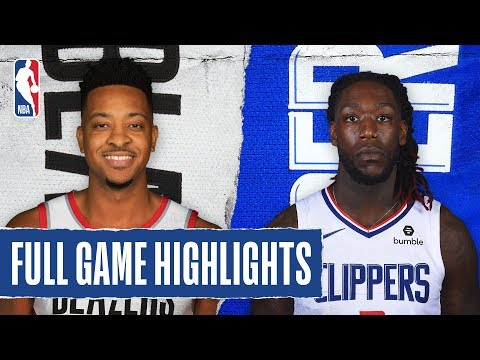 Watch highlights from the Clippers' win over the Portland Trail Blazers at Staples Center.
Until then, they can rely on their defense, which held Portland to a season-low point total. "We just have a lot of defenders. A lot of smart defenders," George said. "It's one thing to have guys that play defense, but it's another when you've got guys that love to play defense and know how to play defense. We've just got so many of them out there. There's an awareness at all times of the matchups, who's the hot guys, what guys do we want the ball out of their hands."
As for Leonard's poor shooting, Rivers said it wasn't for a lack of good shots. Leonard himself left the arena without speaking to the media. "First thing he said when he sat on the bench was, 'My goodness, am I getting great shots.' And right now they're not going in, but they will. You know they will," Rivers said. "I thought he set the tone with his passing early. He kind of let the game come to him. He got everybody else going first and then he tried to get himself going and he couldn't do that tonight. But I loved that he was getting everybody else going."
On Friday, the Clippers will begin a stretch of six games in nine days, including two back-to-back sequences. Leonard likely will get a game or two off. The Clippers have learned to play without him, but will be much better with him once they sort everything out. "Offensively, as you can see, anybody can go off for a big night. But we just want to keep imposing our defensive will on the other team and take them out of the things they want to do offensively," Harrell said. "The offense will win a couple of games, but defense is what ultimately is going to get us to where we want to go."
They're getting closer to that goal, one detail at a time.
Get our high school sports newsletter
Prep Rally is devoted to the SoCal high school sports experience, bringing you scores, stories and a behind-the-scenes look at what makes prep sports so popular.
You may occasionally receive promotional content from the Los Angeles Times.