Paul George, Kawhi Leonard top 40 points as Clippers hold off Timberwolves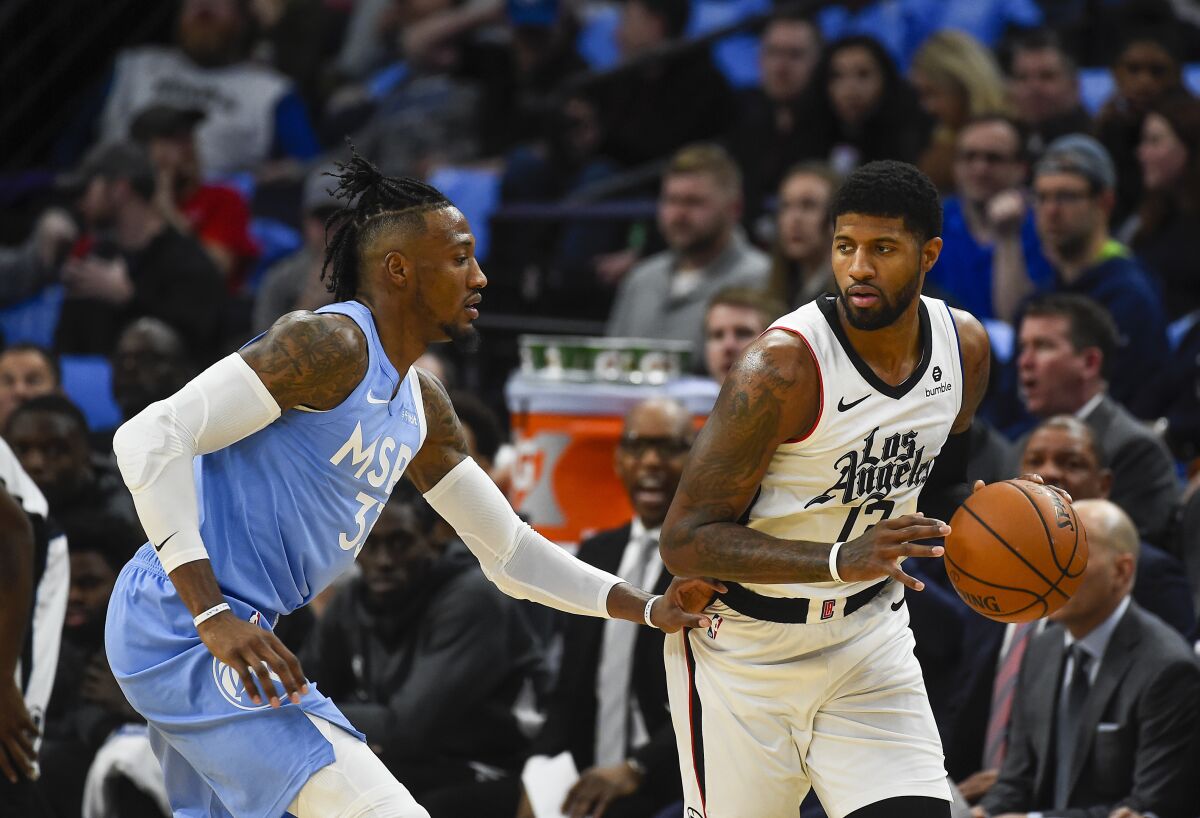 MINNEAPOLIS —
On the same night a Clippers duo put on a stunning offensive display, their team barely avoided a defeat of equal measure.
Paul George finished with 46 points and Kawhi Leonard scored 42 on Friday at Target Center, the 21st time in NBA history that teammates had each scored 40 or more in the same game, the first time Clippers teammates had accomplished the feat, and the first time George and Leonard fully unleashed their offensive arsenal since joining forces 12 games ago.
And the Clippers needed every one of their 88 combined points to escape with a 124-117 victory, their fourth consecutive.
"Every play was basically for those two guys and they came up big," coach Doc Rivers said. "They made the right plays for the most part, until down the stretch when we start turning the ball over. But that was fantastic."
With his team's 27-point second-half lead whittled to four with 40 seconds to play, thanks in part to nine Clippers turnovers in the final quarter, Leonard drove into the key, was fouled and made his 18th and 19th free throws of the night, the most any Clipper has made in a game without a miss. Twenty seconds later, however, a once-quiet crowd was on its feet again.
But Timberwolves guard Robert Covington fired a pass too hard and wide of its intended receiver, out of bounds, and the Clippers finally secured the win that had once appeared easily in hand. Such moments included when George and Leonard combined to score their team's first 23 points and led Minnesota by 12.
Or, late in the third quarter, when they'd outscored the entire Minnesota roster by themselves 76-73.
"It's great," Leonard said. "Just have someone else out there to help score the ball, making the game easier for myself, you know we're still trying to build our chemistry out there. We didn't close that fourth quarter too great and the end of that third. We've still got improvements to make."
The Los Angeles Clippers play two road games less than 24 hours apart this weekend. Coach Doc Rivers called the situation "ridiculous."
With few reserves available because of injuries to Patrick Beverley (concussion), Lou Williams (sore calf), Landry Shamet (ankle) and JaMychal Green (bruised tailbone), Rivers staggered his lineups to keep either Leonard or George on the court at all times to ensure some sort of scoring punch for a roster temporarily bereft of playmakers.
Minnesota trailed by just four points after one quarter following an 11-3 run with Leonard off the floor in the final minutes. Trailing by 12 in the second quarter, the Timberwolves' much-maligned defense held the Clippers scoreless during a four-minute stretch to tie the score.
But unlike the first quarter, Leonard was on the floor to close the first half and the Clippers' two-man offense became a one-man show of force. In the final 3:53 before halftime, Leonard scored 15 of the Clippers' 17 points. During its dreadful defensive display of the past week-plus, the Timberwolves had struggled to contain opponents from dribbling where they want to go, and Leonard took advantage, driving downhill to draw fouls and make nine free throws in that stretch.
Leonard played 37 minutes and George 39. Their production was enough to offset a fourth quarter in which the Clippers were outscored by 14 and Leonard and George combined to make three of 12 field goal attempts.
The offense came from a mix of called plays and Leonard and George operating on their own against a defense that was by far the worst in the NBA during the five previous games.
George and Leonard became the first pair of teammates to each score 35 or more points through the first three quarters of a game in the last 20 seasons. George took the stretch as "a good indication" of their potential together after a start in which the stars rarely produced efficient offensive performances in the same game as they learn to play with one another.
"Both of us were aggressive to start, our defense got us going and down the stretch, you saw there was still some slippage, still some opportunities where we can grow," George said. "But I thought overall we did a great job of just playing off one another, both being aggressive tonight, looking to score and attack and then finding plays to make our teammates better, as well."
UP NEXT
AT CHICAGO
When: 5 p.m. PST, Saturday
On the air: TV: Prime Ticket; Radio: 570
Update: Both teams are playing their second game in as many nights, with the Bulls losing 83-73 to Charlotte and, in the process, scoring the fewest points in the NBA this season. Chicago (9-18) made 30% of its shots from the field during a fourth loss in its last five games. The Bulls are 3-6 this season against teams from the Western Conference. Clippers guard Rodney McGruder made his first appearance since Nov. 27 against Minnesota and played 15 minutes.
Get our high school sports newsletter
Prep Rally is devoted to the SoCal high school sports experience, bringing you scores, stories and a behind-the-scenes look at what makes prep sports so popular.
You may occasionally receive promotional content from the Los Angeles Times.