Clippers even series with Game 4 win, punctuated by Kawhi Leonard's dunk
The dunk heard across the NBA began Monday with two dribbles and violent intentions.
By his first dribble, Clippers forward Kawhi Leonard had ripped the ball from the right side of his body to his left and gained a step on Royce O'Neale, just inside the free-throw line.
By his second, he spotted 6-foot-9 Derrick Favors rushing in to help, but for the Utah Jazz center, it was already too late. Leonard elevated as if propelled by a trampoline, his right wrist hanging over the rim, and Favors, before pushing the ball through with such force it appeared he was trying to end this second-round playoff series, right then and there, in the second quarter of only Game 4.
Staples Center's restricted-capacity crowd of 8,474 erupted. Favors ducked out of the way. Leonard paused a beat, staring in the center's direction, before running back on defense. And a few thousand miles away in Atlanta, Philadelphia center Joel Embiid stopped his answer during a postgame videoconference while watching a live feed of Leonard's dunk out of the corner of his eye.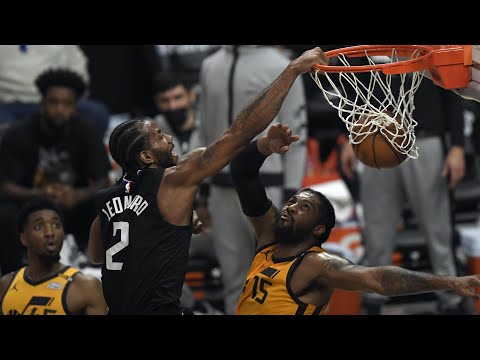 Kawhi Leonard pulls off a huge slam dunk in the first half of the Clippers' win over the Utah Jazz on Monday.
"Oh my God," Embiid said. "See that Kawhi dunk?"
One play rarely changes a playoff series. And this one did not end Utah's desperate fight to regain control, culminating in a furious fourth-quarter run to trim what had been a 29-point lead to just 10 with two minutes to play.
But Leonard's slam embodied the way this version of the Clippers, the one that has now routed Utah two consecutive games after this 118-104 victory to even this best-of-seven series at two games apiece, punished the Jazz for stretches of Game 4. And because of it, they are now two victories away from reaching the Western Conference Finals — unprecedented heights for this playoff success-starved franchise.
"I don't care about the Western Conference finals," Leonard said. "I'm trying to win a championship."
Leonard and Paul George each finished with 31 points, while combining for 23 free throws — three fewer than Utah's entire roster. For the game's first 20 minutes, they alone outscored Utah. In the final minutes, each exited to rounds of applause after joining Jerry West and Elgin Baylor (1962) and Shaquille O'Neal and Kobe Bryant (2003) as the only teammates in NBA history to score at least 20-plus in 11 consecutive postseason games.
They are also only the fifth duo since the NBA and ABA merged in 1977 to each score 30 points in consecutive playoff games.
"You see him being more aggressive and you know what time it is," George said. "It's written all over him in terms of it's go time, it's playoff basketball. And, ultimately, it's winning time."
Leonard endured a scare when he appeared to tweak his right knee with more than four minutes to play in the fourth quarter, but responded "I'm good," when asked about his health during a television interview.
Only days after arriving in Los Angeles with a 2-0 lead, Utah returns to Salt Lake City for Game 5 hoping point guard Mike Conley, having missed all four games because of a hamstring strain, can return and provide another weapon for an offense that has struggled against Clippers coach Tyronn Lue's series-changing adjustment.
For a second consecutive game, Donovan Mitchell led the Jazz with 37 points but worked for every point as the Clippers ran a second defender at him, with their rotations behind the trap often squelching Utah's other options.
"Pat Beverley coming into the game, defensively, he just totally changed the game," Lue said.
The Clippers led by 20 by the second quarter's opening seconds after finally producing what they had vowed for days — a strong start.
Joe Ingles tossed a ball at the padded stanchion after being fouled. Mitchell punched the air out of frustration after drawing a foul. Bojan Bogdanovic placed both palms up after one first-half play, the universal sign of what-just-happened. Eighty-four seconds before halftime, Leonard dunked over Favors. Clippers forward Marcus Morris made two three-pointers and Beverley blocked Mitchell's three-point attempt to push the Clippers into halftime leading by 24.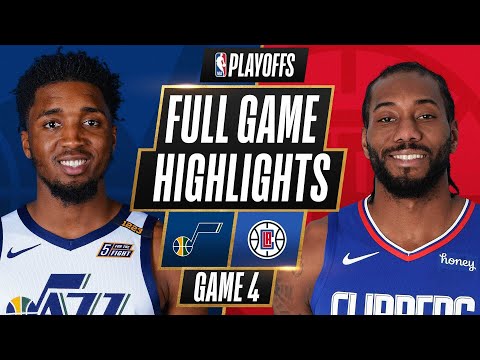 Highlights from the Clippers' 118-104 win over the Utah Jazz in Game 4 of the NBA Western Conference semifinals on Monday.
Rectifying their slow first quarters was one thing. But the Clippers still could not shake their trend of woeful third quarters, allowing a 12-3 run within the first three minutes to see their 24-point halftime lead trimmed to 15. As in the first half, the Clippers' answer involved above-the-rim plays — blocks by Nicolas Batum and Leonard — and taking advantage of Favors, earning two layups. Their lead was back to 20 within two minutes, and it was 21 entering the fourth quarter.
Morris finished with 24 points, making his first five three-pointers after entering the game just one of 16 from deep this series. Including his Game 7 performance against Dallas, Morris has now made 12 of his last 15 three-pointers with his brother, Lakers unrestricted free agent Markieff, in attendance, inspiring a question likely never asked before Monday: Tampering fine or not, should the Clippers consider bringing Markieff with them Wednesday to Salt Lake City?
"No he won't be coming to Utah," Marcus Morris said. "I don't know anybody that wants to go to Utah."
And the Clippers don't want to go back for a Game 7, George said.
"We got to drown out the noise and go there for one mission," he said. "And that one mission is to not come back there."
Get our high school sports newsletter
Prep Rally is devoted to the SoCal high school sports experience, bringing you scores, stories and a behind-the-scenes look at what makes prep sports so popular.
You may occasionally receive promotional content from the Los Angeles Times.