Playoff P helps Clippers stave off elimination again with 41 points in Game 5 win
PHOENIX —
For five weeks, there had been one missing piece to this city's celebration as its basketball team pushed deeper through its first postseason in a decade.
When the Phoenix Suns closed out the Lakers to win their first-round series, it happened in Los Angeles. Then they swept the Nuggets in Denver. It was why when the Suns entered Game 5 of this Western Conference finals Monday leading this best-of-seven series 3-1, fans twirled orange towels inside Phoenix Suns Arena and yelled until players leaned only inches from one another, straining to hear.
This wasn't just a chance to witness the Suns' first Finals berth since 1993. This also was about celebrating a funeral — waiting for the postseason's most resilient team to finally be killed off.
At halftime, on a stage in the arena's corner, Alice Cooper gripped a microphone with his black batting gloves and altered the lyrics of one of his trademark songs in hopes of conjuring last rites:
So long Nuggets, goodbye Lakers, bye-bye Clippers, we ain't finished.
Instead, it was music to the Clippers' ears, the last three words the soundtrack to a playoff run that isn't over yet, despite long odds and a shortage of available bodies. Facing their third elimination game of this postseason they are, again, not finished yet.
The Clippers' win over the Phoenix Suns in Game 5 of the Western Conference finals proved that they are resilient and can pull this off.
Paul George's playoff career-high 41 points, with 13 rebounds and six assists in 41 minutes, made sure of it in a 116-102 victory to cut Phoenix's advantage to 3-2 entering Wednesday's Game 6 at Staples Center.
"If they were going to finish this series off, they were going to have to work for it," George said. "We weren't going to back down. We weren't going to throw in the towel. Fact of the matter is, they got to beat us."
Tyronn Lue improved to 10-2 as a coach when his team is facing elimination.
"We thrive in this moment," George said, and it was apparent throughout, as guard Patrick Beverley egged on a hostile crowd after run-ins with Chris Paul, delighting first in the boos and finally in the silence.
A day that began with the Clippers learning that starting center Ivica Zubac would not play because of a strained ligament in his right knee ended with the 7-footer gingerly jumping on the sideline in street clothes as George and Reggie Jackson combined for 18 of the Clippers' 25 points in the fourth quarter.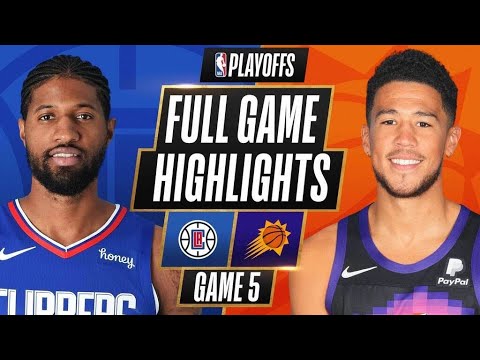 Video highlights from the Clippers' 116-102 victory over the Phoenix Suns in Game 5 of the Western Conference finals on June 28, 2021.
When the Clippers' 13-point lead with 11 minutes left was down to four with 6:34 to play, Jackson drilled a three-pointer. Two possessions later, he made another, and after George stole the ball from Phoenix's Cameron Johnson seconds later, Jackson rose for a dunk in transition, his goggles bobbing as he bellowed into the arena as the Suns called a timeout.
It was the most important answer to a Suns run in a game defined by them. The Clippers led for all but 20 seconds.
As George walked off the court, a line of assistants assembled to tap knuckles with the star who helped the Clippers provide an answer for every Suns run in the second half. The last man waiting for George was Lue. What was said, George said, smiling, was "bleep this and bleep that."
George's 20 points in the third quarter made him only the second Clipper in the last 24 years to score 20 or more in any postseason quarter, joining Terance Mann, who did it in the last series against Utah.
"We built for this moment and we not afraid of it," said DeMarcus Cousins, who scored 15 points in 12 minutes off the bench after Zubac's injury thrust him back into the rotation. "We OK with our backs against the wall. … We're all familiar with one another, we come from similar backgrounds. I go to work with these dudes against anybody."
Jackson spent last October contemplating whether to return this season, questioning his passion for the game. He has spent June shooting better than 50%, and 43% from deep.
Despite Zubac's injury — with Kawhi Leonard (right knee) missing his seventh consecutive game, watching from California, and Serge Ibaka (back) also out — Jackson was undeterred, talking trash at shootaround, keeping the mood light just as the remaining players' burdens grew heavier. He finished with 23 points.
"They played with determination," Phoenix coach Monty Williams said. "We have to realize we're trying to close out a series against a team that's been there before and they're going to claw and scratch and do whatever it takes.
"We have to have that mentality. I didn't feel that in the first quarter."
With Mann starting in Zubac's place amid a small-ball lineup — the kind that helped the Clippers unravel Dallas and Utah — the Clippers' zone defense denied the Suns an offensive rebound for 16 minutes, opened a 20-5 lead within five minutes and minimized their height disadvantage by pushing the ball up court at every opportunity as Phoenix center Deandre Ayton lagged behind.
When Jackson caught one fastbreak pass and dunked over Mikal Bridges and Jae Crowder, it drew an audible "ooh," even from a biased home crowd.
When Phoenix was able to set its defense, the Clippers picked on Devin Booker in the post, with Marcus Morris backing him down on his way to making his first six shots and eight in the first half — more than he'd made in his last three games combined. An hour before tipoff, Morris said his injured left knee felt better than it had all series. He finished with 22 points.
Booker had a team-high 31 for Phoenix and Paul added 22, but Ayton had only 10 points and 11 rebounds.
"When we trust and play the right way, we're a good team no matter who is on the floor," Lue said. "I thought we did a great job of doing that tonight. We didn't shoot the ball particularly well. But just the group of guys we got, I love those guys. They compete every single night no matter who is on the floor, 1 through 17.
"The work is not done, but we came into a hostile environment and got a gritty win without three starters. We have to do it again two more times."
Among the numerous text messages Williams received since taking a 3-1 lead Saturday were those from friends reminding him of Cleveland's comeback facing a similar hole in the 2016 Finals while coached by Lue. Before Cleveland began that rally, Lue told the Cavaliers not to board their flight to Oakland if they didn't believe a comeback was possible.
Five years later, a similar message echoed during the Clippers' pregame preparations.
"Get back to L.A. with a win," Morris said. "We have to get back on the plane, anyway."

Get our high school sports newsletter
Prep Rally is devoted to the SoCal high school sports experience, bringing you scores, stories and a behind-the-scenes look at what makes prep sports so popular.
You may occasionally receive promotional content from the Los Angeles Times.