Clippers falter late in loss to Nets while waiting for Kawhi Leonard's return
No one could stop Kawhi Leonard on Saturday. Half an hour after a Clippers matinee finished, as workers began swapping out the basketball hardwood for an ice rink amid a Crypto.com Arena doubleheader, the All-Star wing cut down an arena corridor while trailed by his security guard, headed for his ride home.
His return from stiffness in his right knee is the great unknown clouding the Clippers' championship ambitions, and even teammates don't ask the question of when.
"He's Kawhi Leonard," point guard Reggie Jackson said. "When he's ready, he'll be ready. That's all I believe."
Even opponents including Kevin Durant, the Nets star who shot over Clippers double- and triple-teams on the way to 27 points and a 110-95 Brooklyn victory Saturday, "would love to see him back soon."
"He's an all-time great, he's been through injuries before," Durant added. "The league is better, though, when Kawhi Leonard is playing."
A setback for Leonard this early season has been the wrinkle the Clippers did not expect. Their foremost challenge might still be the one they saw coming all offseason. Throughout training camp, sacrifice became the unofficial mantra of a team that understood it would take compromise from just about everybody to make all the pieces fit on a roster with more rotation-worthy players than rotation spots.
Clippers All-Star forward Kawhi Leonard takes part in five-on-five play before practice Friday, signaling his return to playing in games might be soon.
Then came the hard part: Following through on such promises. The offense doesn't run through Jackson as it did last year. Asked to play nearly all five positions, Terance Mann acknowledged some early confusion about how to make his impact felt. As Mann has turned the corner, Robert Covington — who averaged 27 minutes per game last season — has temporarily lost his rotation spot. Luke Kennard and Norman Powell bounced between the starting lineups and reserve minutes.
Guard John Wall, despite being healthy, accepted a minutes restriction while coming off the bench for the first prolonged stretch of his decorated, decade-long career. Nicolas Batum, primarily a starting wing the last two seasons, has moonlighted as a small-ball center off the bench, his minutes halved.
Batum called his rhythm "kind of messed up right now" — he is shooting 33% on three-pointers, his lowest since joining the Clippers in 2020 — but said he understood it could be the case during the offseason and isn't complaining.
"It can't stop me from doing my job," he said, adding: "It's an adjustment — for the good of the team, though. We all knew it."
The Clippers' awkward 2-4 start hinged not only on poor shooting and rebounding but their search for how to best fit those roles, just as players cited a key for their turnaround that saw them win five times in six games a reflection of their progress. Three weeks in the Clippers "are in a better place," said Jackson, who had six points, six rebounds and six assists in the loss.
"I think guys are trying to give more of themselves to the team," he said. "It's a constant process especially when you've got so much that's figuring out. We got guys who can really affect the game in numerous ways and we're still missing — probably in the back of our minds every now and then — we're still missing big dog [Kawhi]."
The Clippers believe in the process and within the locker room there is a growing belief that theirs is working.
"Not anyone out there performing thinking they have to do it all — playing what they've been accustomed to coming into this year," said Paul George, who scored 17 points.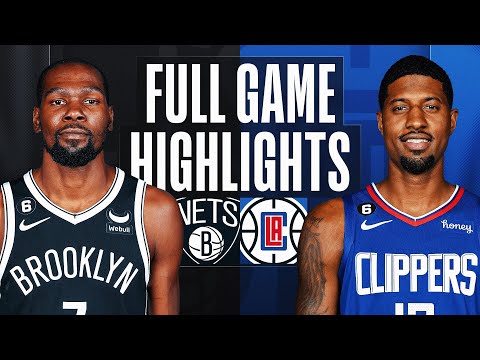 Yet they also play in a league in which results are the bottom line, and Saturday's defeat in a game where victory was within their grasp midway through the fourth quarter proved that as one big-picture plan tentatively comes together, executing a specific game plan won't always follow.
A week after coach Tyronn Lue said he doesn't want his team to settle for the first, easiest shot, the Clippers barely attacked the paint in crucial junctures, lofting eight fourth-quarter three-pointers while making only two. On an afternoon when the Clippers (7-6) didn't score a field goal for 6 minutes 25 seconds to close the third quarter, they took the lead with 7:42 to play in the fourth quarter only to be outscored 18-2 by the Nets (6-7) during the next four-plus minutes, Lue took blame for players not following his game plan.
Their ball movement, or lack thereof, against Brooklyn's switching defensive scheme?
"I wasn't satisfied," Lue said.
Their 18 turnovers, and the way they couldn't get into the paint or find open shooters, the "stagnant" offense that George and Powell bemoaned afterward?
"We didn't play the right way offensively tonight," Lue said.
The NBA and Nike unveiled their 2022-23 City Edition jerseys on Thursday. Some are works of art, some not so much. We ranked them all.
Said George, who made only five of 19 shots after averaging 30.7 points in his six previous games: "We're getting into situations where I can personally speak for settling a little bit. Whereas I could be more aggressive attacking to the basket."
Leonard's return will foist the biggest adjustment yet on the roster, one the Clippers will be thrilled to welcome. Leonard played five-on-five during a practice scrimmage Friday.
"I'm excited to get him back whenever he's ready," George said. "Nobody here wants to put added pressure on his return. His return is his return."
Get our high school sports newsletter
Prep Rally is devoted to the SoCal high school sports experience, bringing you scores, stories and a behind-the-scenes look at what makes prep sports so popular.
You may occasionally receive promotional content from the Los Angeles Times.