The Kawhi Leonard return mystery follows the Clippers into Texas
HOUSTON —
The big mystery Monday night surrounding the Clippers was the status of injured star Kawhi Leonard and when he might return to action.
Leonard joined the Clippers on their two-game trip that started with a 122-106 victory over the Houston Rockets on Monday and will finish Tuesday night with a visit to Dallas to face the Mavericks.
After six of his players scored in double figures and his reserves extended a lead in the fourth quarter, allowing his starters to rest for all of the final 12 minutes, Clippers coach Tyronn Lue was asked whether Leonard would play against the Mavericks.
The forward, who underwent reconstructive surgery to repair the anterior cruciate ligament in his right knee last year, is experiencing stiffness in the knee. He has not played since Oct. 23.
The answer wasn't a yes or a no when Lue was asked about Leonard being available at Dallas. In fact, the coach didn't reveal much.
Kevin Durant, Seth Curry and Brooklyn go on an 18-2 run in the fourth quarter Sunday to pull away to a victory over the Clippers, who fall to 7-6.
"No, I don't know," Lue said.
The answer raised eyebrows, so Lue was asked again.
"No, I don't know," Lue said. "... Yeah, yeah, I don't know. I'm always going to tell you the truth."
Lue was forthcoming about the Clippers' John Wall, saying, "Yessir," when asked whether the point guard would play at Dallas after he sat out against Houston because of left knee management.
The Clippers didn't need Wall on Monday, as they built a 16-point, third-quarter lead and extended it to 24 in the fourth.
"We had to finish the game the right way [and gave] our starters some rest," Lue said. "Like I said, having it back to back tomorrow against Dallas, it's always a tough opponent. I thought our second unit did a great job of just playing the right way, getting some stops, running the offense, getting in some sets, and so when they was able to finish a game like that, I really feel good about the way they played."
The Clippers' Paul George started slowly, missing all five of his first-quarter field-goal tries. But he picked it up in the second by scoring eight points and added 11 more in the third.
George finished with 22 points, adding eight rebounds and five assists. He played just 29 minutes 5 seconds, giving him extra rest for Tuesday's back-to-back game.
Reggie Jackson (17 points) played just 22:48, Marcus Morris (15 points) 24:57, Ivica Zubac (nine points, seven rebounds) 26:27 and Luke Kennard (eight points) 27:34.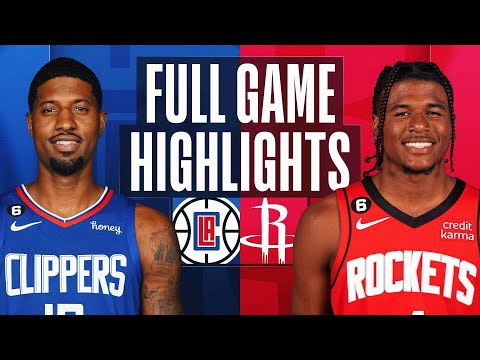 The starters could rest because reserves such as Norman Powell (17 points), Terance Mann (14 points) and Nicolas Batum (10 points, six rebounds) took care of business in the fourth quarter.
"It's great when everybody is contributing," George said. "It's more so a credit to our team when we are moving the ball, sharing the ball."
Leonard has played in just two of the first 14 games this season for the Clippers (8-6), who have won six of their last eight. Jalen Green scored 25 points for the NBA-worst Rockets (2-12), who have lost three straight.
Whenever Leonard does return, George said the Clippers will have to make an adjustment.
Clippers All-Star forward Kawhi Leonard takes part in five-on-five play before practice Friday, signaling his return to playing in games might be soon.
"Oh, I mean, he's one of the best players in the league, so obviously it's going to be an adjustment for the good," George said. "He's one of the best players. It's an adjustment that you want, and with him, he fits into our identity. Obviously, he plays the right way. He creates so much offense. He creates so much playmaking. And then defensively, he's an anchor. ... We can't wait to get him back."
Leonard didn't make the Clippers' previous two-game trip, but being on this one allowed him to help out from the bench.
"It's another voice for us, and it's the most vocal I've seen him since I've been here, since my time being here the last four years," Lue said. "And he's been really vocal and staying on the guys, being encouraging. But also telling what he sees as well. So, it's been really good."
Get our high school sports newsletter
Prep Rally is devoted to the SoCal high school sports experience, bringing you scores, stories and a behind-the-scenes look at what makes prep sports so popular.
You may occasionally receive promotional content from the Los Angeles Times.